Author: Will Arnold, Senior Structural Engineer at Arup and Young Structural Engineering Professional of the Year 2017 -

---
Just because one person is an "architect" and another is an "engineer" doesn't mean that one person's role should lead the other - design in collaboration. I remember the likes of Martin Gledhill, Tim Ibell and Mark Evernden insisting that we worked alongside the architecture students right from the start of each project, working through the design together, and this approach is invaluable to real design situations. Take the initiative to work out the solution to all kinds of non-structural issues. How do you get a corridor from A to B without removing that pipework riser? How do you integrate the ductwork, sprinkler pipes and solar shading into that roof if you can't use beams as deep as you'd like?
Pay attention to the lectures given in your First Year, as you won't believe how often that subject matter will come up again and again in your career. I still spend a lot of time turning things into compression and tension load paths, and WL²/8 still makes a weekly appearance!
Push yourself to be strong technically - it will save you in your career when you agree to something slightly too ambitious with the architect/client! Gut feel will only get you so far, eventually you will always need to prove that it will actually work using maths and science.
You will never know everything – so ask lots of questions, admit when you don't know, and be happy to keep learning.
Draw. Lots. It is the easiest way to communicate ideas to the rest of the design team, and is a skill worth developing as soon as you can. Even now we have Revit and 3D design software, these won't be able to replace a hand sketch when you sit down with the client and have to explain the intricacies of your engineering solution to them.
My career highlights
The best thing about being an engineer is the bit where you get to point at things and proudly say "I did that". I loved attending the opening of the Serpentine Pavilion 2012, having been up until 3am the night before helping to put the finishing touches to it. The opening celebrations for a new office building at BSkyB were also very special as it was the first "proper building" I had completed.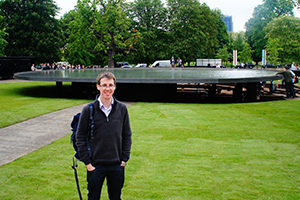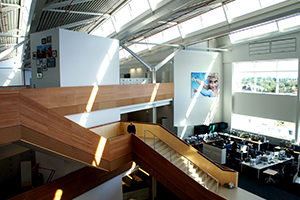 My current favourite project is the Solar Gate Sculpture that we've been working on with Tonkin Liu Architects, which will be installed in Hull very soon. This is a 10m tall sculpture where the structural engineering drove the ultimate shape, as we used iterative parametric design to fine-tune the undulations and porosity of the piece to maximise its efficiency. The holes mean that we couldn't cheat and use any additional internal steelwork, so the 4mm thick skin has to do all the work. Watching progress as the fabrication team have welded the sculpture together has been awesome, and I can't wait to see the final piece get installed in Hull City Centre as a legacy piece for UK City of Culture 2017.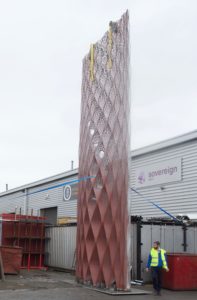 I think that engineering is a great career if you want to make an impact on this world, and it allows you to mix creative design, practical problem solving and analytical rigour. Engineering needs a balance of left-brain and right-brain skills, and can be an incredibly creative and rewarding career if you want it to be.