Christmas is a special time for many people but is celebrated very differently around the world! We asked our Foreign Languages team to share how Christmas is celebrated in their part of the world.
France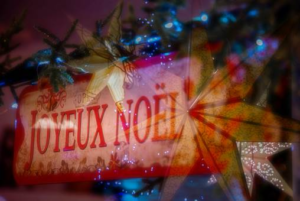 Anne-Catherine Mechler: Did you know that Christmas (Noël) is celebrated on the 24th of December in France? The very large Christmas meal takes places on Christmas Eve, and families get together to eat a roast turkey with chestnuts (la dinde aux marrons) followed by a yule log for pudding (la bûche de Noël).
Children place their shoes by the Christmas tree (le sapin de Noël) so that Father Christmas (le Père Noël) knows who to leave presents for and they get to stay up late to open their presents before going to bed! This makes for a very exciting, happy Christmas! Joyeux Noël!
China
Daisy Zhu: China is largely a secular country, so you don't need a specialist in Chinese culture to tell you that Christmas is not a traditional Chinese festival. However, if you go to China these days, you'll often find elaborately decorated Christmas trees in shopping malls and private parties. Many people even send greeting cards with apples on them on Christmas Eve.
What's the connection between apples and Christmas Eve?
Christmas Eve in Chinese is 平安夜(píngānyè), which means 'peaceful night' in English. This is actually a translation of the song title 'Silent Night' ('Stille Nacht' in the German original). But where do the apples come in? The Chinese language is full of homophones, and the Chinese people never miss an opportunity to have a play on words. The first syllable in the word 平安夜 sounds exactly the same as the first syllable in the word for apple in Chinese 苹(píng)果(guǒ), which is how the connection is made.
Israel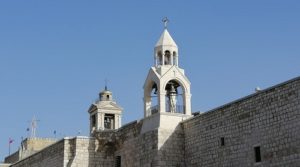 Khalil Estaytieh: Bethlehem is one of the most significant settings in the world for celebrating Christmas Eve. Bethlehem, the Palestinian town in which Jesus was born, is located in the West Bank, just a few minutes south of Jerusalem.
For both the Muslim and Christian families in Bethlehem, Christmas is a special time. The streets are lined with tinsel, lights and of course, Christmas trees and Santa Claus, along with Christmas markets and a Christmas parade through the city centre.
The festivities culminate on Christmas Eve, where lots of parties and live music are held in big hotels. Midnight mass is celebrated at the Church of the Nativity, which Christians believe is the birthplace of Jesus.
Greece
Skills Co-Creator Erifyli Vologianni: In Greece, a well-known tradition celebrated each year is Christmas carols with a twist. On Christmas Eve, children flock from home to home around the neighbourhood to sing Greek Christmas Carols in the 'Kathareuousa' language and celebrate altogether.
After singing and wishing happy holidays, they are rewarded with either sweets or small change for good luck.
Germany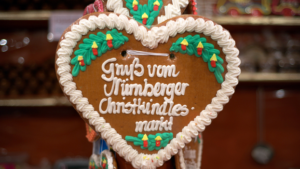 Uwe Baumann: Christmas in Germany starts on Christmas Eve which is the most important day of Christmas (at least for children). Why? Because the Bescherung (the gift giving) takes place on Christmas Eve in the evening when families and friends congregate around the Christmas tree. The Christmas tree will only be put up and decorated on Christmas Eve or the night before so that children see the tree for the first time at the Bescherung.
The food eaten on Christmas Eve varies widely, depending on whether the families have a special meal that they traditionally eat on this day. It might range from simple Kartoffelsalat mit Würstchen (potato salad with sausage) to elaborate three course meals.
Although Germany, like many other Western countries with Christian roots, has been becoming more secular in the last decades, the tradition to attend a church service on Christmas Eve is still alive and many Germans go to church, either to see a Krippenspiel (nativity play) or to attend the late afternoon or midnight church service.
Japan
Satoko Suzui: Even though Christmas isn't celebrated as a religious festival, it has been recognised in Japan since the 19th century and is now a popular annual event – you can find out more in this video.
Cities are decorated with Christmas trees from early November and shops sell different types of Christmas cake. On Christmas Eve, children place a stocking by their bed and are excited to receive a gift from Santa Claus. A popular Christmas song is 'Christmas Eve' by Tatsuro Yamashita which is about lovers who are unable to meet on Christmas Eve.
Italy
Beatrice Lombardi: In some regions of Italy around Christmas time, the zampognari, or bagpipe players, go around entertaining people with their music (often hoping for a small donation). The zampognari were originally shepherds who came down from the hills at Christmas to celebrate with their families.
They are called after their instrument, the zampogna, a kind of double chantered pipe. The reeds are usually made from the giant reed 'canna marina' and zampognari still wear traditional dress.
It's not clear where this tradition began - maybe Abruzzo, Molise, or even Rome or Sicily. The zampognari play many traditional, joyful Christmas tunes. Sometimes, you can even see zampognari figurines in Christmas cribs!
New Caledonia
Rachel Los: In the remote French Pacific territory of Nouvelle-Calédonie (New Caledonia), the celebration of Christmas is a hybrid of the European tradition adapted to a sub-tropical, multicultural environment.
On Christmas Eve the tradition is to eat local seafood: oysters, lobsters, crayfish, prawns, together with Tahitian salad (raw fish marinated in lemon juice and coconut milk) and sometimes a Bougna (festive Melanesian dish of yams and taros with fish, wrapped in banana leaves and cooked in a pit). The food is washed down with a wine imported all the way from Alsace or the Loire Valley.
The many Catholic families file past the 'crèche', or recreation of the Bethlehem nativity scene, on their way to Midnight Mass, wearing 'claquettes' (flip-flops) and armed with straw fans against the stifling air of the 'hot season'. Afterwards they return home to the presents awaiting them under an endemic 'pin colonnaire' tree decorated with tinsel, baubles and fake snow.
Christmas Day itself is a day of rest and recovery from the night before. In an unlucky year, there may be a cyclone, or tropical storm, and people are barricaded at home behind taped-up windows and under a roof secured to the ground with strong cables. In a good year, you head to the beach to paddle or snorkel in the lagoon. Le Père Noël (Father Christmas), in full North-Pole attire, can often be spotted kite-surfing across the bays, waving to the children on the sand.
Joyeux Noël!
South Africa
Theresa Wood: Christmas in South Africa is very different because of the hot weather! It is the big summer holiday so schools are shut for an extended period and many people travel to the beach.
There are many different cultures in South Africa, each with their own traditions, but my family's celebrations were similar to the UK - we celebrated on Christmas Day, had a turkey for dinner and then Christmas pudding for dessert. But many people have barbecues (braais) instead and spend the day by the pool.
Another traditional South African dessert that many people eat at Christmas is Malva pudding - you can find a recipe here!
What Christmas traditions are celebrated where you're from? Tell us in the comments below!