In November 2020 assessment round, the Department of Education has been awarded its first Bronze Athena Swan award and the Department of Computer Science re-gained its existing Bronze accreditation, celebrating good practice in gender equality.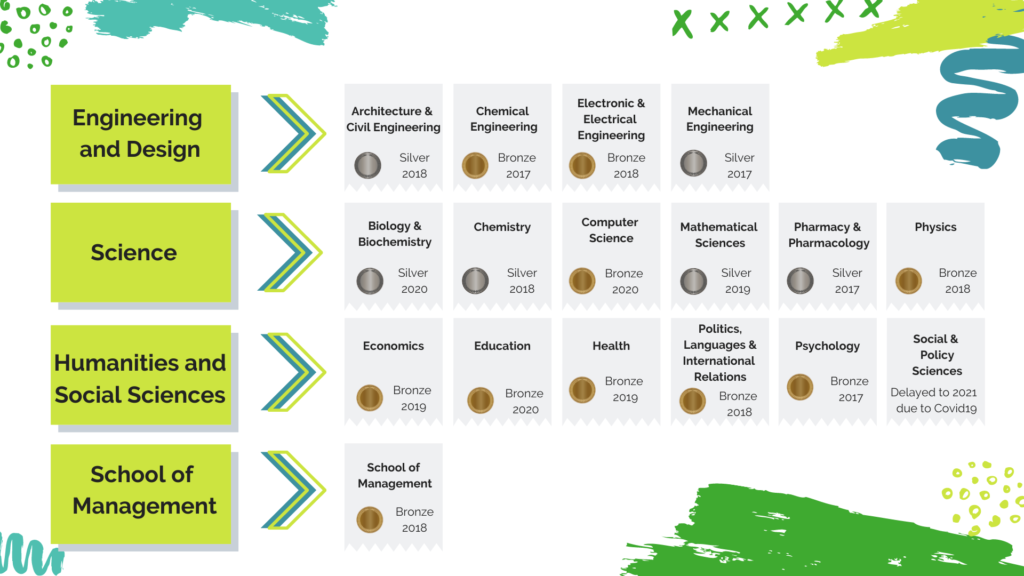 For the Department of Education, the award reflects substantial effort from everyone in the Department to embed equality, diversity and inclusion in all of their activities. Head of Department Prof Andrea Abbas and Chair of Departmental Self-Assessment Team (DSAT) Dr Rita Chawla-Duggan in a joint statement said:
"For the Department of Education, addressing gender equality is a first step to part of a wider vision of equality, diversity, and inclusion (ED&I) in our department; one which creates a level playing field for achieving academic excellence and innovation, irrespective of gender, race, ethnicity, disability, or age.

As a team, we learnt that Athena Swan was far from being a tick box exercise; In fact, our DSAT turned it to an opportunity to do some deep thinking and pave the way for change in our Department.

In terms of its impact, this prestigious award will embed the Department of Education's efforts towards our wider ED&I agenda in the daily work of the department.

Looking forward, the Department of Education will be positioning itself to face the challenges of ED&I, within the context of building and diversifying our existing research and teaching related activities, in an international context. "
Athena Swan process provides Departments and Schools with an opportunity to look closely at the culture within the Department, celebrating the things they do well and identifying the things that they could do better.  In turn, this allows teams to set themselves with a challenging new set of goals to build on this success. Head of Department Prof Mike Fraser and Chair of DSAT Dr Marina De Vos have said:
"The Department of Computer Science is delighted to have its Athena Swan Bronze Award.

Computer science is still too often perceived as a male discipline, doing a disservice to both the subject and its women contributors.

Initiatives like Athena Swan allow departments to reflect and act on equality, diversity, and inclusiveness in general and gender equality more specifically. As a department, we strive to be welcoming to all and create an environment where all can thrive and reach their full potential. Key priorities for us are (1) attracting more women (students and staff) to the department and the discipline,  and to (2) provide additional tailored career progression support to our community. We have a long list of exciting actions and initiatives to make this happen, and we cannot wait to get started."
Dr Marion Harney, University Athena Swan Leader and Chair of the Institutional Athena Swan Committee USAT, commented:
"I am delighted that these 2 further Bronze departmental awards give due recognition for the hard work and commitment of the self-assessment teams in the Departments of Education and Computer Science. I want to pay tribute to everyone involved for their endeavor and perseverance in submitting their applications in what has been a most difficult year and congratulate them on achieving such positive outcomes.

Currently the University holds 6 Silver and 10 bronze awards, further acknowledging the substantial progress made in promoting equality, diversity and inclusivity throughout our community and these latest awards should instill us all with confidence that we are strongly positioned to achieve a positive outcome for our Institutional Silver award in 2021."
Vice-Chancellor and President of the University of Bath, Professor Ian White, said:
"I pay tribute to the hard work and dedication which has resulted in the University receiving so many Athena Swan awards in recent years and, in particular to the Departments of Education and Computer Science for their recent successes. I am delighted that the commitments that are being demonstrated by the University are being recognised in this important manner. I also congratulate Marion Harney and Aiste Senulyte for their leadership which is having such impact."
Advance HE's Athena Swan Charter was established in 2005 and its awards demonstrate an ongoing commitment to the advancement of gender equality: representation, progression and success for all. Find out more information about the Charter on our internal Athena Swan website.
Next steps for the Departments will focus mainly on the implementation of the five-year action plan that the Departments have committed in their applications.