In 2022, I began a conversation with GW4 Network on Maternity Leave to discuss a potential collaboration opportunity that would support our Athena Swan commitments as well as help explore issues surrounding maternity leave provision and its effect on gender pay gap in the UK. Academics from the Department of Economics - Dr Clifton-Sprigg and Dr Fichera - shared preliminary analyses with us, which showed a negative correlation between generosity of the package and leave taken by female academics. Interestingly, the opposite was found true for professional and support staff. Together with other researchers in GW4, Dr Clifton-Sprigg and Dr Fichera will now be exploring potential explanations behind these findings and expand the agenda to consider other sectors of employment. Thus, we are very pleased to add our letter of recommendation to the "Navigating parental leave: the gendered causes and consequences of leave decision making" project. The letter of recommendation has been signed by Richard Brooks, Director of Human Resources, and Professor Rajani Naidoo, Vice President Community and Inclusion.
At Bath, we are fully committed to promoting gender equality. We hold an institutional Athena Swan Silver award and 16 Departmental Athena Swan awards (see a picture below).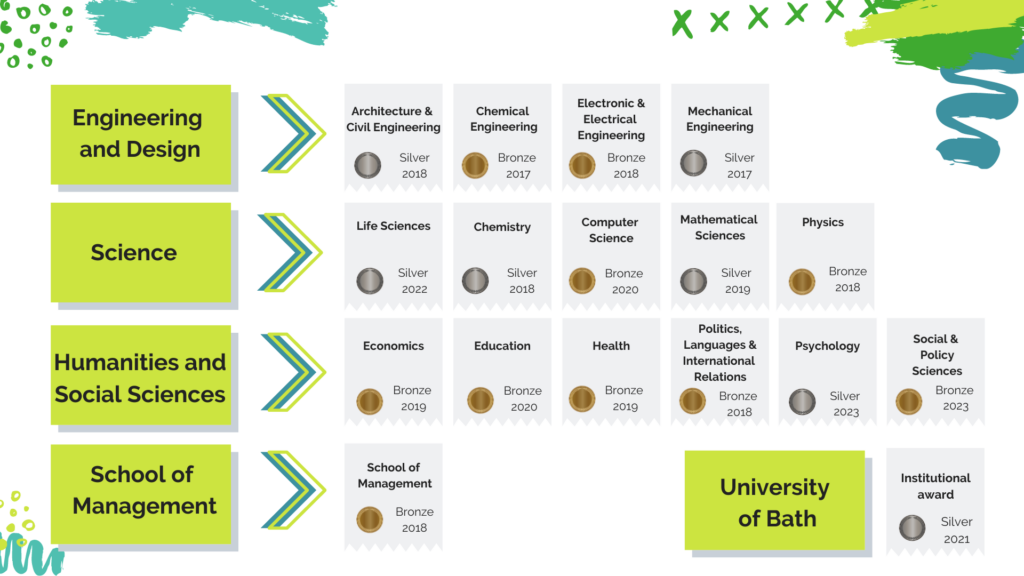 As such, Professor Marion Harney, University's Athena Swan Leader, sees this study as an excellent opportunity to better understand the advantages of, and means of enhancing our existing maternity, paternity, and shared parental leave policies. We are keen to enhance our knowledge through robust data collection and analysis with gender equality in mind, and to understand how the current challenges the sector faces in terms of leave uptake and career progression of parents might be addressed.
To support the study, we have provided anonymised data on groups of employees and leave taken by them since 2016 onwards for the purposes of analysis and evaluation of existing policies. We will also support the GW4 researchers in the launch of their own survey data collection. This will be done through endorsement and sharing of the survey link with certain employees (inviting their voluntary participation) through our 16 x Athena Swan Departmental Leads and Equality, Diversity, Inclusion Network.
Dr Joanna Clifton-Sprigg, Lecturer at the Department of Economics and a member of GW4 Network on Maternity Leave:
I am delighted that the University of Bath has entered the collaboration with the GW4 Network on Maternity Leave. Securing an employer's buy in for our project has proved an extremely challenging task. We were very positively surprised that the University was not only interested but also willing to consider a data-sharing arrangement and lend support for the project. We believe our exploration of factors behind employees' leave-related decisions and the impact these have on careers will benefit both academic research and employer practice. This is of particular value given the role parental policies can play in the closing of gender gaps in the labour market and how little we know about their effectiveness in the UK context. The project would not be feasible without the data the University is providing. We were also impressed with efficiency of this collaboration. From the very start we have been liaising with a dedicated contact at the University, who has been supportive, liaised with all parties involved, including HR MI team and senior management, and ensured timely responses and delivery of the data. This is a significant improvement on our experiences with other data providers. We are looking forward to a fruitful collaboration. 
Léonie Burton, Senior Reporting & Insights Manager:
It was a pleasure to provide data to support this project relating to maternity, paternity, adoption and shared parental leave alongside a profile of our employees across a seven year period (all anonymised).  I really hope that we will gain useful insights into how different types of leave are used and the factors that are affecting employees' decision-making.
Now that the anonymised data is with the GW4 Network on Maternity Leave, we will be looking forward to receiving the final report produced by the researchers examining the patterns observed in the data, i.e. whether there are any groups behaving differently from others and analysing how these patterns have changed pre- and post-policy change in 2021, determining whether lengths of leave taken correlate with various factors such as gender, faculty, job family, grade, and/or ethnic background. We're expecting this report to be ready in October 2023. For more information about the project, reach out to Prof Marion Harney, the Chair of USAT.