How can we help women progress to leadership roles in academia? On International Women's Day 2019, we hear from the University of Bath's Equality, Diversity and Inclusion team about the commitments made to Athena SWAN and the progress that has been made over the last 10 years in advancing gender equality.
Academia cannot reach its full potential unless it can benefit from the talents of all. While numbers of female researchers and lecturers are growing, there are still barriers to women reaching the highest levels of academia. On average, less than a quarter of UK university professors are women and across all universities in England, the average gender pay gap is 18.4%. Previous blog posts have pointed to research showing evidence of a "motherhood penalty" for female scientists trying to advance their careers, and shared personal accounts of the difficulties women can face in academia.
Athena Swan at the University of Bath
But through the Athena Swan programme, the University of Bath has made progress in this area. One of the most striking changes since 2009 has been the increased proportion of female professors. In 2018-2019, 20% of our professors (42F, 165M) were women, compared to just 8% (9F, 103M) in 2009. This surpasses the '20% by 2020' goal the University committed to in its Athena SWAN Bronze award in 2017.
These positions have been achieved through both internal promotion and external recruitment, and may be attributed to changes the University has made to how it advertises, the composition of selection panels and, in particular, supporting people through promotion processes.
These changes were set out in the University's Athena SWAN application, when a commitment was made to:
Embed the practice of mixed gender short lists and interview panels (no all-male shortlists unless a gender specific search process has been deployed)
Support staff progressing to senior academic posts through a selection of activities, aiming to improve gender balance in senior Departmental and Faculty roles
Proactively using career conversations (in SDPR, mentor context or other format) to encourage under-represented genders to apply for promotion.
Role models and networks
Role models and support networks are particularly important in encouraging and enabling women to progress their careers. If universities can demonstrate that they are supportive of female academics and are taking action to improve gender equality, this encourages others to apply.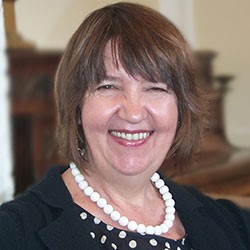 Nancy Harding is Professor and Head of the Management, Strategy and Organisation division in the University of Bath School of Management.
Nancy joined the University in October 2017 and has followed a non-traditional path in her academic career. She left school at the age of 16 and had two children (at the age of 18 and 19). She decided to study at university in her late twenties: "I was 27, married to a coal miner and mother of two sons when I enrolled to study for my first degree – the first person in my family to go to university. I fell in love with studying." After graduating, Nancy started her PhD, which she completed at the age of 34. "Years later, I'm a Professor of Organisation Theory (and a grandmother), and my intellectual work gets more and more enjoyable."
Nancy stresses the importance of role models and finding "your tribe" – early on she established a network of women around her that would support, mentor and help push each other when needed. She said: "After all these years, we still meet every 6 months and plan what we are doing next with our careers. We keep each other accountable, but also tell each other when it's time to slow things down'.
Nancy was promoted to a Professor role at the University of Bradford in 2010. She said: "I think my support network was crucial to my success. Also, it was key to not taking no for an answer".  Now, Nancy is based here in Bath within the School of Management and she commented on the culture in the School: "The environment here is so supportive. It's very rare to see a Dean so involved and passionate about its staff and students. I'm pleased that Bath offered me a post when I made no secret of being, at the time, 64!"
There is still work to be done in addressing gender imbalance at senior levels in the University. It is noticeable that at lower levels, there is a fairly even balance between genders, but as careers progress it's the men rather than women who are taking more senior roles. It's hoped that the increased visibility of women in the professoriate and the potential impact of these role models will continue to support more women to put themselves forward for promotion. Nancy adds:
My philosophy today is: pass on this knowledge, learning and wisdom to the next generation – and anyone who'll listen. But remember to keep on learning – we should never stop learning.