On Friday 20 September we launched the new coffee counter in Pitstop, taking the place of Costa. The newly-branded Pitstop Coffee stocks a blend of coffee chosen by you, via a taste-testing exercise to choose our customers' favourite flavour.
Available exclusively in Pitstop Coffee, The Exchange is a new sustainability concept designed to encourage the use of reusable cups instead of disposable single-use alternatives.
A one-off payment of just £2 buys you a reusable coffee cup, which can be swapped for a clean one at Pitstop Coffee whenever you need it, ideal for grabbing coffee on-the-go. All Exchange cups returned to Pitstop Coffee will be cleaned, ready for another use.
You can also trade your Exchange cup for a token, should you not want to carry a travel cup around, and then simply trade the token back for a clean cup at your next visit to Pitstop Coffee.
The Exchange process has been designed with both sustainability and convenience in mind, making it as easy as possible for students, staff and campus visitors to opt for more environmentally-friendly takeaway coffee options.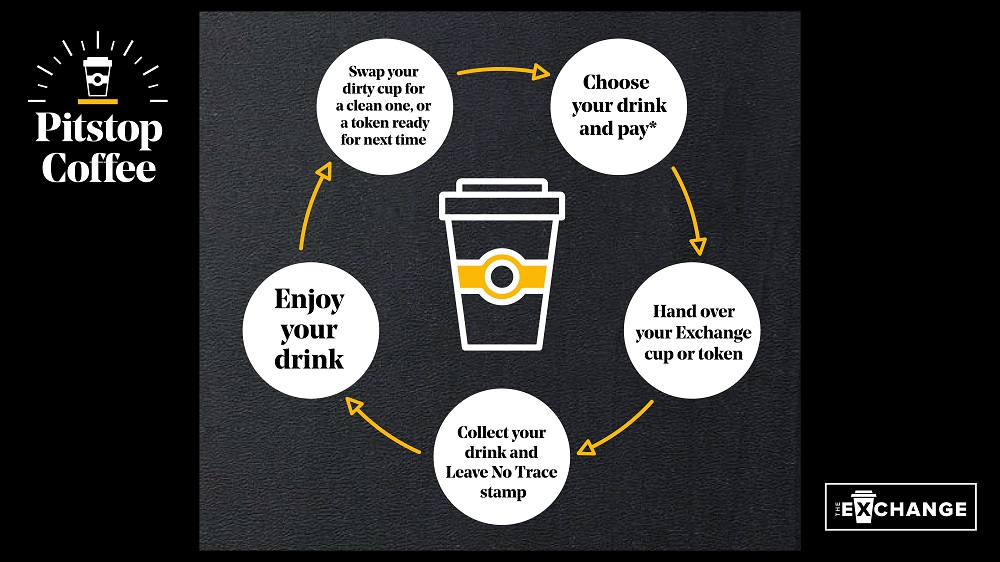 We're always looking for new ways to offer more sustainable solutions across our food and drink outlets. Since not all single-use takeaway cups get recycled, this scheme is more sustainable than simply recycling, and is designed to help reduce the amount of waste we send to landfill.
The pricing in Pitstop Coffee also reflects our support of more sustainable initiatives – Pitstop Coffee prices automatically include the campus-wide 20p discount for bringing your own cup, whereas single-use takeaway cups will be charged at 30p to discourage their use.
In support of our Leave No Trace loyalty scheme, you can collect a Leave No Trace stamp with every purchase when you use your Exchange Cup; collect nine stamps and you'll get £2 off your next hot drink. Last year 16% of students and staff bought a reusable cup - let's increase those numbers this year!
As well as being kinder on the planet than a takeaway cup, using The Exchange guarantees you a clean reusable cup, and a saving of 30p, every time you buy a coffee from Pitstop – it's a no-brainer!