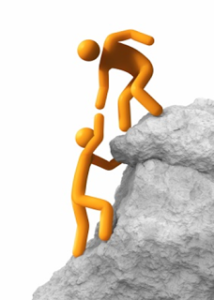 We see lots of CVs that do an excellent job of describing responsibilities and tasks. But we don't see many that articulate how that person has done things - that is, what personal skills or attributes they have used to get things done effectively.
Part 1 focused on using the right verbs to tell employers exactly what you did, and reminded you to give employers a sense of scale of your work.  Now here's how to develop your bullet points even further.
This is the example we finished on in Part 1:
Co-led and supervised ten twelve to fifteen year olds on six-day hikes and other outdoor activities.
This bullet point assumes that the recruiter will know what skills and qualities she used to complete the task of taking teenagers on hikes and organising outdoor activities.  The student is missing an opportunity to fully articulate why she would be successful in the role, and what she would be like to work with.
Instead, the student could write something like this:
Used motivational and interpersonal skills to co-lead and supervise ten twelve to fifteen year olds on challenging six-day hikes and other outdoor activities.
This tells the employer the kinds of personal attributes that might be really useful in the role.  In this case, it's her ability to motivate others and to communicate well.
When you're writing your CV, make sure you focus on the skills that the employer is looking for – this is why reading the job and person specification is really important!  You could also do some reading around to find out what kinds of skills are usually required for roles, by using resources like prospects.ac.uk and targetjobs.co.uk .
You could choose to be even more explicit about your skills by starting each bullet point with a skill that the employer is looking for, and then giving them your evidence.  For example:
Initiative and creativity: Took the initiative to develop a set of engaging outdoor activities targeted at twelve to fifteen year olds.  These activities included [xyz]...
And finally…shout about great results and successes!

Use your bullet points to tell the employer about your impact. Think about how your work has allowed an organisation to improve in any area.  Have you helped to improve membership levels? Improved sales and/or profits? Try to quantify these things if possible (for example, a percentage increase).  Alternatively, you could talk about instances where you've made recommendations for improvements that have been implemented.  This student chose to write:
Set up an Instagram account for the outdoor activities service which gained over 500 followers in two months.  Around half of new participants have reported that this inspired them to join the course.
For more useful tips on how to write your CV, see this blog on getting your language right in CVs and our Application, CV and Cover Letter guide.