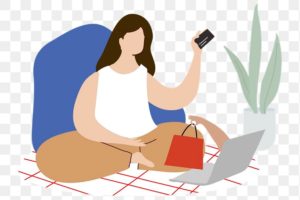 The use of digital payments has been growing for many years and this process has accelerated during the Covid pandemic. Most notable has been the growth in buy-now-pay-later (BNPL), particularly for customers who have suffered financial hardship during the pandemic. According to Finder.com, 9.5 million Brits said that they avoided buying from retailers that did not provide BNPL options. With current annual growth, BNPL is expected to account for at least 10% of all e-commerce sales by 2024 (i.e., £26.4 billion - for comparison, it was £9.6 billion in 2020).
BNPL offers instant access to credit and may be a convenient way of spreading the cost of purchases for those experiencing temporary cash shortages or simply wishing to take advantage of interest free credit. Yet, it should be made clear that there are many issues associated with BNPL.  Regardless of how BNPL is advertised, the underlying rules of finance remain unchallenged. Customers may be made believe that they 'get a good deal' because they can borrow money for free, something which would not be possible in a traditional banking system, but this is not the case.
BNPL effect on businesses
BNPL woo retailers with the promise that adopting BNPL will increase their customer base by 20-30%. Even if this may be the case with the early adopting retailers, as more retailers adopt BNPL then any comparative advantage is lost. Given that the customer base is finite, it is not possible for every retailer to get a significantly higher numbers of customers. Of course, customers may initially spend much more than they used to and, often, can afford. But this must be a short-term gain and runs the risk of attracting customers who are likely to default on payments and increase the cost of providing BNPL.
BNPL is also likely to magnify the costs of running businesses because of increasing the costs associated with returns. According to KPMG's Annual Retail Survey 2020, returns cost British retailers £7bn p.a. with 46% of shoppers deliberately over-purchasing with an intention to return unwanted items.  These unwanted, goods also cause environmental problems given that often they are not resalable and end up in landfills.  All these extra costs will ultimately be passed on to customers.
BNPL effect on customers and society at large
Although shoppers are assured that BNPL improves their shopping experience and helps with acquiring goods they would not afford, BNPL is likely to contribute to increase in prices, increase poverty and mental health issues.
Providing cheap credit to those who cannot afford it is hardly ever a good idea, as the 2008 financial crisis has shown. A problem with the typical BNPL supplier is that credit checks are weak, and incomplete information is given as to what happens if payments are missed. This attracts people with high default probability and creates a myth that they can borrow without consequences. Such misconceptions flourish when financial literacy is low and borrowers do not see the true consequences of borrowing and indebtedness.
Financial literacy needs to improve
Freetrade's surveys show that 48% of Brits fail a basic personal finances test and 88% do not feel confident about their financial skills.  Also 21% of the population rarely or never save, so 22% have less than £100 in savings. According to the Woolard Report, 10% of bank customers who made a payment to two of the large BNPL providers in November 2020, exceeded their bank overdraft allowance in the same month. With 68% of adults not understanding what APR (Annual Percentage Rate) is, having credit on tap brings serious consequences for individuals' credit ratings, financial wellbeing and mental health (nearly 1 in 3 people says that their mental health is affected by dealing with finances, but in the group of 18-24 this ratio increases to nearly 1 in 2).  Improving financial literacy and the quality of financial advice is fundamental to prepare people to plan and control their finances, and understand consequences of exceeding their budget.
Regulation is badly needed
Appropriate regulation of BNPL services is essential. As a minimum this should include
restrictions on how BNPL services are advertised and made available to shoppers (for example, in Sweden, the country of Klarna's origin, it is prohibited to present BNPL as the first or default choice),
shoppers should be fully and clearly informed about the procedures, costs and other consequences of defaulting on payments; BNPL providers should post their statistics of default and late payment
a proper credit checks of consumers
a code of conduct that companies must adhere to when customers are in default.