3rd year DTC students Lisa Sargeant and Jessica Sharpe attended the UKERCs Summer School at Warwick University. This post describes their experience.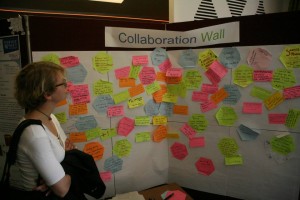 'Energy security', 'green economy' and 'sustainable development' are phrases that we regularly hear in the media, but how do we actually achieve them? In January this year, the Scottish conservative leader Ruth Davidson said: "Crucial to keeping the lights on in years to come is an energy mix made up of renewables, nuclear and oil and gas". This was the premise behind the UK Energy Research Centre's (UKERC) Summer School held in Warwick from 7 – 12 July.
The summer school was designed to bring together students from technical disciplines as well as social scientists and economists; only half of which were from UK universities. The other half were made up from participants as far afield as New Zealand, China and Hawaii. Places for the event were competitive, but Lisa and Jess were fortunate to be awarded two of the 100 places.
As much about soft skills development (such as networking and presentation skills) as knowledge transfer, the week was broken down into formal lectures, group activities and master classes. The lectures touched on the complex nexus of the energy market, and covered a broad range of subjects including energy policy, to the impact of US shale gas on global markets, and energy production in developing countries.
Taking place at the same time as the summer school was the annual UKERC assembly, in which members were asked to put forward the 'Big Questions' that were allocated for the student group presentations. Lisa's group were asked 'Are smart grids oversold?', which they answered in the style of the BBC's Question Time program (Lisa's role was to be David Dimbleby)! Jess's group were asked 'Big or Small? Should we work towards an international energy system, or concentrate on local energy systems?'.
During the week there was also a poster session, which covered many different aspects of the global energy situation. This proved a fantastic opportunity for Lisa and Jess to set up collaborations with other students in similar areas of research, as well as with students studying completely different, but complementary, aspects of work. Jess also had a poster accepted for the poster session and found it fantastic opportunity to discuss her work.
With the traditional 'work hard, play hard' attitude, the evening activities were as wide ranging as the energy topics. These included a cultural evening, drum café and pub quiz. The week was topped-off with a fantastic ceilidh dance where everyone could truly let their hair down.
Overall, both Lisa and Jess thought that it was a fantastic experience and a they would strongly recommend other DTC students in the energy sector to take part.