This post was contributed by 3rd-year DTC student Heather Parker.
As part of our ongoing collaboration with Bath Spa University, a group of students from the CSCT have been working with final year Graphic Communication students David Gordon and Carl Godfrey to further develop an existing public engagement exhibit on new materials for batteries. The Build-a-Battery exhibit was originally designed to be a fun, hands-on activity where participants can use a selection of materials to try to make the best battery they can, however the original incarnation was a little bit 'Blue Peter'.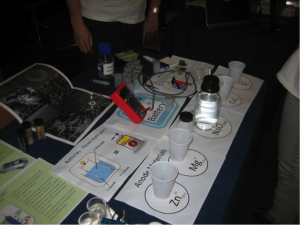 Our brief for David and Carl was to completely reinvent the exhibit; it needed to look professional, be portable enough to transport to festivals and events, and be robust enough to withstand an onslaught of eager battery-builders of various ages. We met up every few weeks for updates on the project, usually over a pint in the Raven, and after a few months we had the finished product!
The new and improved exhibit made its début at the Royal Society's Summer Science Exhibition on 5–6 July and was very well received by the several thousand guests who came to the stand. We are looking forward to taking it to the British Science Festival in Birmingham this September.
"The collaboration between the two universities of Bath was a great opportunity to bridge the gap between design and science. It was interesting to explore what the chemistry students have been researching and then use our skills as visual communicators to help make the science accessible through interactive design."

– David Gordon and Carl Godfrey, Bath Spa University