On 17th – 18th Sept 2014, CSCT students Tamsin Bell and Emma Sackville attended the 2014 IChemE Applied Catalysis and Reaction Engineering Conference in Cambridge. This report was written by Emma.
A few weeks ago, Tami and I attended the Applied Catalysis and Reaction Engineering conference in Cambridge. This was a conference primarily for early career researchers, although there were a number of academics and industry members present, several of whom gave plenary lectures.
These lectures included a talk on the importance of reactor design by the eminent Prof. Freek Kapteijn; an insight into research in a multinational company by Dr. Adeana Bishop, who attended as part of Exxon Mobil; and an interesting talk from Prof. David Cole-Hamilton who spoke on the development of waste bio-oils for conversion to chemicals.
I had been given the opportunity to give an oral presentation, my first at a conference, and needless to say the experience was quite daunting! However after the initial nerves I actually quite enjoyed it and the talk was received well. My talk was entitled: "The Effect of Promoters on Iron Carbon Nanotubes Catalysts for the Conversion of Carbon Dioxide to Hydrocarbons". All of the other speakers were early career researchers, but the level of the presentations was extremely high. There was a wide range of topics on offer, with a focus on catalysis and reactors, which made for a varied and interesting program.
Tami was presenting her poster about her research in nanostructured alumina to support metal nanoparticles at the poster session, which took place primarily after the first day. Again, there were a wide range of topics covered and both of us had some interesting discussions with other attendees about our work.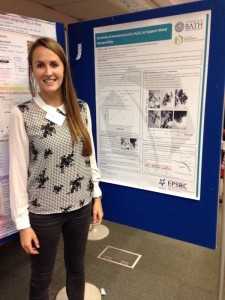 We were staying in the beautiful Jesus College, and had a great conference dinner in the great hall which was also striking – as you'd expect from a Cambridge college! After the conference ended on Thursday we spent the afternoon wandering round Cambridge itself. We even had a punting tour along the river, seeing the backs of several of Cambridge's most famous colleges, and snuck into the beautiful St. John's college before having a drink on a roof top bar overlooking the city and then heading home. Overall a really interesting conference in a beautiful city – although still not a pretty as Bath!