It was Cheltenham Science Festival last week! Our first years were very busy with their water themed stall and second year Matt Camilleri volunteered in the Back to the Future zone. Here's Matt's take on the day. Keep your eyes peeled for the first year students' blog coming soon!
One of the most rewarding and crushing experiences a human being can experience is trying to explain science to kids. That was exactly what I was tasked to do at this year's Cheltenham Science Festival, trying to talk about aerodynamics and help the kids come up with devices that would slow the descent of a free falling car in a Back to the Future themed zone, taking the role of inventor Doc Brown himself!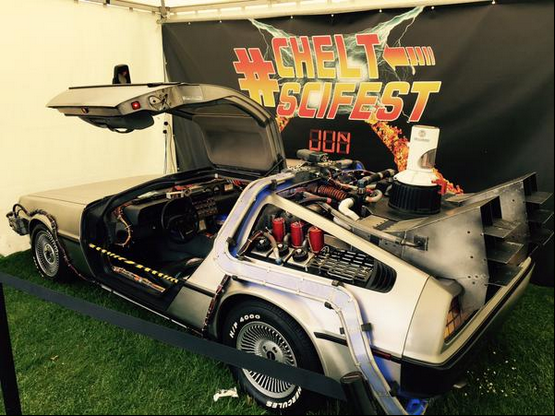 7 gruelling hours, 100s of kids, so many smiles on each of those faces. Simply rewarding! When the energy is seeping out of you, a quick look at the enthusiasm on the kids' faces and everything is all right in the world again, an adrenaline rush pushing you forward, pushing you to keep on working hard in order to spark a science flame into each and every single one of them. Maybe one day that flame can become an all engulfing firestorm, and help that one individual become a scientist, thinking on their feet in order to solve tomorrow's problems.
The most surprising thing was that I had just spent a couple of hours thinking and building innovative ways on how to build a device that would slow the car down, and I did not do any better than the kids that came in throughout the whole day. From the beginning of the day we were building gliders and parachutes, blowing balloons and tying these to the ends of cars, and it seemed that there was a clear winner, that nothing could match it, and that a parachute is the way to go.
A surprising fact was that no kid said, 'I don't know what to do!', they just tried it, with a number of students saying, 'not sure if this will work, but we will have to try it out first'. That is science, and from here I would like to thank all those dedicated teachers who are going way and beyond their job description, and instead of teaching these kids, they are instilling the love of the subject, the love of science!
But a science festival is not just great with respect to engaging with the next generation of adults, but one can also build networks with other science communicators, and I would have to give a big shout to all the volunteers that helped me man the stand, mainly Emma Wills, who gave all they had in order to ensure that we gave the best possible performance on the day. They were friendly, cheerful, happy to help and making sure that everything was running smoothly. I have never seen so many people so enthusiastic about science, and even though they might never get a chance to read this, I would like to thank you from here for reminding me what it means to be a science communicator, to do what I love and to share it with the world.
I might be shattered, tired and looking like a zombie, but I just can't wait for Saturday to go back to Cheltenham and work with these kids once again. It also helps that I know that I can count on the volunteers to give a helping hand if the need arises!
Matt is in cohort '13 of the CSCT and is working towards his PhD with Dr Dave Carberry and Dr Laura Torrente Murciano.