It's been another successful year for our Bath Spa collaboration! This year the team was led by Tamsin Bell, who contributed this post.
For the third year running, the Centre for Sustainable Chemical Technologies at the University of Bath has sought out the creative minds of graphic communication students at Bath Spa University. The aim of the collaboration is to develop our public engagement exhibits that we take to science festivals so that they are more engaging, functional and robust. One of the key benefits is that we gain an artistic view on how we could alternatively present our scientific message to a broad range of audiences.
At the beginning of the year, Emma Sackville, Helena Quilter, Joe Thompson and I pitched to the Bath Spa students some of our existing exhibits that we thought could do with a new look. The projects we presented were the Fuel Ballot, Fuel and Materials Box, Bike Generator, the Banana Piano and the CO2 Power Station. Luckily, we didn't scare them too much during the presentation with our enthusiasm for science and four students chose to work with us. Rebecca, Donna and Harvey chose to work on the Banana Piano and Rosie picked the Fuel Ballot.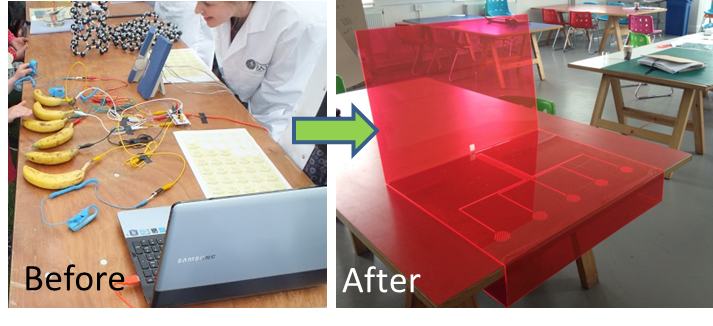 The Banana Piano is used to demonstrate conducting materials, in which a device called a "Makey Makey" is connected to a computer and some bananas. Depending on which banana is pressed, a different note is heard. The before and after pictures above show the significant improvement to this exhibit thanks to Rebecca, Donna and Harvey at Bath Spa. The newly named "Fruitbox" has laser cut out lines to keep the wires tidy and a space to put a screen to show the piano (and it is pink)! The Makey Makey can also be used to play other games such as Tetris and Pacman, opening doors to a whole new world of fruity gaming!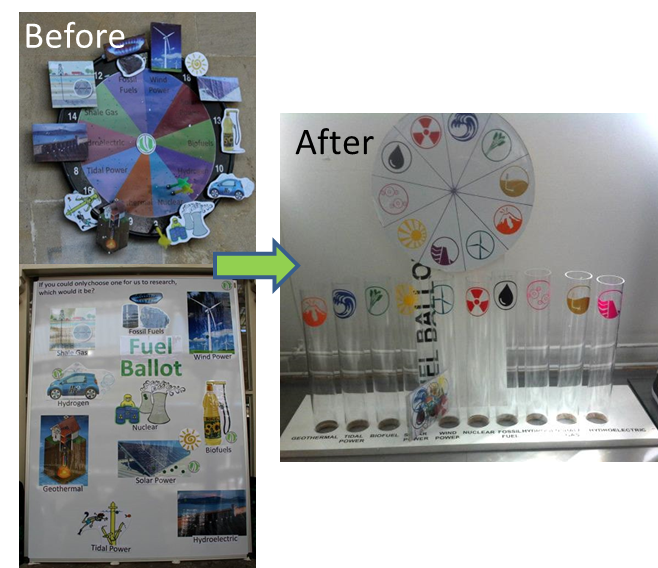 The fuel ballot was initially a magnetic dart board labelled with 10 fuel types and a voting board. The exhibit aimed to initiate discussions about the public's views on the fuel of the future and where they think our research should be focussed. Thanks to Rosie, the exhibit is now integrated in one stand with a dual-functionality dart board that is still magnetic but also spins like a prize wheel (Wheel of Fortune style) and the voting takes place in the clear tubes with table tennis balls.
It was good fun working with the Bath Spa students and we are looking forward to taking the revamped exhibits to the upcoming Green Man festival in August. Thanks go to the Bath Spa students for their fantastic work and to Emma Sackville, Helena Quilter, Joe Thompson, Jemma Rowlandson and James Coombs OBrien for their help.
Tamsin is in her second year in the CSCT, working with Dr Laura Torrente Murciano and Professor Steve Parker.