This post is contributed by Joe Donnelly.
During September a trio of CSCT students (Myself, Jonathan Wagner and David Miles) attended Challenges in Chemical Renewable Energy (ISACS17), in Rio de Janeiro, Brazil.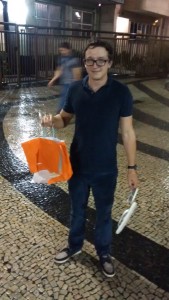 The 12 hour flight from Heathrow was a relatively pleasant affair, despite a lady sat next to me enjoying a 12 hour headphone techno marathon - something which would have been annoying if it was not so impressive. We went appropriately packed for sun, sea and sand, ready to hit Copacabana. Although Dave had forgotten his flip flops this was easily remedied owing to the many flip flop vendors in the area - however, Rio had apparently been saving all of its cloud and rain for our arrival- alas the bottom fell out of our plans (and the bag containing Dave's new flip flops). But after all, we are British and unless we were going to need a dinghy to get to the beach front bars, it was going to happen. When we were not at the conference or supporting the local beachfront economy, we found some time to go and see Christ the Redeemer and a few other local attractions.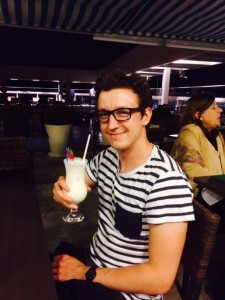 The conference was attended by around 100 people from a range of backgrounds/disciplines making for an interesting mix. The small size of the conference also allowed for conversation opportunities with most of the presenters. Research topics focussed on upgrading of bio-derived resources- something which I was personally attending for, and also many interesting talks on solar fuels and photovoltaics. It was interesting to see these different disciplines being discussed in the same stream as each other and led to interesting discussions about where exactly each of the technologies would fit in the future energy mix. The conference was concluded by a panel discussion on this very issue, and included representatives from industry, academia and government.
Overall the conference was a valuable experience, with the opportunity to talk to some leaders in the field without them being whisked away to prearranged meetings after their talks. It is worth noting however that there was only one stream, and due to the relatively diverse nature of topics on show, not all talks were of particular relevance to any one person.
Joe is working towards his PhD on "(Bio)catalytic synthesis of a novel transport fuel substitute from industrially produced ferementation products" with Dr Chris Chuck, Dr Marcelle McManus and Dr Chris Bannister.