On the 20th-21st of March, first year CSCT students took part in their first public engagement task where they attended 'Bath Taps into Science'; a two day science event aimed at engaging members of the general public with the research done within the Centre. The first day took place at University of Bath and was attended by primary school children whilst the second day was held at Victoria Park, Bath, and was open to the general public. Student Dominic Ferdani recounts his experience, supplemented by a video blog prepared by Dan Davies which is available on the CSCT YouTube channel and directly below.
On arriving at the office early on Friday morning, there were lots of bleary eyed, nervous looking students who looked in desperate need of some coffee. However before we could all acquire this much needed postgraduate fuel, we first had to transport our equipment to the Founders Hall, our venue for the day.  Though the first group to arrive, the hall quickly became a hive of activity as we and our fellow presenters/competition for the children's attention set up our various educational and entertaining exhibits. Once the exhibits were set up, there was a small break where we had time to have a quick bite to eat in a desperate attempt to fuel ourselves to the levels required to engage with 1200+ primary school students.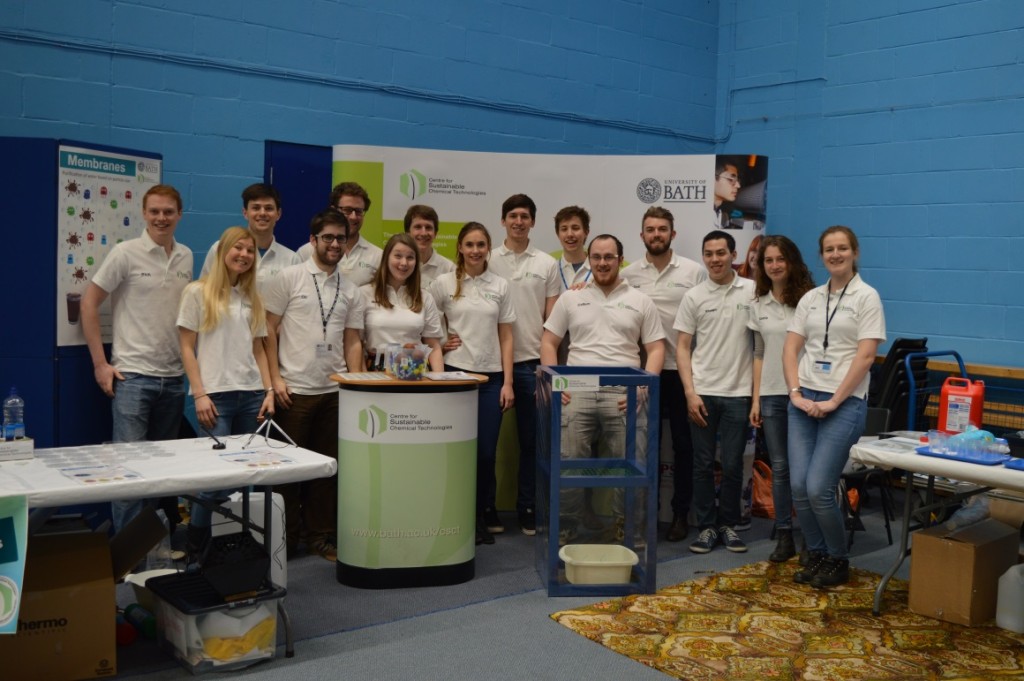 At 09:30, just before the impending rush of children, there was an astrological sign that, in older eras, could have been interpreted as impending doom. The sky darkened and a partial solar eclipse occurred, which, typically, was barely visible through a thick veil of Bath cloud. After following the health professional's advice of how to view this solar phenomenon to the letter, an eager horde of children descended upon us.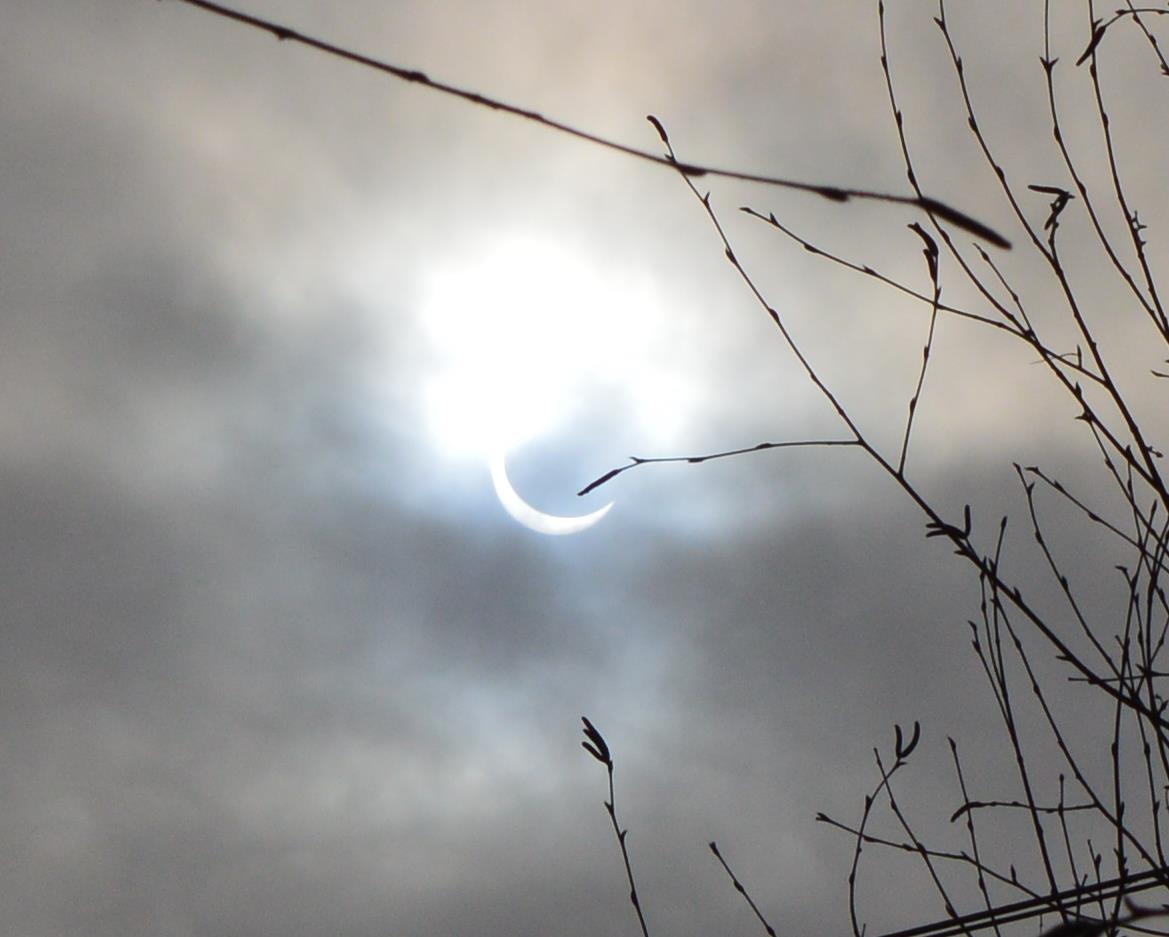 The overriding theme for our exhibit was the sustainability and effective utilization of water, a message that is perhaps not as eminent as other equally pressing issues such as seeking alternatives to fossil fuels or global warming. We also decided to choose this theme as several of our cohort conduct research within this area. Our stand consisted of five main activities: a customized bike rigged up to power a water jet, a flip chat 'higher or lower' game (several Bruce Forsyth impressions could be heard) where participants had to guess the water footprint of everyday objects, a hands on experiment demonstrating the activity of surfactants, a membranes practical showing their use within water filtration, a water piano and an opportunity to make PVA bouncy balls. As well as these activities we also brought along a high powered bubble machine, which whilst designed to be teamed up with the surfactant demonstration, also played an important additional role of attracting a significant amount of children to our stand.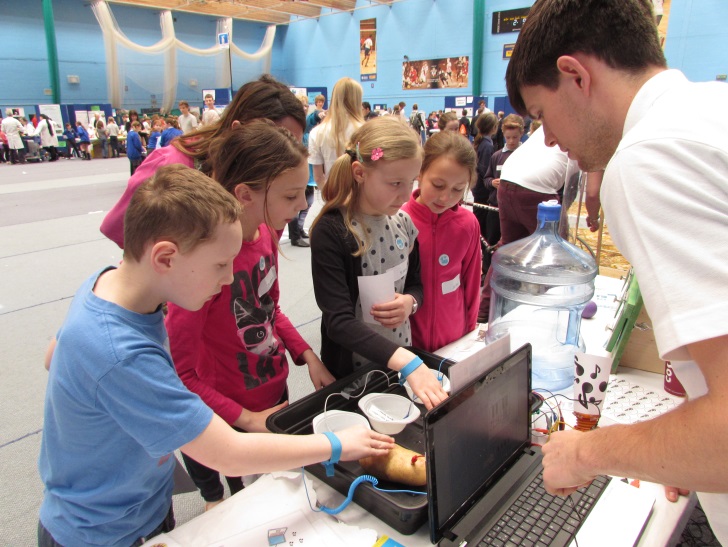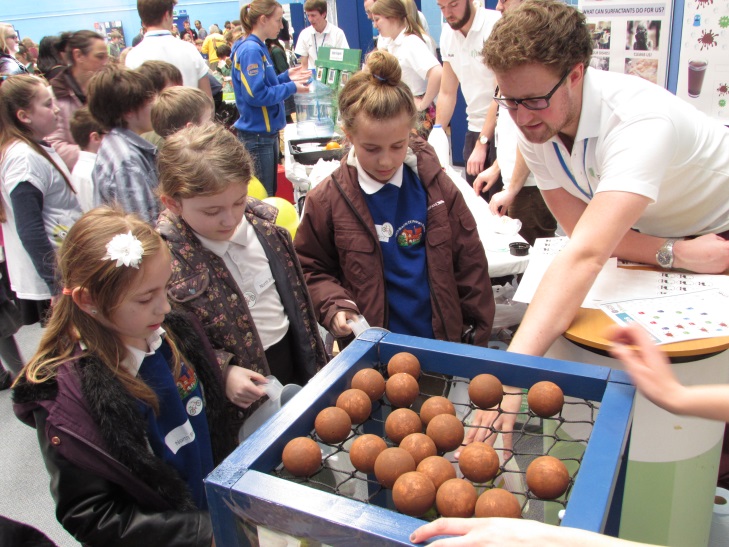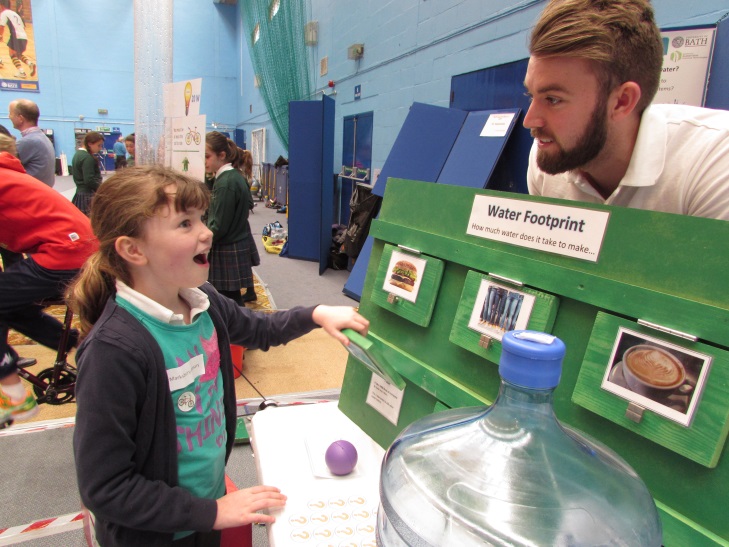 After four hours of educating, inspiring or at very least briefly occupying school children of all ages with our exhibits, we were all left very tired. Despite this, there was an overwhelming sense of achievement that the day had gone well, and to the surprise of a few within the group, we were all excited to do it all again the next day. We ended the day with an activity of our own; a team building meal and pint in the parade bar on campus.
Day 2 was held in the beautiful Victoria Park in the centre of a thankfully sunny Bath town centre. We all arrived fresh faced and read to go at around 08:00 and commenced setting up our gazebo and exhibits. As we waited for the first group to arrive, though in high spirits after the previous day's success, we were all very much thankful of the Easter themed sugar coated chocolate eggs provided by Callum to get us exhibition ready. The first families began to arrive at about 10:00 and proceeded to have a go at our experiments whilst posing some very interesting questions to us.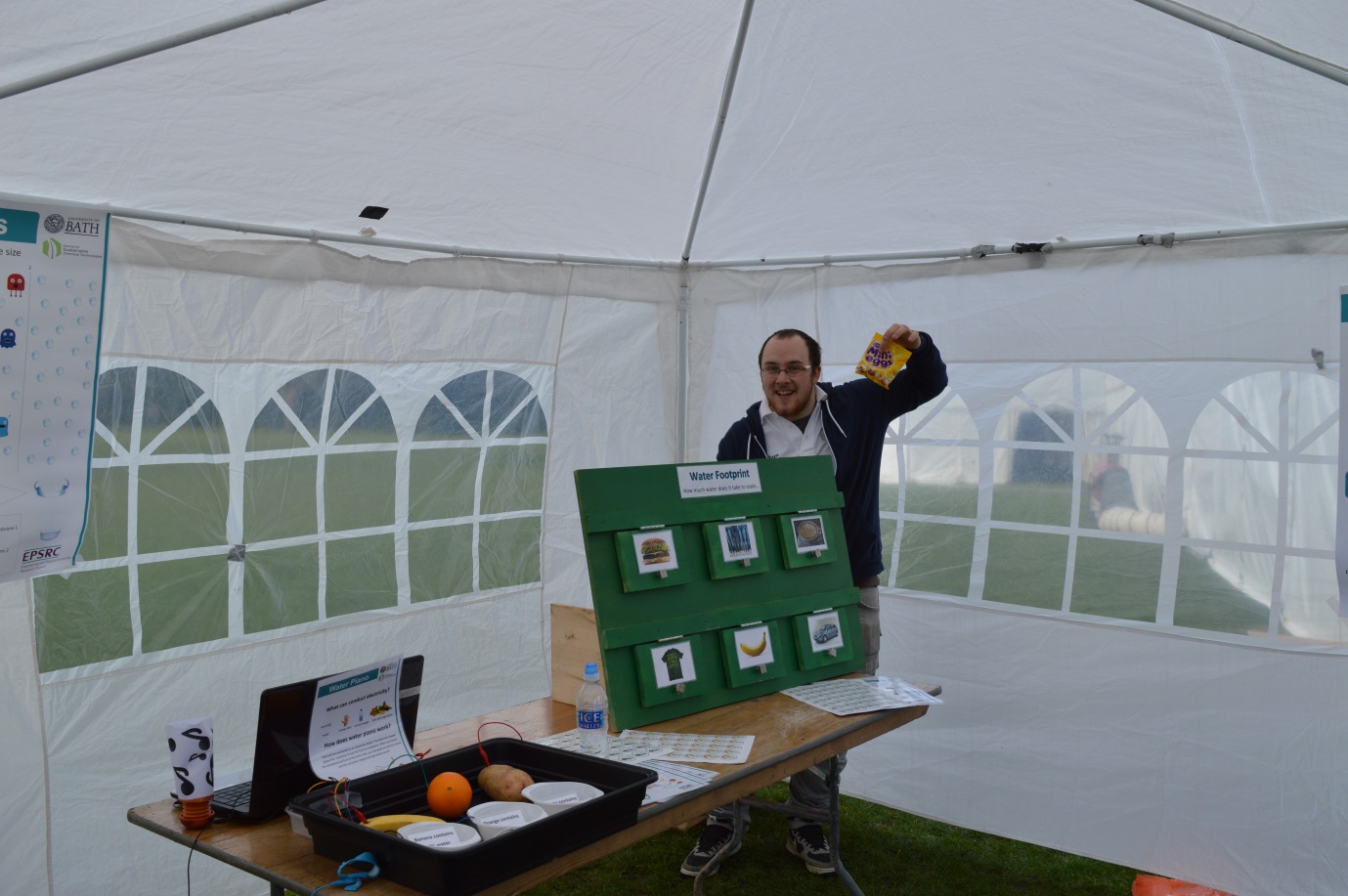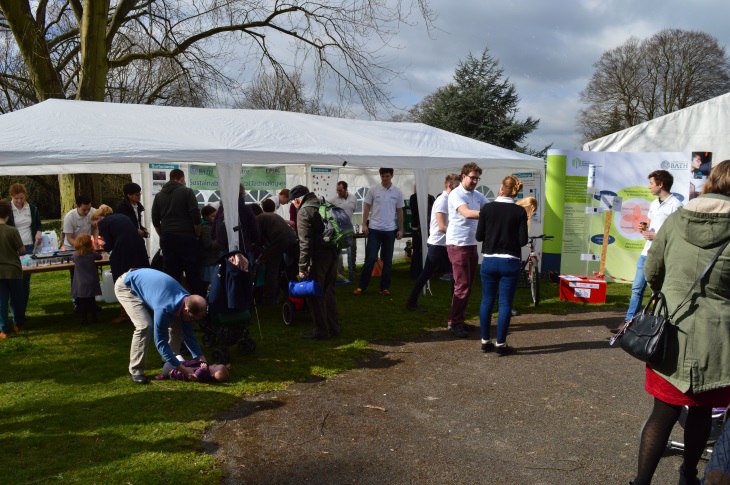 As the afternoon rolled on, energy levels began to dip, however the enthusiasm of each and every participant spurred us on to give an equally enthusiastic demonstration. The afternoon was saved as fellow student Florence (Nightingale) used her household's proximity to Victoria Park to provide us all with hot tea and coffee. With our hands warmed and energy lifted, we powered through the rest of the day until around 16:00. After packing away our equipment and loading everything carefully into our cars, we all wearily meandered to a local high class establishment (Wetherspoons) and partook in the British ritual of watching our national sports teams disappoint us. With that our Bath Taps into Science experience was over.
I personally had a great time despite being nervous at the beginning of the two days. I think we all did a great job and everybody felt they definitely improved as the two days passed and managed to inspire the vast majority of children and adults who visited us. I am extremely excited to do it all again at the Cheltenham Science Festival.