Last year I signed up to take part in I'm a Scientist, Get me out of here! (IAS), a free online science communication competition that pits scientists against each other in themed zones. School classes ask questions to the five chosen scientists in their respective zone, as well as taking part in live chats over the two-week competition. In the second week they vote for their favourite scientist, with one being evicted each day until there are two remaining to fight it out in the final. The victor takes home a £500 prize to use for future science outreach. It's a bit like X Factor for scientists, where the students are the judges.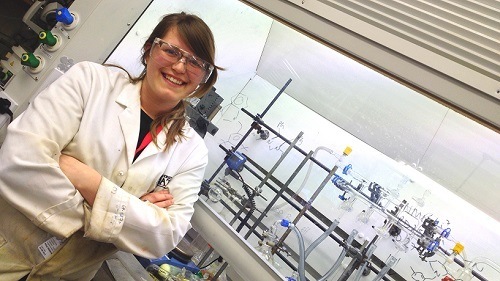 I was chosen to take part in the Climate Change zone of the March IAS event. I filled my profile with pictures of my lab and things I thought kids would find cool (literally: liquid nitrogen…) I thought I had it in the bag and it would be dead easy. It wasn't. Here's some of the things I learned when I took part last month.
1. Kids love emojis
In the words of my friend: "You DIDN'T know that?!" I found myself downloading a browser add-on so I could use them, but I couldn't compete with fellow scientist Cat who had an emoji of a cat IN HER NAME. Not fair.
At least now I can do this => ?⚡️???☕️??☀️?⚗☂?????
Useful. There's definitely a lack of scientific emojis though...
2.   You can make "plastic" out of milk and vinegar
Some students asked me if I had ever done this because they'd done it at school as an experiment. I'd never tried it before so I went home and tried it at home – thanks for the idea, students! It's actually a protein, casein, you get out of this experiment. It's a good one to try out at home.
3. There is no way of working out how kids' minds work
This question was prompted because I said my favourite experiment ever was making liquid nitrogen ice cream. Quite often there's 2+2=5 going on.
4. I really love what I do
I'm in the second year of my PhD, and have definitely fallen foul of the infamous second year blues (have any second years not?!). Talking about my research – especially in the context of climate change – really reminded me why I chose to join the CSCT. Taking part in IAS has given me that bit of a boost I needed.
I was in a climate change zone, but also a primary school zone, so I found I had to explain quite often why my work related to climate change. It seemed obvious to me but I think it's quite a tricky concept to grasp. There were lots of questions like what sorts of experiments do you do in your lab which are related to climate changes?
5. I really wanted to win
I didn't win. I came runner up to Cat, who was very much a worthy winner. Looking forward to hearing how she gets on spending her £500 winnings! Between the two of us we accounted for over two thirds of all live chat interactions and answers – that's dedication!
I realised at the start of the second week that I really wanted to win. I didn't expect that. One time, I found myself sprinting across Bath to get to an impromptu live chat. On another occasion, I was rushing back inside the building to return to a live chat when a fire alarm had sounded mid-way through (once it was safe of course!).
Who knew how much the approval of small children meant to me?
6. The live chats are intense!
Being in a chat on my own with a class of 30 year 5s was one of the most frantic half hours of my life.
7. IAS is a really effective way of communicating with schools
During the two weeks in my zone there were 309 questions asked, 449 responses and a whopping 6,409 lines of live chat written. 443 students logged in during the event, and 90% of them were active in chats, asking questions or voting.
8.  I got to chat to some other really interesting scientists
Every now and then there would be a no-show chat which ended up being a great opportunity to chat to the other scientists and find out what they do too. I hope we keep in touch. Cat, our winner, also works with terpenes so we formed #teamterpene for the final!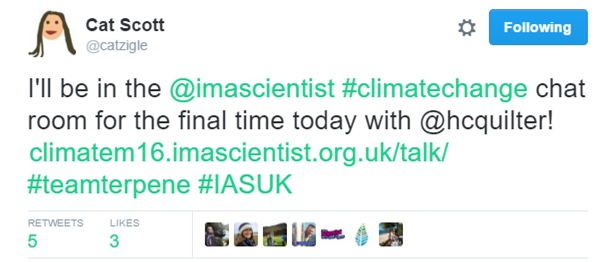 9. You can definitely use too many exclamation marks
Guilty!!! Enthusiastic or too keen?
10. Questions will always end up being about space and dinosaurs
They're just cool. Unfortunately I don't know anything about them.
11. It's OK to say you don't know!
No one knows the answer to everything – better to say you don't know than try and muddle your way through. IAS is a real test of your knowledge (and Googling skills). Better to admit you're not sure. Especially if they're asking you how gravity works…
12. It's important to answer the non-science questions too
These are the keywords from the zone live chats. There were loads of great questions, some general ones, lots on my research and the odd one on space. You may spot football in there too – we got asked things like which team we support and what sports we like quite a lot. I think it's important to answer those questions too so you show you're just a normal person too!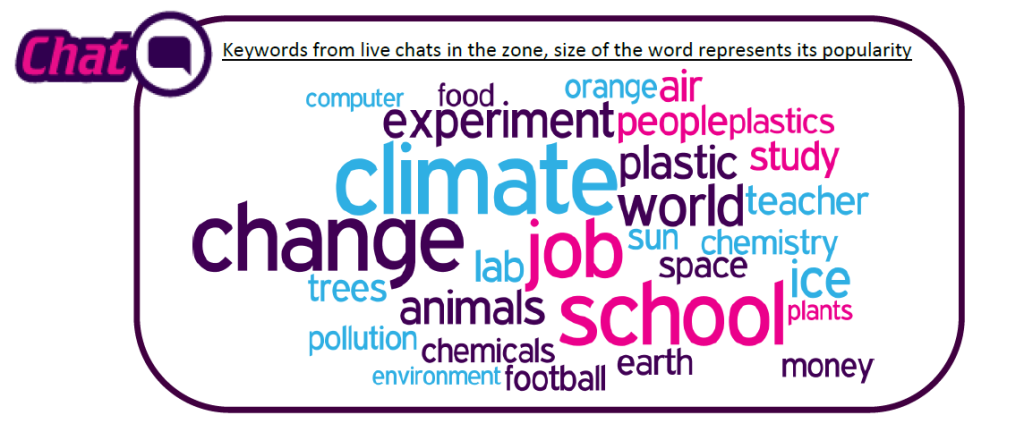 13. It's really nice to read things like this:
14. And these: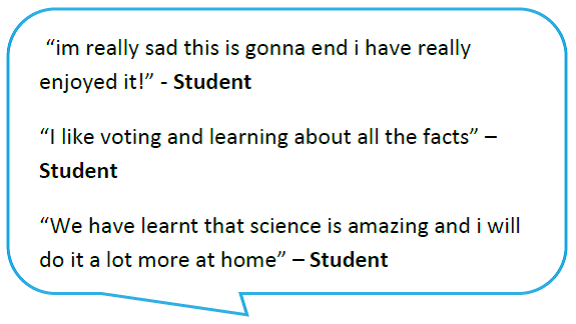 15. It took over my life...
It took a while to get used to the influx of emails telling me "New questions to answer!". There were definitely days when I got carried away answering them and stayed up till 1 am. I could definitely have spent less time doing it but I decided it was worth losing my social life for a fortnight over!
16. ...but it's totally worth if for the mug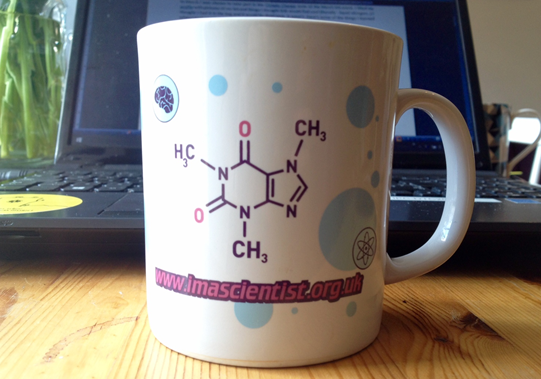 Yes, that is caffeine on there ☕️☕️☕️
So I get to add my name to the CSCT IAS hall of fame. I had a great time taking part and hopefully was able to inspire some future scientists. It was a brilliant experience which gave me a lot more back then I thought it would, and really tested my public engagement abilities. I would thoroughly recommend applying to take part. Speaking of which – the event runs three times a year. So apply for I'm a Scientist or I'm an Engineer. Do it.
If you're interested in reading the stats in more detail you can see the Climate Change zone report. There's some good pie charts in there!
---
Helena is in her third year in the CSCT working towards her PhD on "Terpene derived monomers for new polymers" with Dr Matthew Jones, Dr Davide Mattia and Professor Matthew Davidson.