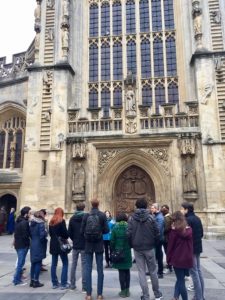 On a chilly Sunday morning in February, over 20 doctoral students enjoyed a quirky walking tour of Bath, led by the Doctoral College's own Val Skinner who volunteers as a Mayor's Guide in her spare time. Rather than the usual 'tourist trail', Val treated us to a more quirky tour of our city and its over 2000 year history.
Everyone enjoyed learning new snippets about Bath and exploring streets off the beaten track. To give you a taste of what made us giggle and gasp here are 5 facts from the quirky tour that you probably didn't know about Bath:
The part cake - part bread Bath Bun (served in Sally Lunn's since the 17th century) was initially invented as a medicine.
There's up to 6000 bodies buried under the floor of the Abbey, which are sinking the iconic building as they decompose.
Noticed anything strange about the statue of St Peter to the left of the main Abbey doors? His head was knocked off during a military exercise and a new one was carved out of his substantial beard.
Plasticine was invented on Alfred Street.
If you see Bath stone with a pink tinge that means there's been a big fire.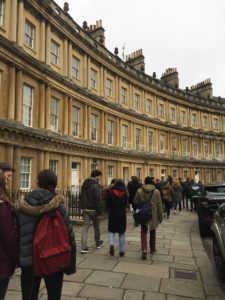 So, next time you take a stroll down a Bath street, take a minute to look around you, the city is much more than just clothes stores and coffee shops.
Keep an eye out on the Doctoral Welcome Team website for similar events and if you want to do a tour yourself, check out the Mayor's Guides free walking tours.
Bethan Charles, Doctoral Welcome Team