Hi all,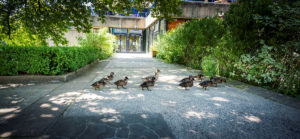 Our resident ducks arriving at the beginning of term 
Welcome again for everyone either newly arrived in Bath or returning! We've got lovely weather and I hope you are enjoying the sunshine as I do. If you are new to Bath, don't forget to sign up for our welcome events (doctoral breakfast, doctoral welcome reception, campus and city tours, etc.), you can find relevant information in our previous blogs  or on the Induction Pages  .
Starting a new term can be busy, however don't feel stressed. If you are a new student, take your time and get familiar with the campus and facilities. Collect your library card and learn about your office location. If you are a returning student, time management will be essential, don't procrastinate and do your work until the last minute 🙂  There have been some changes that it's useful to know about: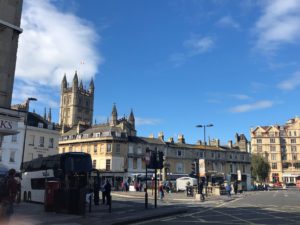 Buses:   U1 has changed its route and will not stop at the city centre anymore if you are coming from the train you need to take the side exit, cross over the canal and turn right, the stop is a few strides down the street.  If you are in town there is an additional bus service,  no 10, which travels from city centre (close to Virgil building) to the university from 9:00 to 18:00. As it is the start of term, be prepared that it can be very crowded at peak times on the bus- build spare time into your day.  4 full buses passed me this morning.  Rest assured SU are in talks with the bus company trying to work something out for us.
Construction on Campus:  It might feel like a building site, but there are lots of things that are happening that will benefit us, more post graduate accommodation and a new School of Management building just as you come into campus.
Fresh: self-checkout counters, making it more convenient to pay and reduce wait time.
Food outlets:  all have new payment terminals making it quicker to pay and eat.  Don't forget to use the Claverton Rooms if you want some time away from undergraduates as its only for postgrads and staff!  They have tons of space, lots of choice of food and drink.
Here are some reminders for those of you just arriving. It can be overwhelming when starting your doctorate. A completely new style of working with people you have probably never met before. To help get used to it there is lots of information in the Doctoral College Handbook  but here is a checklist to help you get started.
The first week:
Collect your library card.
Get out of hours access to your office, labs and cycle showers. This may mean getting your library card activated and/or getting a key for some rooms.
Get your project finance code.
Get suitable equipment (laptops, notebooks, etc). Some of this may be provided by your department or sponsors but a good source of free pens are conferences and fairs!
Ask other students who have your supervisor about their working style. It's best to find out how to make the most of your contact time as academics are often very busy!
Sign up for Doctoral skills and Careers sessions which sound useful or interesting. It's a good idea to ask other students in your office if they have any suggestions.
Sign up for sports clubs and societies mailing lists or go to their taster sessions. Often they will have mailing lists you can join at the society and sports fairs or you can send them an email to be temporarily added.
Check out Bath Active's BathStudent page for free sports activities.
Buy your keepcup and use the leave no trace loyalty scheme
Go to the induction and freshers' events to get to know your fellow postgraduates.
If you don't have permanent accommodation yet visit The Students' Union Advice and Support Service. They have advice on finding housing and moving in/out.
Go to lunch with your new office group.
Read about the support available from Student Services (eg. Counselling and Wellbeing, Student Money Advice).
Attend a meet your mentor session (faculty-wide for Engineering and HSS, check with your Programme Administrator for details of other schemes).
And, of course, meet your supervisor!
The first month:
First year:
Ask for any departmental guidelines on Confirmation. Your supervisor should know what is required and will arrange examiners for you but you can contact the Doctoral College for more information.
Decide which software to use to write your Confirmation report and find other users for help. Word and LATEX are commonly used and there are Doctoral Skills sessions on LATEX available.
Register for Agresso as you will need to claim expenses.
Create your PURE account to keep track of your successes. This will save you time making a CV later on.
And most importantly don't miss out on Refresh week at the start of semester two!
Last but not least, if you have concerns or questions, don't hesitate to contact us. The welcome team members are very friendly and will signpost you to the solutions. Contact us via this blog, or email us or meet us in Cake in the Commons on Friday mornings 10.30-11.30 (10W 5.01).  Don't forget to bring your cup as we are trying to be sustainable (you won't get a stamp as coffee and cake is free, but it's good for the environment) and either take the lift or use the side stairs as the main stairs only go up to the 4th floor!!!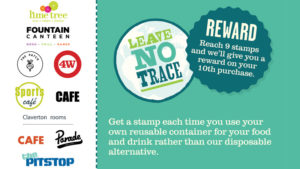 Thanks for reading, see you next time!
Best,
Zehan