Having a University campus atop a hill can present a few challenges for the daily commute. With the constant road-user battle, even the committed pedestrian can have a long wait to cross once at the top. Between road works, new bus routes, and winter weathers some days it's just easier to access and work from the city centre. Last March, I experienced my first University closed snow day. As a lab-based researcher this meant I had no excuse but to catch up on some paper reading off-campus…interspersed with some fun in the snow. You're in for a treat if you haven't seen it yet!
Although working from home can seem the most appealing in these situations, moving venue can help separate the home and work worlds. Plus, the city centre is beautiful and you can treat yourself to a coffee/cake/brunch which Bath does so well. There are many places that cater for Gluten Free (GF) and Vegan (Ve) too. Or, you could pick-up those house supplies you've been meaning to get.
If you weren't aware, you can set up remote access to your office PC from your laptop provided you have internet access. Here are some instructions on how to access your work computer remotely.
This means that you can access work on your laptop as if it were your main office PC, which can be particularly helpful for accessing software such a MATLAB or large memory modelling software that you don't have space for, or access to, on your laptop. Be aware, you will initially need to put a ticket in with IT to set this up for your University PC. You'll need to download GlobalProtect for your personal laptop/PC. But check in with Computing Services first.
If you are looking for a change of scenery, here are three good work spaces based in the city that might take your fancy: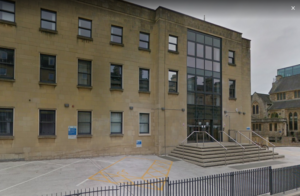 The Virgil Building (University Building), Manvers Street  
Opening Hours:
Mon - Fri: 8:00 - 22:00
Sat - Sun: 10:00 - 20:00
This is an established Learning Commons space within the university buildings. Facilities include individual and group study areas. Training rooms are bookable by students and can check computer availability online before arriving. There are few computers in the study areas so it's best to bring a laptop if needed. Printing facilities are available. The building also has a nice café area if you don't want to leave the warmth. There's a designated area for SU and the student leaders, so if you are part of a society committee you can work on society-related tasks e.g. expense claim forms. Alternatively, you may have signed up to evening language classes which may be held here. If you need to make an appointment with the Careers Service or counselling service you also have the option to schedule them here instead of on campus which may provide more discretion from familiar faces. You can also have parcels delivered to the front desk or pick them up via the amazon locker. You will need your student card to enter the study areas of the building.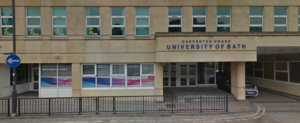 Carpenter House, Broad Quay, BA1 1UB
Opening Hours:
Mon - Fri: 17:30 - 20:00
Sat - Sun: 10:00 - 20:00
Carpenter House is a Graduate Commons building, meaning that only PG students have access and is good alternative option if The Virgil Building is busy. Mainly open in the evening, its a good space to catch up on work at the weekend. It has some university access computers and a printer/scanner. But again bringing a laptop would be advisable. To gain access, simply swipe your student card on the exterior door.
Both Carpenter House and The Virgil building are located close to the Bath Spa train station and offer a good opportunity to get some work done whilst you are waiting for a train, bus or even dinner reservations. This might help those of you who are based off-campus but come in to Bath for meetings.
Lastly, a good café. Society café, offer a lot of plug sockets and many people go there for a coffee and open laptop. There are two in Bath but you may still want to get there earlier in the day for a good seat. They also offer GF and Ve cake and coffee options.
If you weren't aware of these options, I hope this helps a little. Happy studying/shopping/printing/coffee drinking/making your train on time!
Holly
All images provided by Google Maps.