Author: João Santos -
---
Although I have always enjoyed travelling, I have always felt that being a tourist lacks the opportunity to get to know the real people that call these places home. I believe to truly get to grips with a new country and its culture, one should immerse oneself within them. Ultimately, I think, only when you have lived in a country for some time can you look past a nation's pamphlet veneer and fully and honestly engage with it. To be surrounded by a new language, customs and traditions through a truly day-to-day experience may seem intense to many, but lies at the very core of its appeal to me. Rather than the hype of a tourist visiting real-life picture-postcard destinations, I wondered and longed to be a 'local', living a seemingly foreign existence, providing me with the unique opportunity to consider who would I be if I were born in another country? What would I think and feel? How would I be living my life?
As a Portuguese resident, when I graduated with a Masters in Materials Engineering from the University of Lisbon in late 2019, I started looking for opportunities to study abroad. Life in the UK always appealed to me. Little did I know what the coming weeks and months had in store. To my excitement, I was offered a PhD scholarship at the University of Bath working with Dr Matthew Cole in the Department of Electronic and Electrical Engineering. My journey was about to begin.
Extremely excited about the prospect of living and studying in the UK, I arrived in Bath in the midst of global pandemic - an unforeseen event on a scale that most of us never imagined that we would ever experience.
Upon my arrival in Bath, I was welcomed by a lovely, picturesque, and unquestionably small, yet nonetheless beautifully tranquil Georgian city. As I made my first steps in exploring my new home, I could not help but think of this new place as a sort of ghostly Paris. The lockdown-induced silence in this normally student-filled town, coupled with the unique architecture, made me think of a desolate film set primed for action but lacking its actors; the restaurants, cafes, and bars - all empty. In the first weeks after my arrival, I would regularly go for sunset walks along the Avon. Each night I strolled past the same beautiful vistas, places and scenes though rarely was there anyone within them. Far from being lonely, I felt as if I was not living in the 21st century, but rather in a dreamscape where time stood still. The isolation was refreshing. A much-needed pleasant pit stop from a previous hectic and hurried life. On many occasions I could have easily been convinced the year was 1820, not 2020. I imagine this feeling is not unique and that vast swathes of others across the world felt similarly at that moment.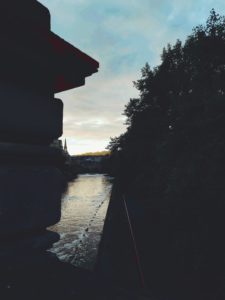 Arriving in a new country in such circumstances evidently presented distinct but rewarding challenges in rooting myself in the UK. On my more recent wanderings, I heard music aloft from an open window – reminding me for a brief while of how life used to be. This is of course not a new or unique feeling. As a new student in a new home there is of course a tendency towards nostalgia for what can only be described as significant social disorientation. I have, however, been very fortunate to have found a friendly, welcoming, and engaging Research Group, Department, University, and city.
Despite everything, a bit of normality could be felt listening to this music that graced the warm spring air.
Now months have passed, and safe social activities are becoming more frequent. During the lockdown months our virtual quiz nights on Zoom proved to be a much-needed balm, and as close as we had to a drink after a stressful deadline; now that life slowly returns to normally and the memory of the past months become more distant and seem to blur, they have started to show me what the true meaning of pub food is – and I have taken the first steps towards feeling like a local – and merging into the background.
I do feel fortunate to be going through this situation. While it is by no means what I envisioned the start of my life as a PhD student abroad would look like, in terms of interactions and social activities, I have enjoyed finding my own timings and routines that the isolation forced upon us all. Though difficult at times, I have grown as a person and have made every effort to make the most out of this otherwise negative situation. Though often coupled, I have been lucky that isolation has not become loneliness. In my case I found that I gave me independence rather than dampened spirits (at least most of the time).
As we all move forward together, I have used this unique opportunity for quietness to find out something that I have wanted for long - to learn what it is like to live in a foreign country without being a tourist. To merge into the background and to go unnoticed. Like so many others, I too will have to retain my resolve and wait for the brighter, warmer, and more social days ahead. Nevertheless, as we sit on the verge of normality, I am newly energised to explore, not as a tourist but in this new country I now call home.