The first LITEbox event of the new semester kicked off on 15 October with Professor Peter Lambert, the University's recently appointed Pro-Vice-Chancellor (Learning & Teaching), chairing a debate on the uses of new and existing technologies to a packed lecture theatre. A full recording of the session is available at the bottom of the page.
After a brief introduction from the Chair, each of the five panel members also gave a short introduction about themselves before moving on to the three main topics. The panel comprised:
Dr John Troyer, Lecturer, Department for Policy & Social Sciences
Dr Emma Rich, Reader, Department for Health, LITEbox Project Co-leader
Professor Nick Kinnie, Associate Dean (Undergraduate Taught Students), School of Management
Dr Kyriaki Anagnostopoulou, Head of e-Learning, Learning & Teaching Enhancement Office
Dr Julie Letchford, Senior Teaching Fellow, Department of Pharmacy & Pharmacology
Commenting on the event, Professor Lambert said:
"I very much enjoyed chairing such a well-attended and dynamic event, particularly with such a mixed audience of both academic and Professional Services staff from across the University. I am delighted that LITEbox, as an institution-wide initiative, is beginning to create a community of practice within which staff can share, learn and develop their experiences of new and existing technologies. This early discussion has provided some useful pointers for the development of the Education Strategy for 2016 and beyond."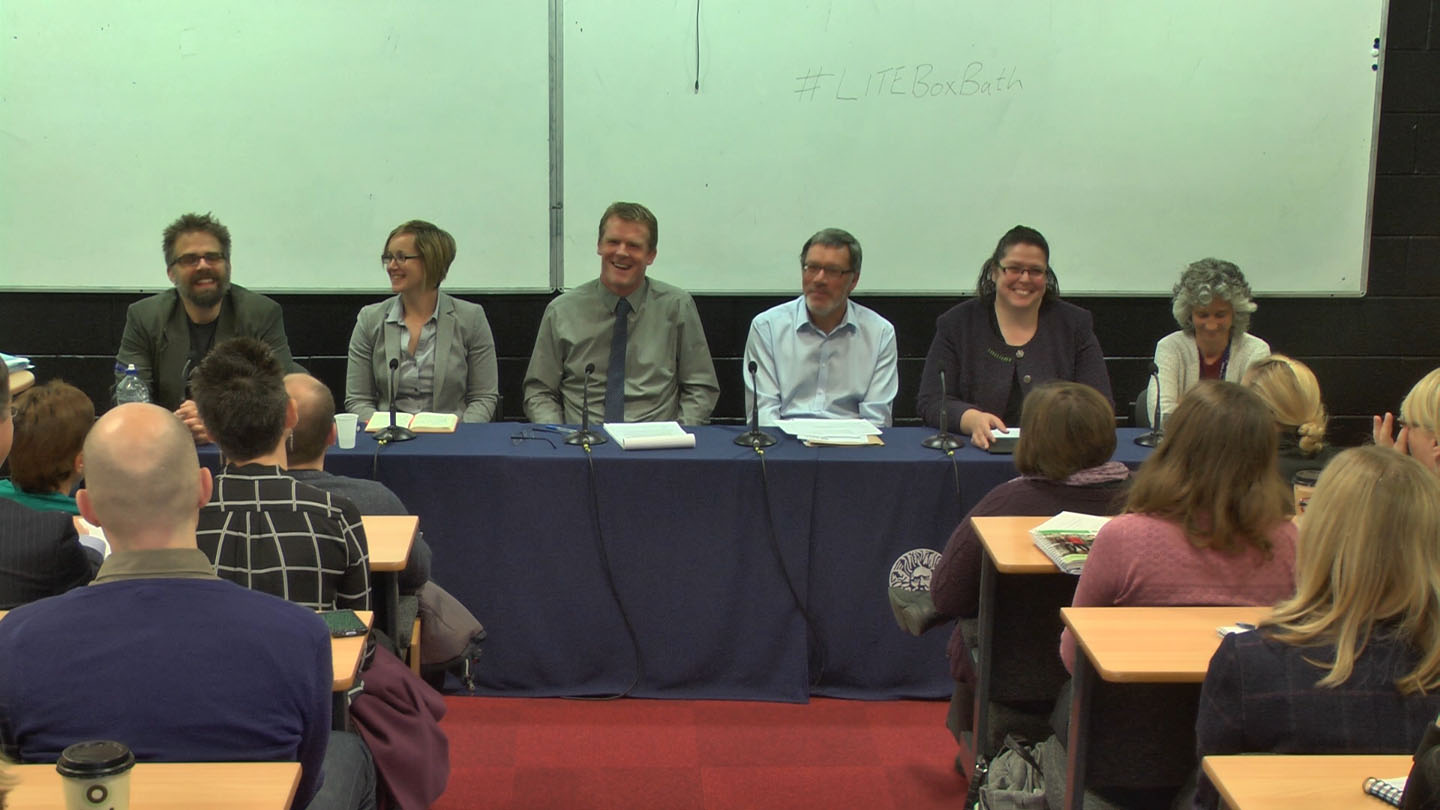 Research-enriched teaching
Dr Emma Rich started the discussion by giving a practical example of her use of Padlet to create digital resources for final year Units in BA Sport and Social Sciences. This was followed by sharing with the audience how she invites leading researchers from around the world to engage with her students here at Bath through social media and short videos - allowing students to really connect with authors who they may cite in their own academic studies. Dr Julie Letchford then added to this topic by discussing the links between critical evaluation and research using her own example of developing an e-learning module to support this area of learning for her students in Pharmacy and Pharmacology.
When questions were opened to the floor, the difficulties of creating relationships with other academics around the world and the best practice ways of allowing students to connect to others around the world were both discussed. An example of this practice is given by Dr Wali Aslam, who regularly uses videoconferencing in the classroom, and who also recording research seminars to provide students with access to cutting edge research as well as increasing efficiency.
Dr Kyriaki Anagnostopoulou mentioned how the Massive Open Online Courses (MOOCs) run by the University are not only created by experts, but a third of participants are also leading experts within their own fields. Professor Lambert commented that there is a huge potential for research due to the continual development of these courses. University-wide initiatives such as the Flipping Project offer fantastic opportunities to engage academic colleagues as collaborators on our courses - but of course the ability to offer a small fee as a result of the funding will incentivise their participation.
Finally, the topic ended with a reminder from the audience that many undergraduates do not enjoy research so it needs to be linked with teaching in moderation.
External links and profile
The second topic started with Dr Kyriaki Anagnostopoulou discussing how MOOCs can attract large numbers of both other academics and public who can engage with the University. Dr Emma Rich mentioned students using Twitter to showcase their work, using a Twitter hashtag at a dissertation exhibition and tweeting about their projects. Students have then been contacted by interested parties such as local authorities or professionals who are keen to engage further. However, the audience noted that there is little guidance or support easily available from the University on using platforms such as Twitter, following which Dr John Troyer reminded everyone that many students are unaware of their visible and invisible profiles online. This was noted as an area for consideration and future support for students.
Quality and efficiency
Professor Nick Kinnie opened the final topic by talking about four uses of electronic voting systems which are able to engage a large group of students at any one time:
Data creation in lectures - from a large collection of students with a range of experiences
Formative assessment - to gain a rough understanding of what the students know
Summative assessment - can be challenging and has issues such as registering the clickers, ensuring no cheating, etc.
Instant feedback - by asking students their thoughts on programmes and classes
Comments from the audience were based upon the University needing to commit fully to these systems to ensure they work reliably, but Professor Kinnie assured that if there is support then "clickers" are definitely a method of improving student learning and experience.
Dr John Troyer ended by twisting the debate and asking "what is a classroom technology?", sharing his experience of teaching without presentation software. There was a general consensus that while technology such as the internet makes content more accessible and affordable, technology should not define teaching but rather should be used to assist us instead. Dr Rich added that it is important we don't assume all students are comfortable with technology and engage with them in understanding what learning technologies would be most beneficial.
Dr Letchford also drew attention to the important issue of ongoing support and maintenance for all e-Learning materials, sharing her own challenges around having the time and technical skills to update an authoring package following the end of a funded project.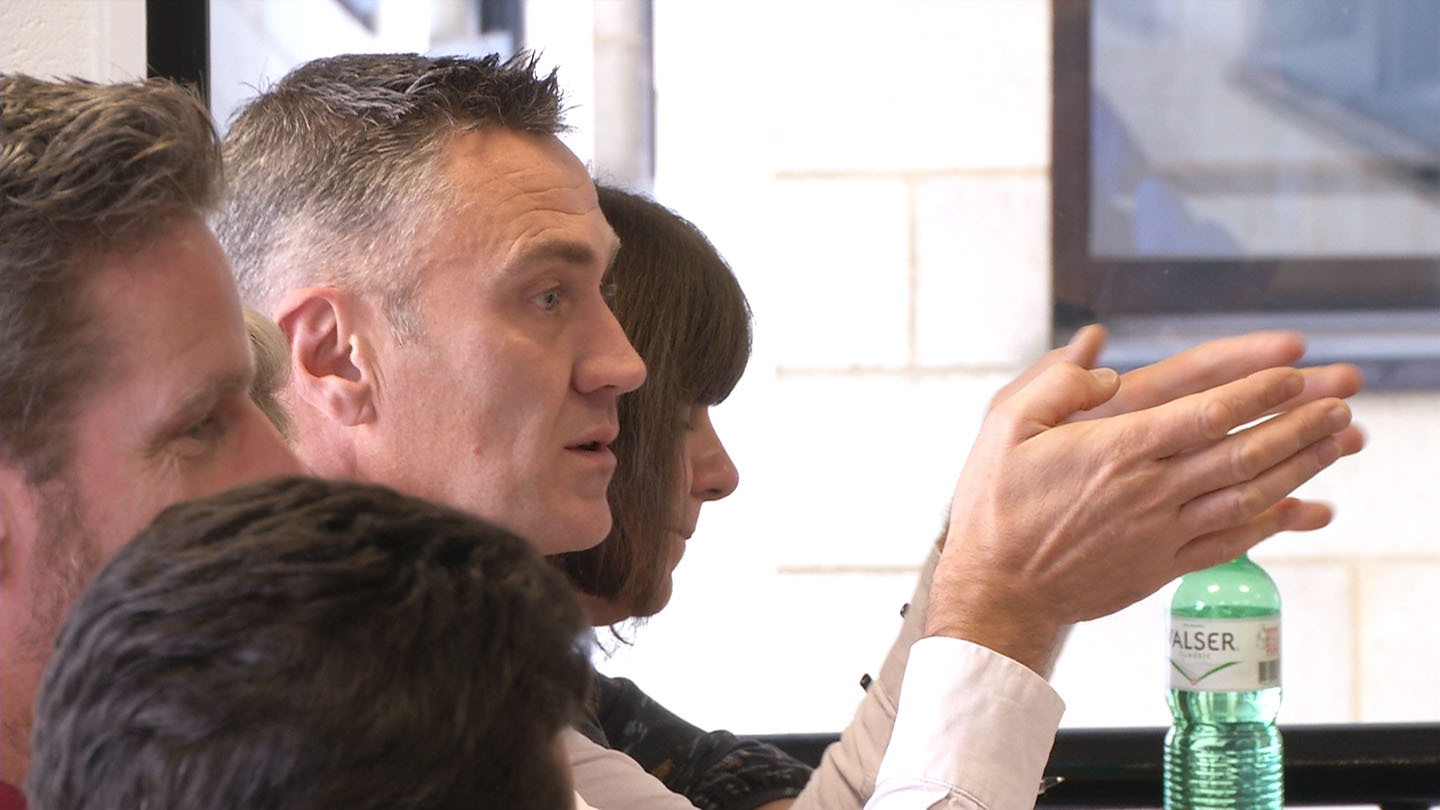 Attending the event as a participant, Dr Jos Darling, Director of Teaching, Department of Mechanical Engineering, commented:
"It was really interesting to hear about the varied use of learning technology across the University and debate the pros and cons with colleagues who have improved the student learning experience while making their life easier and more rewarding."
If you have any comments on the debate or continue the discussion, please leave a comment in the box below.
Find out about more future LITEbox events
Click the video below to watch a full recording of the technology panel debate: