Progress to date
The project is making excellent progress despite the high wind and bad weather experienced in March.
Extra measures and precautions have been introduced when construction vehicles leave the site, such as banksmen that are helping vehicles to safely leave the site.
The construction of level 0 has been completed, Vinci will commence the instalment of internal walls and will commence level 1. This will include the instalment of approximately 250 tonnes of concrete during April. There will be periodic times of high noise as the concrete works are completed.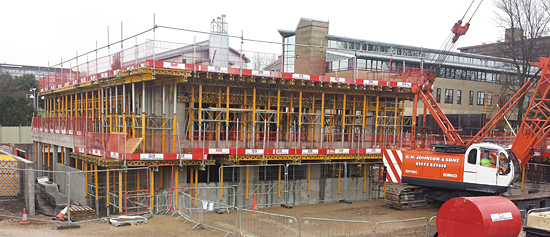 The construction and installation of the drainage system is nearing completion.
The foul drainage system has been completed on schedule.
A gate is required and will be opened shortly adjacent to the West car park, this is to allow access for an additional crane during May. This will result in a temporary reduction of 8 parking bays from West car park for a period of one month.
General queries can be addressed to estates-helpdesk@bath.ac.uk
Please also see Campus investment webpages  and Estates webpages