Progress to date
The project is on schedule and continues to benefit from the good weather conditions:
Construction of level 4 has been completed; work on level 5 is now underway and good progress is being made.
Internal partitions have commenced up to level 2 and first fix electrics have started on the ground floor.
Construction of the building's façade is in progress and will continue for the next few months.
The western element steel frame and floors are completed and staircases will be completed in the next month.
The atrium steel will be installed in the next month encompassing a 18m steel member lift which will form the support to the atrium glazing. This work will be carried out first thing in the morning to prevent disruption.
The Office of Policy and Planning continues to consult with the final users of the building, the Department of Psychology, to refine detailed requirements and furniture procurement.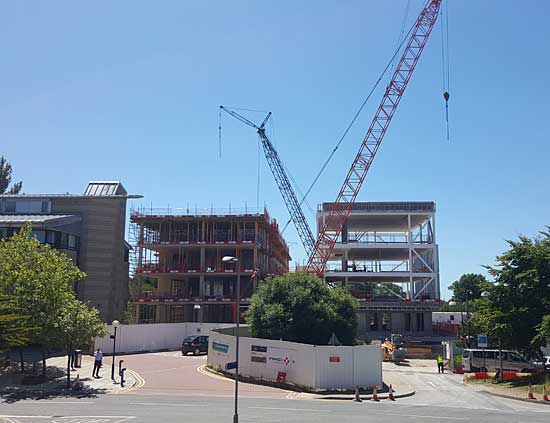 Health and Safety
Extra measures and precautions remain in place relating to construction vehicles and movements are monitored to ensure safety standards are maintained. These include measures such as banksmen who are helping vehicles to safely leave the site.
A secondary access to the site has been formed to assist in deliveries and safe movement of vehicles.
There have been no injuries or accidents and the team are achieving exemplary levels of safety.
Noise
The noise levels will continue at the same level as they have been in the previous month.
Did you know…?
There are daily logistics meetings about the cranes to make sure every slot is filled to maximise their effective use.
General queries can be addressed to estates-helpdesk@bath.ac.uk
Please also see http://www.bath.ac.uk/campus-investments/ and http://www.bath.ac.uk/estates/