Welcome to the 13th monthly update aimed at keeping you up to speed on the new Milner Centre for Evolution Project.
Work to install the roof and make the building water tight is still taking place with 80% of the Bauder roof system installed to the main roof, with a view to work starting on the roof of the lower balcony in the next week.
Internally, the walls are continuing to go up on both floors, and the ductwork and housing for all of the electrical and data cabling is currently being installed. The works associated with the underfloor heating and the screed is now complete. The automatic front door is on site and will be installed in the coming weeks.
Both the brickwork and stonework is continuing to be installed all around the perimeter at low and high level with the East elevation of the building soon to be complete. The installation of the grey Kingspan cladding is nearly complete with only a few areas remaining to be covered up. The cream/white Marley Eternit cladding has started to be installed on the North Elevation. Some of the glazing has also been installed to the curtain walling section at low level and also on the North Elevation.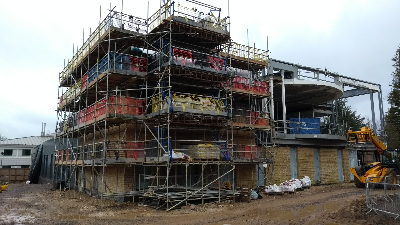 The transformer for the building has been positioned on site, with a view to installing its GRP housing unit in the next week. Drainage work is currently ongoing. We have installed the attenuation tank and are in the process of backfilling and reinstating the car park. The contractor is working closely with the University's Estates & Security teams to minimise any disruption and work is continuing to take place over the weekends.