Welcome to the 15th monthly update with news to keep you informed on the new Polden Corner Student Accommodation project.
The outside of the building is changing rapidly, all structural work is now completed and the final tower crane is no longer in use so will be taken down over the next couple of weeks.
The stone cladding is now taking shape, and you will see this start to spread over the buildings facing Quarry Road over the next month.  In addition to this, we are fixing the support system for the feature 'brise soleil'  shading which sit in front of the glazing at each staircase.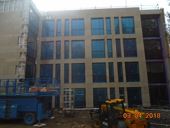 Inside the building, work is progressing rapidly, and we will be starting to fit the bedroom furniture within the next week. In addition to this, we are painting and decorating, fitting joinery and laying flooring across the building.
We have constructed a sample bedroom on site, to ensure everything fits as planned and we will shortly be installing the first kitchen, again to make sure all of the cooking appliances fit in correctly.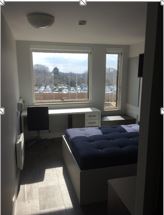 At the rear of the building, our underground services works are progressing well, and we are planning the hard landscaping that will follow once the cladding is complete.
University Estates, AHS, and Security teams will work closely with contractors to minimise disruption as much as possible as the project continues.

General queries should be sent to: estates-helpdesk@bath.ac.uk