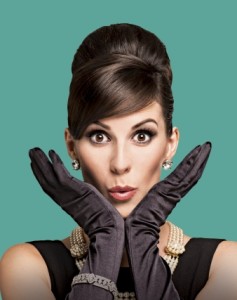 ONE TICKET, Possibly TWO remaining 15/3/16
I can confirm I now have tickets for sale for  Breakfast at Tiffany's on Tuesday 17th May at 7.30 at the Theatre Royal in Bath. The price is £26.50 for  good stalls seats in rows G, H and I.
---
Breakfast at Tiffany's is Truman Capote's classic tale of one of literature's most captivating characters, Holly Golightly, so memorably portrayed by Audrey Hepburn in the iconic 1961 film. This much loved romantic comedy is transformed into a stage play with music in this sparkling new production.
The story of vivacious, good-time girl Holly Golightly and her fantastical existence in 1940s New York City, is told through the eyes of a young writer, completely fascinated by this exquisite extrovert whom every woman wants to be, and every man wants to be with.
With memorable songs from the era and original music composed by Grant Olding (One Man, Two Guvnors) performed by an on-stage band, this stylish production is set to capture the hearts of audiences.
Playing Holly is Verity Rushworth, winner of the Best Scene in the Soap Awards 2015 for Emmerdale, whose credits also include Chicago, The Sound of Music and Hairspray.
Adapted by Pulitzer Prize finalist and Tony and Olivier Award winning playwright Richard Greenberg (Take Me Out, Three Days of Rain, The American Plan), Breakfast at Tiffany's is directed by Nikolai Foster (Beautiful Thing, Calamity Jane and The Witches of Eastwick).
---
Ticket Details
Date is Tuesday May 17th at 7.30
Best stalls seats in rows G,H and I are £26.50 (full value £33)
Payment due by 23rd March either in cash or by cheque made out to Omnibus. Cheques can come to me in the internal post and I will acknowledge on receipt. Cash can be delivered to the Careers Service  during our office hours 9.15 to 4.30. In the vacation we close between 1 and 2. My colleagues can take cash from you but don't have change so correct money please.
If you want to reserve tickets let me know how many by emailing me at s.a.briault@bath.ac.uk and follow through with payment by the 23rd March.