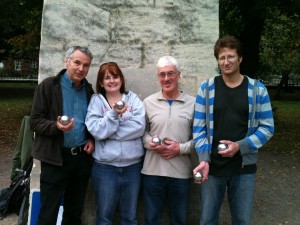 This is a last and final call for anyone willing to captain the Omniboules team to play in the Bath League de Petanque this season. Omniboules is a mail-list of people who enjoy a game of boules. The League matches are every second Tuesday at 6pm in Queen Square, running from May to September. No experience of captaining, or of playing boules, or of anything else is needed, beyond an ability to hold one's pint of cider steady in one hand while throwing the boule with the other.
The Captaincy mainly involves sending out pre-match reminders to the omniboules mail-list, to check who will be able to come. You should be free to play fairly regularly yourself – though a jobshare arrangement is possible.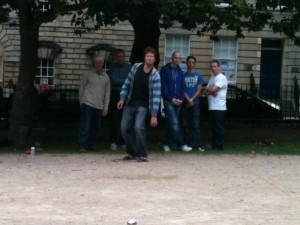 The deadline for registering in the Bath League is 25th April (next Monday). In no-one volunteers by then, we would still be able to meet for lunchtime practices at Claverton Hall in good weather, and we could try to arrange friendly matches with local teams.
Please contact Martin Reed (m.b.reed@bath.ac.uk) before the end of this week  if you are willing to captain, or if you want to be added to the omniboules mail-list.