We have tickets booked in the stalls (rows F to K) for this barmy Gilbert & Sullivan's with Sasha Regan's inventive all male Iolanthe.
Tickets are £34 per seat for Tuesday 12th June 2018 at 7.30pm
If you would like to join us please email k.toogood@bath.ac.uk with the number of tickets you would like before Thursday 7th June 2018.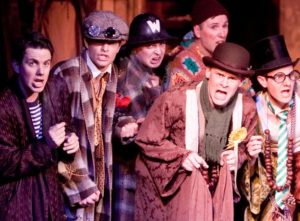 https://www.theatreroyal.org.uk/event/iolanthe/
https://www.facebook.com/allmaleiolanthe/
★★★★ "This absurdly silly but sweetly touching version of Iolanthe is a comic pleasure...irresistible" Guardian
★★★★ "Sasha Regan and her boys are doing something just as gloriously fresh and inventive as Matthew Bourne did with Swan Lake" Independent
Having wooed Bath with Pirates, Pinafore and The Mikado, Sasha Regan returns with her most critically acclaimed production to date – Iolanthe.
Torches flash in the darkness as a party of naughty schoolboys venture into the magical surroundings of an old theatre. Amid all the backstage paraphernalia they discover a Narnia-like wardrobe and a dusty copy of Gilbert & Sullivan's score. What follows is pure magic…
Universally regarded as Sullivan's most beautiful score, Iolanthe is a topsy-turvy love story between the most unlikely of companions… fairies and members of the House of Lords!
Sasha Regan's inimitable inventiveness combined with Gilbert and Sullivan's inherent barminess make for an unmissable night out.
★★★★ "As intoxicating and mischievous as moonshine" Time Out