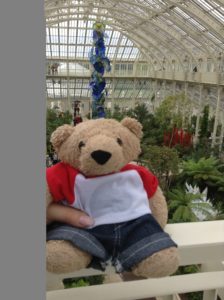 On Saturday 27th April, intrepid Omnibus members braved the gales and headed off to London. Half the group decided to explore Kew Gardens, whilst the remainder chose to visit the historic Hampton Court Palace.
Kew Gardens, as always, were looking splendid. Since Omnibus' last visit there the newly restored Temperate House has been re-opened. This is the largest Victorian glass-house in the world, and is well worth a visit. As well as housing a vast range of exotic flora, it also is home to some of the eye-catching glass creations of Dale Chihuly. Other Chihuly exhibits could also be found scattered around the gardens, some of which were beautiful; others a more acquired taste!
Kew really is a garden for all seasons. It may have been too late for the daffodils and blossoms, and too early for the roses, but it was perfect timing for the rhododendrons and azaleas. Carpets of bluebells covered the wooded areas and there was a freshness of green everywhere. Alas, it was a little too windy for the tree-top walk – but then again you need to leave something for your next visit!