What a fascinating talk from Jeremy Key-Pugh of Bath Abbey's Footprint project (Monday 13th March 2023).  From hearing about the headless bodies buried under the ledger stones, filling the 6ft gap, created when the Abbey was rebuilt in the 1500s, to learning about the many local organisations and companies (including our own Engineering faculty) involved in the 15 years of this £21 million project - £10 million coming from the National Lottery fund.

The project was delivered in 3 phases, allowing the Abbey to continue to function and creating the new Discovery Centre, which has just opened.
Jeremy spoke of the history of the Abbey from the original Saxon Abbey, the replacement 11th - 13th century Norman building, to the Abbey we know today.  He mentioned the challenges faced which included: restabilising the floor and poorly founded organ and burial memorials; removing and resetting the wooden pews, many plaques and ledger stones; harnessing the natural hot spring water; accessing the Great Drain; and working conditions for those installing the bespoke "energy blades".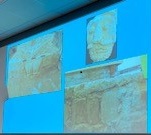 Surprising discoveries were the almost intact Saxon charcoal burials, colourful Norman tiled floor, Georgian fireplaces of the homes built against the Abbey's Jackson extension walls and William Vertue mason's mark from the fan vaulted roof.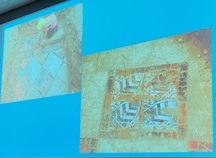 Forty-five minutes was not long enough.  We are looking forward to organising a trip to Bath Abbey and new Discovery Centre and hearing more from Jeremy plus seeing some of the interesting artefacts found.