Thanks to Holly Dean-Young for her account of our trip to Dunster Castle in August  (see below) and apologies for the belated posting!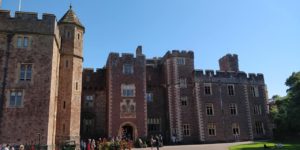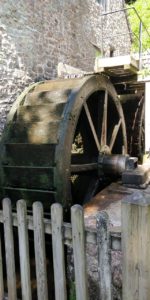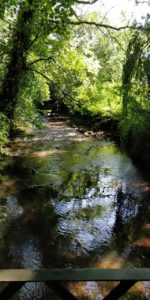 We were lucky to have beautiful weather as we hopped on a coach to Dunster Castle and headed to Watchet (via a scenic trip around Gastonbury) to pick up the steam train that would take us the rest of the way. It was a beautiful journey that took us along the coast with a lovely view across the channel. For those who hoping off along the route there were ice cream shops and cider farms to visit (samples of which were available on the train in the buffet car) but we were headed for Dunster Castle. We arrived at the station after a quick transfer to the Castle through the picturesque town of Dunster. I was very hungry at this point (it had been an early start) so we dashed off to enjoy a cream tea in the Millhouse (an actual Water Mill that still produces flour!) We then wandered through the lovely garden that ran beside a small stream and had some lovely redwood trees and fun wood chimes for the kids. We then headed to the Keep gardens which were landscaped into a bowling green (now just a nice picnic area) and because it is the former 'ward' (tower) of the old keep it is built in a circular path leading up to the green there are lots of interesting things on the way like the Pet Cemetery, a reservoir (which was lovely and cool in the hot weather) and a fairy well (which was interesting because of the architecture mix between the Norman and the Victorian building).
The house is Jacobean but was updated in the mid Victorian period to suit a 'modern' Victorian family who entertained a lot. There are still a few curiosities, the main bedroom has a priest hole that is so small I think even a child would struggle to get down it and they don't know where in the house it is or was connected to! There are also some completely unique Leather hangings which tell the story of Anthony and Cleopatra. It was really interesting to hear all about these unique hangings from the enthusiastic volunteers. The other interesting feature was the thoroughly modern 1950's kitchen!
We then left the house via the South Terrace were you get a beautiful view across the valley and look over the channel and the steam train puffing past.
There was also an extra activity during the summer to meet 'Creepy crawies' from Exmoor Zoo where if you feel very brave you can hold a Chilean bird eating spider! Also you could play spot the Praying Mantis.
At the end of the day we headed back on the train to Bishops Lydeard and to Bath feeling relaxed and inspired by the lovely experience arranged by Omnibus. I can't wait for the next one.