Join us on 6 February in the Wessex Staff Hub 10am – 2pm to find out more about our new programme of events and about the lunchtime activities we support. Free refreshments.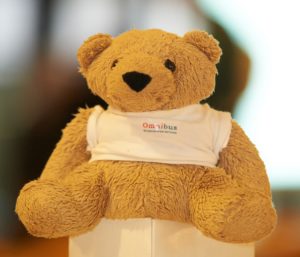 What is Omnibus?
Well, we are the staff society for anyone working at the University of Bath. We are run by staff, for staff independently from the University. If you're new to the University you may not have heard of us, as we have been a bit dormant over the last few years – for obvious reasons! However, we are now up and running again and about to launch a brand new programme of events for 2023.
What do we do?
As well as our famous lunchtime quizzes at Easter and Christmas, Omnibus acts as an umbrella organisation to a number of lunchtime clubs. These clubs are also run by volunteer members of staff and include badminton, football and volleyball. They are open to everyone from complete beginners to experienced players. If sport isn't your thing, then there is the Board Game club, the Book group or Craft club.  We occasionally organise lunchtime talks that we think might interest members. We have a talk on the Bath Abbey Footprint Project coming up in March, and have previously had chance to hear about, and hold artefacts from, the Roman Hoard found in Bath.
We also run evening theatre trips and coach outings for all staff, friends and family. The beauty of these is that by going as a group, we can usually get discounted prices on entrance tickets. Coach travel does tend to add to the cost, but we try to pick places that are not so easy to reach by public transport, or that people may not want to drive to for whatever reason (or in the case of the Bombay Sapphire tour – drive back from!). This year we have plans to go to Slimbridge, Monkey World or Bovington Tank Museum and RHS Wisley. If there is enough interest, we may also consider going to Warner Brothers Harry Potter Studios at Halloween and a return trip to Bombay Sapphire.
In addition, we aim to improve staff facilities and provide a forum for all staff at the University.
How do I join?
Membership of Omnibus itself is currently free and we have no plans to change this for the foreseeable future. Some of the clubs we support may charge a joining fee, and you will need to pay for any coach and theatre trips you wish to go on. However, we are non-profit making and only charge to cover the actual cost incurred. Joining couldn't be simpler. Just fill in our membership form and we'll add you to our mailing list. The form and more information about lunchtime clubs and other events can be found on our blog page at: University of Bath Staff Society