What are your fondest recollections from studying at Bath? Are they of your time on the pitch, your time in the pub or even – dare we say? – your time in the library? Whatever your university memories, the Alumni Team can help you bring old friends back together to relive one of the best times of your life. Visit our Reunions page for more information.
Read on to find out about some of the recent reunions we've hosted at our Claverton Down campus…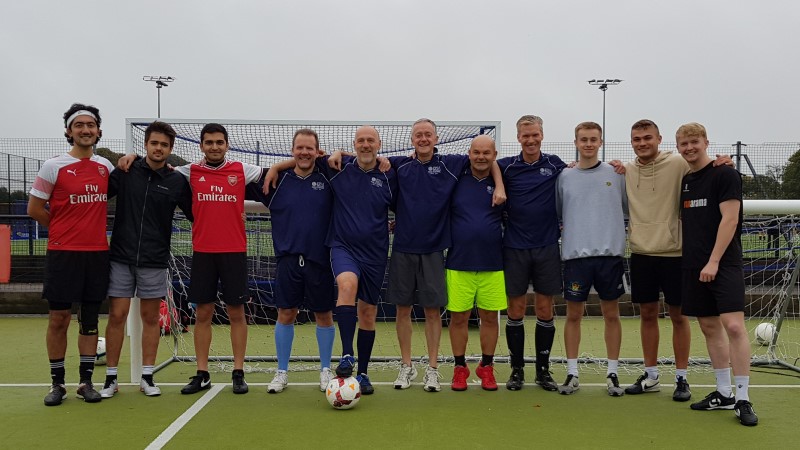 The class of 1984 BSc Business (known back then as the DBA) returned to campus in October 2019 for a 35-year reunion. After pitting themselves against current students in a friendly match of five-a-side football, they returned to their old lecture theatre for an update about the School of Management from Vice-President Professor Veronica Hope Hailey. They rounded out the day with a walking tour of the city, followed by a night out in town at some of their old favourites.
What's more, the gathering also gave our students the opportunity to benefit from their expertise. "Meeting older alumni for a kick-about during their reunion trip to Bath was a great laugh, and it was also a chance to connect with and learn from some really experienced minds," explained George Griffiths (BSc Biology 2019). "I've since met up with a couple of [them] over coffee in Bath, and I remain in touch with them all via email."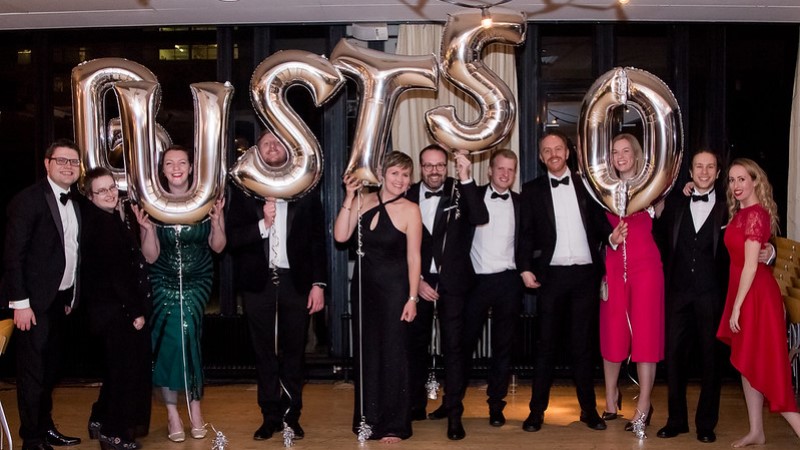 Over 100 current and former members of the Bath University Student Theatre (BUST) met on campus in February 2019 to celebrate 50 years of student theatre at Bath. We offered alumni the chance to reminisce with a curated display of posters, pictures and programmes from the University Archives, and invited guests to share memories of their favourite – and most controversial – productions.
Later in the evening, BUST committee members welcomed alumni and current students for a black-tie reception. Following a glass of fizz, guests were treated to speeches from the current and former Chairs of BUST, as well as 'mother of drama at Bath' Pat Bishop (Honorary MA 1986), former Director of Drama and the Arts. "I would like to say how delighted I am to be here tonight and to meet so many of you past students who loved being in productions," said Pat. "That's what it's all about." Once formalities were over and done with, students and alumni made a beeline for the dance floor to swap a few old-school moves.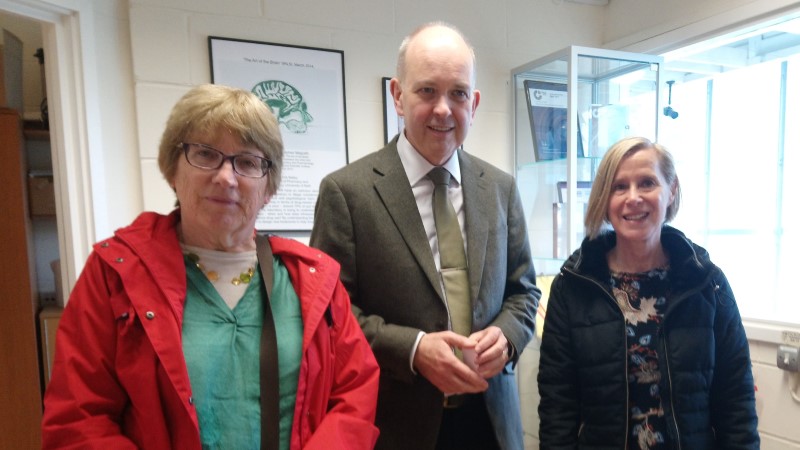 However, it's not just large events that we can help you to organise. Ruth Martin (BSc Sociology 1977) and Hazel Matheson (BPharm Pharmacy 1977) met in their kitchen in Mendip Terrace back in October 1977. Hazel moved to Cape Town 25 years ago, so when Ruth got in touch to let us know that she and her lifelong friend would be visiting Bath for the first time in 35 years, we wanted to make sure they shared a day to remember.
The pair had a great time visiting their old haunts on campus, taking in the changes to the Department of Pharmacy & Pharmacology with Director of Teaching Dr Philip Rogers, enjoying a stroll along the Parade and – of course! – taking a sneak peek at the current student digs over in Mendip, Westwood. "If students were wondering who these middle-aged women peering into their ground floor kitchens were, I'm afraid that was us!" jokes Ruth. "[We had] a wonderful, wonderful time."
Interested in reuniting your former classmates, neighbours or society? Visit our website to find out more about how you can organise a reunion and how we can help.