Graduating in 1970 with a degree in Horticulture, David Shaw was among the first cohorts of students at the University. He shares his memories of campus' early days, fancy student digs and a career focusing on land and sea.
"When I came to Bath for my interview in 1966, I knew what to expect. I'd already been for an interview at Leeds and had been deeply impressed by the grandeur and scale of the buildings, so I thought I knew exactly what universities looked like.
"After getting off the bus at the top of Bathwick Hill and walking along The Avenue to where I was scheduled to have my interview, the South Building, I was puzzled. I went past a squat building – assuming that it was probably the Students' Union– and carried on.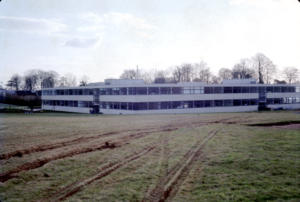 "Slowly, as I continued to walk along, I realised that the building I had just dismissed was the actual University presence at Bath; most of the rest of it was still housed on sites in Bristol back then. But… the South Building? South of what? Birmingham?!
"There were no other buildings anywhere near, so I retraced my steps and made the interview just in time. To my delight, I was offered a place, dependent upon my A-Level results.
Growing ambitions
"I'd originally applied to study Applied Biology, but when the results came in, I hadn't managed to get the right grades. However, the University had recently started offering a four-year sandwich course in Horticulture and my results did qualify me to study that. Was I interested? Damn right I was! And so began four wonderful years, which were the making of me and have been the bedrock of both my career and my life ever since.
"I had always been a shy child, and my time at Bath gave me the confidence to overcome that. The friends I made, the teaching I had, and the time I spent during the course working across various facets of the industry both in the UK and the US gave me a level of self-belief that I cannot imagine getting in any other way.
"There was virtually no dedicated student accommodation in those days, so we had to find a place to live in the city. Looking back, I am amazed at some of the places that we were able to rent! I've lived in some of the swankiest terraces in Bath: we had a really large second-floor flat in Portland Place, which three of us shared for just £18 a week. Even allowing for the rise in prices over the years, that must be a bargain!
"Another time, we had a beautiful old house in Freshford that was stuffed with antiques and original paintings. I can't imagine the owner of such a property being comfortable with having it as a student let now. We were very lucky.
"After graduating, I was lured to Kent by the offer of a job with the County Council as a landscape designer. I worked in this capacity for seven years for various local authorities before striking out in a rather different direction.
Stormy seas
"For six years, I took a break from horticulture and worked in a boatyard as a yard bosun, crane driver, slipway operator, rigger and creek pilot, learning many practical (and social!) skills along the way.
"The second boatyard I worked in offered a less happy experience. It later transpired that the man who owned it was the frontman for a gang of armed robbers, subsequently jailed for 20 years. While I was there, his threat to kill me perhaps should have been taken a little more seriously…!
"So, it was time to dust off the degree and get back to what I knew. I set up a landscape gardening business with my wife and we had considerable success in designing and building gardens. We were even invited to exhibit our designs at the inaugural Hampton Court Flower Show in 1990.
"The physical demands of landscaping eventually began to take their toll and a more desk-based job seemed a sensible option. The last 14 years of my working life were probably the most enjoyable of all. My wife and I ran an In Bloom campaign, encouraging communities in our borough to work together to take pride in their environment and to have their achievements assessed by entering competitions.
"Eventually, we were asked to join the judging team and also occasionally judged neighbourhoods across the south east for Britain in Bloom. This was a frequently inspirational experience and a real privilege to be invited into these communities to meet these dedicated volunteers.
"Our daughter recently obtained a MA with distinction and our grandson is set to head off to university. I do hope that, when I have occasionally bored them with tales of my time in higher education, it helped to sow a seed which has made them want to pursue a university education.
"The very interesting life that I have led is due in no small part to the experiences that I had all those years ago at Bath, for which I am forever grateful."