We speak to the coaches that prime our student-athletes for success – in and out of the pool.
Team Bath's Hall of Fame for Sport looms large to your right as you enter the Sports Training Village on campus. Spanning the breadth of sporting achievement at Bath, its 29 inductees include the likes of Olympic skeleton star Amy Williams MBE, World Champion hurdler Colin Jackson CBE and – as of February 2022 – swimming coach David McNulty.
"I've always seen all of those faces and I thought, 'I would love to be part of it'. It's a great honour," he says. "I think this is an amazing place. What a city; what a university. The STV is just outstanding. I've been to a lot of venues around the world and I've never been in a place that feels like this."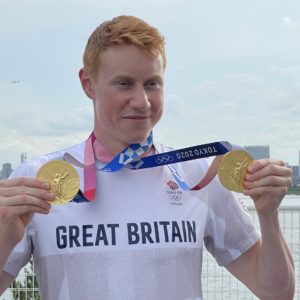 David's track record is outstanding.  The athletes he's coached have brought home 13 medals from the past three Olympic Games – most recently double gold at Tokyo 2020 for mechanical engineering student and Bill Whiteley Sports Scholar Tom Dean MBE in the men's 200m freestyle and the men's 4 x 200m relay. Team Bath's Calum Jarvis and James Guy also joined Tom on the podium for the relay.
It wasn't an easy journey to the rescheduled Games, eventually held in summer 2021. The UK's coronavirus lockdown meant almost three months away from the pool, followed by continued uncertainty in the run up to the competition itself. During this period, Tom contracted the virus not once but twice, making his eventual success all the more remarkable.
"There were times that we thought the Olympics would never happen, right up until the very end," says David. "Even when we arrived, there was a point where it could be taken away because of Track and Trace or people testing positive. It was like walking on eggshells to get there. But it was ever so special because it was hard.
"It's my job to motivate the team, keep them on track," he continues. "Keep telling them that it's coming and not letting anybody cool down."
Success in swimming and studies
It's not just in the pool that Bath swimmers excel, however. Student-athletes in the swimming programme come out with an average degree classification of 2:1, and as well as those who have gone on to compete or coach at elite levels, its graduates now work in fields including financial investigation, nuclear engineering and government.
"Our coaching philosophy is to look after the person," explains Mark Skimming, Team Bath's Head of Swimming. "They need to come out of university with a great degree, have swum faster than they ever have before and have enjoyed their experience. We want the person to be ready for the next step in their life."
Since Mark became head coach in 2008, the swimming programme has consistently placed in the top four at the British Universities & Colleges Sport (BUCS) championships, as well as earning medals aplenty.
"I'm very proud of how the programme has developed since I've been leading it," says Mark. "Our swimmers have had podium success at the Olympics, World Championships, World University Games, Commonwealth Games and much more."
Mark's team is bolstered by 2019 Hall of Fame inductee Dr Andrei Vorontsov. He has coached both the Swedish and his native Russian Olympic teams, as well as published over 25 chapters, articles and scientific reports on biomechanics in swimming. Andrei has been back at Bath – the place he describes as "my 'life-support machine' and my home" – since 2017, having previously been based at the STV from 1999 to 2008.
"As a former associate professor at Central Sport University in Moscow and a sports scientist, my education and research experience have helped me a lot," says Andrei. "I know the best sides and limitations of both professions and can talk to coaches and sports scientists using the same language."
Supporting student-athletes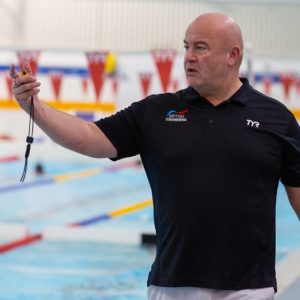 Coaching student-athletes, who must balance academic demands alongside training and maintaining peak physical condition, presents its own set of challenges. However, it's one that the coaching team relishes – with David noting that he "really love[s] it when they go to university" because of the structure it imposes.
Organisation is key, and the team aims to foster time management skills among their students while supporting them through any obstacles along the way.
Sports scholarships make a huge difference, eliminating the need for student-athletes to work part-time alongside their studies and training. "They are a great help for our students," says Mark. "They enable them to cover some costs in an expensive sport – things such as being able to compete internationally and to afford race suits, which can be very expensive. These things have helped to raise their performances when it counts.
"The scholarships also give the students an increased sense of pride in representing the University," he continues. "The ability to network at scholarship events has also given some swimmers key contacts that they have used post-swimming and university."
It's testament to the coaching staff that Bath students are able to balance rigorous academics with competing at the highest level. And with the Commonwealth Games, European Championships and World Championships all on the horizon over a period of just two months this summer, keeping eyes on the prize is crucial. As Tom Dean explains:
"The Olympic freestyle final was the biggest race of my life. It was running through my mind that the next five minutes would dictate the next 10 or 20 years of my life. David looked me in the eye and just said, 'You are completely ready for this; you've done all the training. This race is yours for the taking.' And that's all I needed to hear, really."