Originally from Poland, Joanna met her husband James through the SU's Latin and Ballroom Club while studying at Bath. She is now Director and Professional Dance Teacher at their company Viva La Dance, and recently received a lifetime achievement award for services to Intervarsity Dance in the UK. 
She shares her memories of teaching on cruise lines, views over Bath and learning to prioritise...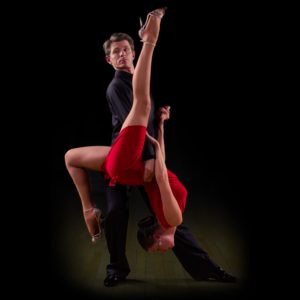 Why did you choose to study at Bath?  
I was an au pair at that time studying English in Bournemouth, and my English teacher suggested that I apply to university in the UK. I was interested in psychology and read that the department at Bath is highly regarded, so I went for it.  
Did you have a particular career in mind when you chose Psychology? 
Not really. I had an interest in child development and my undergraduate course was a good introduction, but I didn't really think about what I would be doing after leaving university. 
Can you tell us about your experience of studying here? Any favourite memories, or places to go on campus and in the city?  
My studies were punctuated by dancing with the University's Latin and Ballroom Club. I spent long hours practising with friends and going to various dance competitions. I remember some lectures and lecturers, and those late nights studying for exams or writing assignments, but really I just couldn't wait to go to dance practice again! 
James – now my husband – lived in Bath for many years before I moved there and so took me to various places in the city and wider area. Some memorable trips were walks by the canal to the George Inn at Bathampton, watching butterflies at Folly Farm, or looking for the white horses around Wiltshire one February day when the snow fell unexpectedly and covered the ground – not easy when they blended into the snow, so I'd recommend a sunny day! 
We attended many great dance balls and salsa parties together and watched fireworks from Widcombe Hill, Alexandra Park or our window on Widcombe Crescent. I have really fond memories from the time when I was a student. 
What was your experience as an international student studying in the UK? Do you have any advice for others?  
The language and communication sometimes felt like a barrier, particularly in written assignments, but I was fortunate enough that James helped with proofreading grammar for me. We laughed a lot at some sentences I came up with. 
But other than that it wasn't strange at all, as I was surrounded by other students from around the world, who, like me, were finding their feet and improving their English at the same time. 
My advice is to just be yourself and trust your instincts – people around you will be accepting. 
Describe your career journey since graduating. What is a typical day like in your current role?   
My dance teaching career actually started in my second year of studies. In my first year I joined the Latin and Ballroom Club and competed for the team. That's when I met James, but we didn't dance together at first. In my second year, he asked if I would like to teach dancing with him for P&O Cruises. We went together two, sometimes three times a year and had an amazing time. The following year, we started our company and began to teach in the local area. 
Things have spiralled out of control since then, and before the pandemic we were both teaching six days per week – including Sundays teaching students at the University.  
There is no such thing as a typical day here. Because I work at different times every day, things vary during the week. I do spend most mornings with our youngest daughter while our other two are in school, and then go out teaching in the afternoons and evenings for our public classes. When I'm not teaching, I look after our three girls and then try to catch up on admin jobs in the late evenings. 
How did your studies help you to develop?  
Being a student is a great introduction to an independent life for all young people and I tried to take full advantage of that. But being away from my family, who all live in Poland, and having to support myself meant I had to find a part-time job as well.  
That period taught me good time management and prioritisation. Trying to find time for studies, work and competitive dancing as well as teaching was challenging at times, but as they say: what doesn't kill you makes you stronger! 
What advice would you give to prospective students thinking about studying your course at Bath?  
I would say don't think too far ahead into the future, nor try to base your whole lifelong career on the choice of the course. Nowadays, it's common for people to change directions after graduating for a number of reasons, so don't box yourself into a narrow field. Instead, try to choose something that you have interest and passion in. That way you'll enjoy what you're learning and hopefully will have time for all the student extras, such as joining various clubs and societies.