This plenary session saw six speakers, each with their own unique and inspiring stories of the power of the media in preventing and exposing evil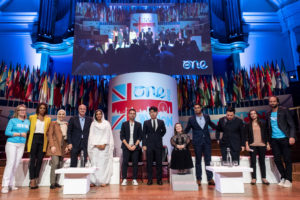 Bill Browder Founder and CEO of Hermitage Capital Management
"My story is about evil withering under the bright light of the media" 
Browder described his powerful story about the role the media played in his own arrest warrant being invalidated - the warrant was issued due to Browder's uncovering corruption of public officials in Russia. Browder also discussed the tragic arrest, torture and murder of his Russian lawyer Sergei Magnitsky, and the role of the media in exposing the truth about Magnitsky's torture and death. Browder continues to fight for justice for Magnitsky through the Global Magnitsky Justice campaign. Magnitsky's legacy lives on in legislation such as the US Sergei Magnitsky Rule of Law Accountability Act and the Global Magnitsky Human Rights Accountability Act.
On the 30th of May 2018 Browder was arrested by the Spanish police on a Russian Interpol arrest warrant. Browder alerted his Twitter followers to his arrest and his post was subsequently read by the media and many journalists, who contacted the Spanish and British Police and the Interpol. The pressure from the media led to Browder's arrest warrant being invalidated by the Interpol. 
Sergei Magnitsky, Bill Browder's lawyer, uncovered $230 million of fraud committed by Russian public officials - which was stolen from Browder's company Hermitage Capital Management. Magnitsky bravely testified against the corrupt public officials to Interior Ministry officials - these same officials later detained Magnitsky. While being detained in his pre-trail period Magnitsky was tortured for 328 days and eventually murdered on November 16th 2009. The Russian authorities blamed Magnitsky's death on natural causes but two newspapers showed the undeniable evidence that Magnitsky death was a murder, leading to legislation which can be used to bring individual human rights abusers to account. Browder noted that without the reports from these newspapers this legislation would not have been possible. 
Magnitsky's death sent shockwaves throughout Russia and the rest of the world, Browder continues to raise awareness of Magnitsky's and his own story. 
Read more about the Global Magnitsky Justice campaign here: 
http://www.billbrowder.com/sergei-magnitsky
https://www.russian-untouchables.com/eng/
Isra Chaker Civil Rights Activist
"If you have faced injustice document it, share it" 
Isra Chaker took a stand against the demonisation of refugees by Trump by making a video that took four refugees to Trump's hometown of New York where they shared their harrowing journey, and what the American Dream meant to them. Chaker realised public perception of refugees in America needed to change. She used social media as a platform to dispel negative perceptions of minority groups in the US. However, though Chaker's influence and exposure was positive in helping to spread her message it also caused her personal safety to be put at risk as white supremacists sent her death threats. Despite these threats, Chaker continues to share her experiences to show the harsh reality of living as a muslim in America today and she has gained a following of over 200,000 people across her social media platforms. 
Chaker currently leads the Oxfam America's Migration and Protection Campaign and has previously spoken at the UN Human Rights Council and worked as a grassroots organiser for President Barack Obama's 2008 and 2012 presidential campaigns. Chaker has been chosen as one of ten activists for 'We the Future' - a campaign that showcases the work of young leaders from diverse movements that are making a positive social impact on our world.
Read more about Isra Chaker's work and activism here: 
Dalia Yousif  Co-founder of Ask Me
"In order to stop history repeating itself again, every one of us must fight for media freedom."
Dalia Yousif saw first hand the devastation caused by the brutal and merciless dictator Omar Al-Bashir in Sudan who was been in power for the last 30 years until he was deposed in a coup d'état in April of 2019, enabled by protesters like Dalia Yousif. Yousif, and many other young people in Sudan, rose up against the regime, knowing they were risking their lives for freedom. Young Sudanese people used social media to expose the truth about the corruption of the government and its brutality against its citizens. However, social media had an even more important function: uniting Sudanese people behind the common goal of toppling the government regime. Yousif nearly lost her job due to her activism and she began to receive death threats. Though she was frightened, Yousif continued to document the oppression she witnessed. 
Social media allowed for a 2 month sit in with people from all over Sudan, Yousif felt hope that anti-government protesters could succeed. During the sit in more than 900 young Sudanese people were injured and 100 shot dead by the regime, many were handcuffed and thrown alive into the Nile river and girls were raped by Sudanese soldiers. The Sudanese government attempted to hide the massacre by shutting down the internet - but Yousif tells how the young anti-government movement she was part of turned to SMS to continue their protests. Some people were able to find internet connection and informed the world about the massacre which began the 'Blue for Sudan' movement. Finally, after many months the anti-government movement toppled the regime.  Yousif notes social media as being integral to the success of the movement because it enabled the reality of the government regime to be broadcasted worldwide. 
Yousif is the co-founder of the startup Ask Me - an e-learning platform that connects users with professional mentors across the world to provide them with high-quality education. Following the oppression under Al-Bashir's government, Yousif added a new feature to her start up - offering 24/7 online legal support especially for issues concerning media freedom and freedom of speech. 
Read more about Dalia Yousif's start-up Ask Me here: 
http://www.orangecorners.com.sd
GeumHyok Kim Activist and advocate of the organisation Liberty
"The laptop screen was a window that connected me to a world that I had never  seen before" 
GeumHyok Kim grew up in Pyongyang North Korea, and belonged to the elite class. Despite his class though, Kim like the rest of the population in North Korea was still prohibited from accessing the internet and foreign media - a crime that in North Korea often carries the death penalty. Kim found a way to obtain forbidden foreign media that he viewed at the risk to his life. 
Then the police received a tip that Kim had given a friend South Korean movies as a birthday gift. While Kim was interrogated he was denied food and sleep. He was beaten and sprayed with water if he did not talk. Kim was finally released after his father bribed the police. Kim narrowly avoided expulsion from school and was permitted to go abroad to Beijing to study. In Beijing, Kim was able to access the Internet again, and learnt about the reality of Kim Jung Un's dictatorship - he realised everything he knew and was told about North Korea had been a lie. Kim learnt and about human rights, something he previously never knew even existed. He devoured books about democracy. He realised that he could not unlearn what he now knew - he could not return to North Korea. Kim then received a call from the North Korean embassy in Beijing who said there was an issue with his visa. He was convinced the embassy knew what he had discovered about the North Korean regime. Kim agreed to come to the embassy, then destroyed his phone, ID card and fled. 
GeumHyok Kim still does not know the fate of his family, but he bravely continues to speak out for those in North Korea who do not have the freedom to do so. Kim hopes that telling his story to activists will enable freedom to finally be achieved in North Korea. 
Read more about the Liberty organisation's campaign for freedom in North Korea here: 
https://www.libertyinnorthkorea.org
 Waad Al-Kateab Award winning documentary filmmaker 
"I filmed all the details of our life, the air strikes, the bombs, the fears, the death, the love, the resilience and the strength."
In Waad Al-Kateab's graduation year at university the Syrian revolution began, the Assad regime were beating, shooting and killing protestors. It was a crime to film the brutality but in spite of this Al-Kateab risked filming to protect the truth about the regime. Al-Kateab documented her life in Aleppo, until she and her family (her husband and newborn daughter) were forced to leave for safety. Al-Kateab's videos of life inside Aleppo were viewed globally and garnered half a billion views online. Al-Kateab hoped that the images would help to end the suffering at home but the world watched in silence. After that Al-Kateab swore she would never work in media again. However, after her documentary 'For Sama' received an expectational reception worldwide Al-Kateab has faith that the media and journalism can make a difference and vows to keep fighting to tell her story until Syria returns to how she once knew it.  
Al-Kateab has worked as a citizen journalist for Channel 4 News, her reports have won and Emmy and the foreign affairs prize at the British Journalism Awards. She was also named Royal Television Society Young Talent of the Year Award in 2017. 
Read more about Waad Al-Kateab's award winning documentary 'For Sama' here: 
Solomon Elliott Founder and CEO of The Student View
"The strongest democracies nurture their young people to be active in gathering information."
When Katie Hopkins likened African migrants to cockroaches, Solomon Elliott was concerned about how the bigotry in this news story would affect his pupils. Solomon Elliott taught in a school with refugee and immigrant pupils - he wondered how he would explain to them that some people saw them as simply a drain on public spending money. This led Elliott to establish The Student View so that pupils had the opportunity to share their perspective. 
The Student View is based on the premise that freedom of speech is a right that belongs to everyone, and so the organisation gives the skills and platform to those who are more restricted in voicing their views. 
The Student View gives a media education to all and aims to create a newsroom in every school by pupils sharing their experiences through words. Journalists from companies like the Guardian and the BBC collaborate with The Student View by volunteering their time at the pop-up newsrooms. The organisation has grown from a lunchtime club to 87 pop-up newsrooms in schools across the UK just three years after being founded. The organisation has been awarded the 2019 Global Youth & News Media Prize. 
Elliott was appointed as a member of the BBC's Diversity and Inclusion Advisory group in May 2019. He helps the BBC fulfil its fourth public purpose; to reflect and represent all communities and minority groups in the UK. 
Read more about the work of The Student View here: 
https://www.thestudentview.org
By Sasha Lawson