Having started my second year of chemistry at Bath in October, being on campus for labs and lectures is very different to last year, where the majority of my studies were online due to Covid.
So far, it has been great to be back on campus, as we can meet other students in lectures and in the labs, but also have the chance to interact more with lecturers, either in workshops, labs, seminars, or even lecture halls themselves (if you have a question, I'm sure everyone else is wondering the same, so don't be afraid to ask!).
From my experience, the whole chemistry department has been very welcoming and helpful, willing to answer questions or support with work outside of allocated lecture time. I have recently been selected to play BUC's netball for the Uni, which is a big commitment in terms of training, with matches every Wednesday. Although everyone across the University has Wednesday afternoon off for sports, away matches mean that I will have to miss my four Wednesday morning lectures. This was something that I was quite worried about, as I didn't want to get behind on lecture content, but also really wanted to play netball. After speaking to one module lecturer, I have realised it's not much to worry about, as most lectures are recorded, and those that aren't are normally just going through practice questions, and she has offered to help me at a different time if I have any issues. This is just one example of which I have found the staff in the chemistry department really helpful and friendly.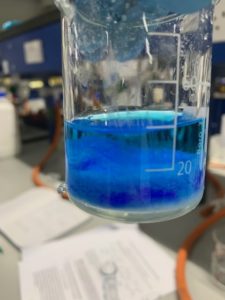 Starting university may be daunting, but as a peer mentor, as part of Chem Crew, I want to assure you that the support system in place is excellent, so there is always someone that you can go to for help and support about anything, whether it is chemistry related or not.
In the induction week (week before term starts), you will meet the rest of your tutorial group (approximately 6 students per group), and also meet with your peer mentor (an older student). This event is quite social, as you get to physically meet your tutor group, but also many others on your course, and those that will teach you over the years, which makes term starting the following week less daunting. Having a small group of people in your tutorial group means there's always peers you can ask for help, and also an older student who can help put some worries at ease, as they have been through first year before themselves.
You also get to meet your three tutors (inorganic, organic, and physical), who will hold weekly tutorials throughout the year, and I think this is great, as it introduces you to some members of staff before you officially start studying, and shows you how approachable they actually are. One of these three will also be allocated as your personal tutor, who is a first point of contact for any issues, as they can either help, or direct you to the best place to get help, whether that is the Director of Studies or Director of teaching, or student services. I haven't needed to contact mine much yet; however, we still have termly meetings, to discuss how everything is going, and give as much help as they can.
My inorganic tutor has also helped me a lot recently, in my placement applications, as he actually did a placement at Infinuem a few years ago, which I was also interested in applying for, and he was happy to help me with the whole application process.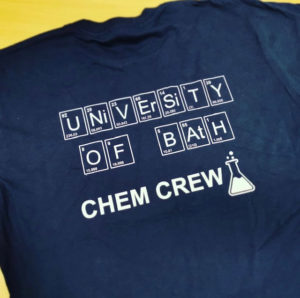 Finally, ChemSoc is one of the many societies at Bath, which is run by students, for students, and is open for all chemistry students to join. Through this, there are many opportunities to meet other chemistry students through socials and fun activities, but also the opportunity to become a peer mentor in your older years at Bath, to help support new first years, which is really rewarding. Last year there weren't many events, for obvious reasons, although we did have an online ChemOlympics, involving running and a baking competition, but this year, I am looking forward to ChemBall, which normally happens every year, for the students and the staff, so it's a great way to get to know your peers and also the lecturers.
Overall, the support system in place here is great, and there are many opportunities to get involved and meet new people, both of which are very important, and highlight how friendly both the chemistry staff and students actually are.