Hey everyone,
I hope you are well. I'm sure we can all agree that food is one of the best things that life has to offer. I've been vegan for over 7 years and consider myself a true vegan hunter when it comes to the best food. Please read below as I go through almost every opportunity to eat vegan within Bath. It will cover both vegan caterers and places with vegan options, independent and chain restaurants. Obviously, I'll start with the most important food...cake!
Hot chocolate and cake!!
My joint No.1 spots for the best hot chocolate and cake within Bath has to be the 100% vegan independent café - The Green Rocket, located on the corner, by the Parade Gardens and Mrs Potts located by the Bath Abbey. They also offer light bites, snacks and meals, but I personally think their hot chocolates and cake cannot be beaten! My all-time favourite has to be the Mrs Potts vegan brownie and cookie sandwich warmed up, which you can see below. Yum!!
Other amazing places to eat the most amazing sweet treats include; Costa, Pret A Manger, Café Neuro, The Thoughtful Bakery, Mrs Potts and Sweet Little Things. All offer a bespoke amount of vegan delights. I also wish to mention the amazing Creams, which has an extensive amount of vegan dessert options, including crepes, waffles, sorbets, milkshakes and ice cream sundaes!!!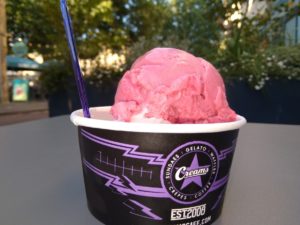 Light bites and snacks.
My No.1 spot for the best light bites and snacks within Bath is the Arts Café. This is another 100% vegan, independent, family-run business, located on the outside of Southgate shopping centre. It should be noted that this venue is sadly not accessible for those with limited mobility as it down quite a few narrow steps and is only open on limited days of the week.
Other great places to eat vegan within Bath include; Cascara (a very quaint, Instagram-able venue, not to be missed), The Bath Market for some yummy pastries, The Botanist and The Cornish Bakery.
Here are some of the amazing menus from various vegan places in Bath: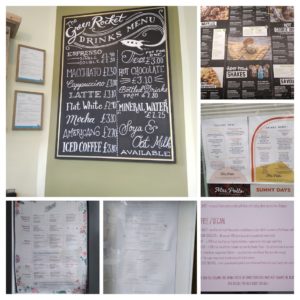 Meals and fine dining.
My No.1 spot for great vegan meals and fine dining has to be Rooted Café and Supper Room. Another 100% vegan caterer here, their varied and exciting menu options are incredible.
Other fantastic places to eat out vegan within Bath include: The Stable, Zizi and Pizza Express, all for some stone-baked mouth-watering pizzas. As well as fabulous meals at; Las Iguanas, Wagamama, Velo Lounge and Giraffe. I haven't had a chance to visit All Bar One, but their lentil and chickpea quesadilla and their caramel biscuit cheesecake sound divine.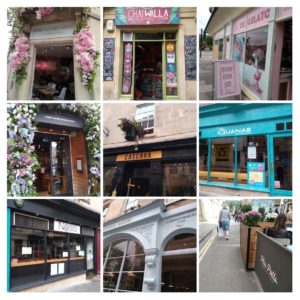 Takeaway.
My No.1 spot for takeaway foods for those who are vegan has to be either Noodles at Bath or Chai Walla, both a few doors down from each other. Discovered recently, they offer an extensive amount of vegan options and are both so kind and helpful. The food was incredible and well worth the price. A lovely change as well.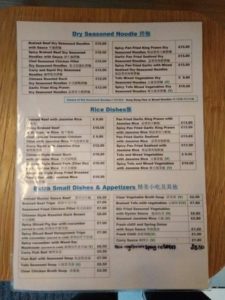 Other incredible takeaways that offer up vegan options include; Pizza Hut, The Veggie Guru, and of course all Indian takeaways. If in doubt, any side dishes of masala, aloo and bahjee's will save the day.
Until next time,
Stay safe and keep smiling,
Tia.