Hi everyone, and Happy New Year!
I'm Hannah, a third year Modern Languages student currently on my Year Abroad in north-eastern Spain, living and studying in Zaragoza. Although I live here, I have been exploring northern Spain throughout the Christmas period, so I wanted to give you a little run-down of my experience here in the run up to Navidad!
I live in an area of Spain with many of its own rich traditions. Let's start with Christmas in Zaragoza. From early December to January, the city turns into a stunning festive wonderland (well, the Plaza del Pilar does anyway!). There are lots of light installations and an enormous Christmas market - rated one of the best in Spain - which is amazing for both shopping and food. The churros are a must-have! The Plaza also holds a giant nativity scene which is the largest Bethlehem in Spain and each year brings in thousands of visits from locals and tourists. Another interesting aspect of Zaragozan Christmas is the Papá Mañoel. This is an initiative where thousands of people dressed as Santa drive through the lit-up streets of the city on motorbikes, to collect toys for children in need. I must say, I hadn't heard about this until one evening I was doing work at my desk and thousands of santas on motorbikes hurried past my balcony window beeping their horns! With regard to the Universidad de Zaragoza itself, there has been quite a lack of festivity if I'm honest - the term didn't finish until 23rd December…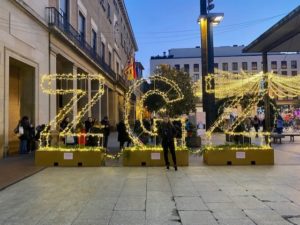 Christmas in Bilbao was quite different! In December, my boyfriend and I took a trip north and, like true travellers, we took the 6-hour overnight bus from Lleida to Bilbao, departing at around 1am. Some advice for those who are worried about travelling on an overnight coach: we felt very safe, the chairs are actually very comfy and we had plenty of room (although for six hours it wasn't long before the pins and needles kicked in!) There were quite a few stops for pick ups and drop offs and one or two comfort breaks - it's definitely nice to know the light does go on so that you're aware when people are moving about and to not miss your own stop. We arrived at around 7am, so we had a full day ready to explore the festivities in Bilbao! Our first impression was not overly festive, being greeted at 7am with pouring rain and cold winds, typical of the Basque Country. Nevertheless, we didn't let the weather dampen our spirits and took the tram to Casco Viejo, Bilbao's old town. Once there, we were met with locals Christmas shopping, lots of cosy cafes and restaurants and a big ice rink! We spent the day visiting the main tourist sites such as the Guggenheim and after dark we wandered back to the bus station and saw all of the Christmas lights and trees. I reckon if we had visited closer to Christmas it would have been a bit more lively and festive. Overall, I would still recommend the visit - it was great to experience a flavour of the Basque Christmas.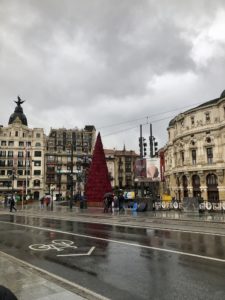 Next up, Lleida! I have spent a huge amount of time here during my Erasmus semester. This lovely little city is located just east of Zaragoza in Catalonia. The holiday season in Catalonia actually starts on 1st November - All Saints' Day - with a celebration called the Castanyada. It is typical to gather with family and friends to eat panellets (traditional sweets), sweet potatoes and chestnuts. There were lots of roasted chestnut stalls around the town - a good way to warm up whilst Christmas shopping! At the beginning of December we went to the Christmas light switch on, which was quite the ordeal! We arrived in plenty of time to nab a good spot, just to find that only five minutes before the big 6pm turn-on, they were still being set up! Albeit late, the lights were spectacular and they were accompanied with a Mariah Carey medley, to which the locals seemed to love! The ice-skating in Lleida was also lots of fun: located in the centre of Plaça de Sant Joan, with the beautiful Seu Vella Cathedral as a backdrop, and only 7 euros each for an hour.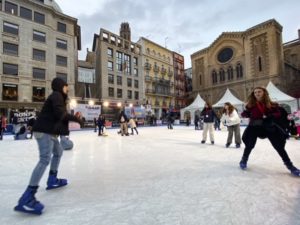 Now let's take a look at Christmas on the coast in Tarragona. I visited in mid-December so the festivities were already in full swing. One of my favourite parts of Christmas here were the markets. Here you could find the locals selling the traditional 'Tió de Nadal', a special part of the Catalan Christmas tradition. Instead of Santa figurines, you'll find a log, complete with a face painted on one end, a red Santa-like hat, and a red blanket draped over its two front 'legs'. It's definitely a unique way to decorate your home and bring some Christmas cheer! During the day I visited the Roman Circus and Amphitheatre, the Old Town and the beach. It was so warm and sunny which really didn't feel very christmassy! Overall, during Christmas or not, this city is certainly a hidden gem of northern Spain - it felt a lot like you were in Rome!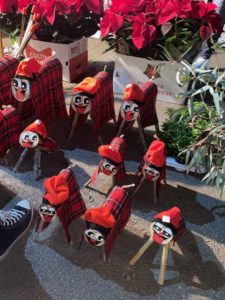 I cannot wait to explore more of Spain in the New Year, but for now I am appreciating a British Christmas filled with roast dinners, crackers and mulled wine!