I have recently completed my first semester of MRes International Development at the University of Bath (UoB), and would love to share my initial experience of studying at this prestigious institution, and what it means to be returning to academia after having been in work for many years.
Why the University of Bath?
It was early 2021, almost five years after completing my last academic qualification and with seventeen years of work experience in the energy sector, when I started thinking about pursuing doctorate study in Energy Policy from some well regarded research institution.
The next phase was to select a study destination. The United Kingdom has always been my first choice due to its robust education system which offers a number of distinct benefits to international students in cultural diversity, academic environment, innovation, and marketability. After exploring various options, and with careful consideration, I found Bath to be the best venue to pursue my research due to its contemporary research facilities and learned faculty. UoB carries a strong international reputation in providing globally recognised interdisciplinary research in social, economic and policy sciences under the international development pathway. The University is ranked 1st for graduate prospects for Social Policy in The Times and was declared as "The Times Sunday Times University of the Year 2023".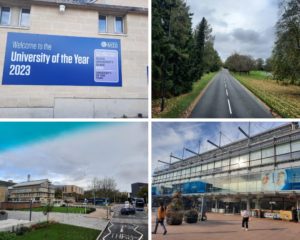 Moving Abroad: Challenging but Rewarding
Moving abroad has always been challenging, it requires courage and commitment with the task to leave your home country, parents, family, friends, and social circle. It becomes more challenging when you have school going children like me. I did not only require a place for myself at the university but also places for my three children in local schools.
However, there were certain positive motives behind the decision and foremost was my strong belief in continuous professional development by enhancing my skill set and knowledge base to cope with rapid technological advancement, development concepts and changing market dynamics. I have been following the same path since start of my professional career from a multinational power company after completion of my graduation in Mechanical Engineering from the country's top ranked and oldest engineering university - University of Engineering and Technology Lahore, Pakistan.
A Fully Funded Scholarship 
I had decided to join UoB, however the major issue was funding, and I needed a fully funded scholarship to finalise my study plans. In the meantime, in October 2021, I came to know about announcement of Southwest Doctoral Training Partnership (SWDTP) of UK Economic and Social Research Council (ESRC), a disciplinary research council and UK's largest funder for economic, social and policy sciences related research studies.
ESRC funding is extremely competitive and prestigious. I spent some good time on my application and proposal and applied for it with little faith about getting it.  Fortunately, after a rigorous  selection process, I received SWDTP 1+3 Years award in May 2022, where first year covers MRes International Development to be followed by three years PhD study.  After completion of all the pre-requisites and documentation, I received final unconditional offer letter from UoB in mid-August 2022 and we reached Bath in first week of October 2022.
Initial Few Months in Bath
There were still many challenges, but at the same time there was a strong sense of accomplishment on joining the university of my choice. Bath has a magnificent and vast campus located on the top of the hill in the UNESCO World Heritage City with serene views of the city skyline, green meadows, valleys, and woodlands. During the initial days I was quite busy in finding suitable family accommodation which was difficult task given the fact Bath is historical and beautiful but sometimes expensive city. After much struggle, by end of October we shifted to our rented house and luckily got places for children in a nearby schools. Throughout the process, the University accommodation and living team remained compassionate and supportive.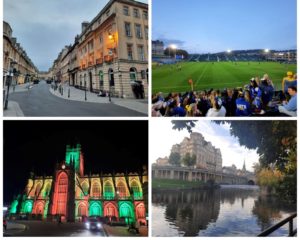 My routine life had been changed from long office hours to a few hours of classes with the rest of time spending in the library, study rooms and discovering the beautiful campus with large open areas, greenery, lakes, and large grounds. T-shirt & jeans with bag pack on shoulders have taken over formal suits!
If you get back to study after working for a long while then you may have numerous real time questions and practical issues for the discussion. That's why sometimes your mind resists in accepting new theoretical concepts. However, I found MRes International Development a well-designed practical course covering all the key concepts of policy and international development, global political economy, development economics and sustainability in combination with the exploration of research methods offering a detailed examination of current and applied international development research.
In the first semester I was registered for four modules and one research project. Having a background in engineering, I really enjoyed learning new development concepts & theories, various economic models, and some social terminologies & concepts. Most of the MRes modules are assessed through course work, presentations, individual as well as group projects and research essays . I genuinely believe this kind of assessment equips students with strong critical thinking, problem solving & analytical skills helping them in their research as well as professional career.
Bath offers huge diversity, having classmates from almost every part of world provide great opportunity for exchanging ideas, sharing information and knowledge. The faculty members and support staff here at Bath are generously cooperative, supportive, and courteous, I found them always welcoming in extending help, be it an academic issue or an IT or administrative problem. Moreover UoB gives special attention to the comfort and wellbeing of its students, whether providing study space, skills development, IT, Library assistance, sports facilities, career counselling or extracurricular activities. It provides plenty of fully equipped study spaces, including individual study rooms with computers, group study rooms and common study areas on campus and in buildings in the city centre.
Besides, curriculum activities, the university offers wide variety of skills development, career counselling, and organizing various seminars / conferences in the related areas to prepare graduates for future employment. One has number of options to join sport activities at state-of-the-art sports village spread over a vast area housing multiple sports venues. There are number of cafes on the campus where you can get variety of quality food including some halal food options.
Bath, A Great Place as a Study Destination
In nutshell, my initial four months at Bath have been full of activities, challenges, as well as thrills. I am more than satisfied I selected Bath as my destination. It has a strong sense of community, friendly atmosphere, and a conducive learning environment. The University has been providing me plenty of skill development opportunities and facilities helping me to achieve my academic and career goals.