Hi, my name is Iyanu, I am a final year studying BSc International Development with Economics and this year's relationship team leader for the One Young World Bath caucus.
After attending One Young World Bath 2020, I was inspired by the various speakers and workshops offered. I enjoyed meeting likeminded students and networking with the speakers throughout the day. This great experience led me to apply for the role of relationships team leader and gratefully accept the role. Utilising my previous events management experience, I was able to transfer my knowledge into the realm of SDGs!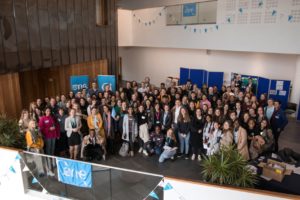 The relationship team's main priorities included sourcing speakers and getting in touch with local companies. To do this effectively, we set up weekly meetings to discuss key tasks and researched heavily into a range of speakers with expertise in SDGs 3,4 and 11 that will be informative and inspirational to Bath students. In addition, it was a great opportunity to do wider reading and research into the various initiatives and projects that companies are involved in to meet the sustainable development goals.
We had the opportunity to speak with changemakers in their respective field to hear more about their work. To do this, we asked each speaker, 'What are you passionate about speaking on?'. As a team, we were inspired to hear about the vast experience and expertise of the speakers and are looking forward to hearing them share this knowledge at the caucus.
It is hard to imagine how many emails we have sent in the team collectively to the multitude of speakers and potential corporate partners, but the volume reflects our fervency and dedication to host speakers that reflect the aims and objectives of the caucus.
Also, I've had the opportunity to select a student to showcase an art of their choice as part of the closing ceremony and cannot wait to see the final product. The art piece will endeavour to capture the student voice and their perspectives on the topics and themes spoken throughout the caucus.
My role as team leader, albeit demanding at times, has been an invaluable experience and I am grateful to be part of a student committee with the firm objective to bring about positive change for the future.
One Young World Bath takes place on Saturday 18 March, and is open to all students and the University community, register on Eventbrite.