With my permanent departure from France just a matter of weeks away, I have been feeling overly reflective on my Year Abroad. It is widely known that this year is truly an incredible experience; mentioning you'll be embarking on it usually elicits comments such as "you're so lucky, I wish I could do it again!" and "you'll have an amazing time!" It is true that there are many exciting aspects to it - exploring new places, making friends, improving language skills, trying new cuisines, gaining work experience and broadening your outlook on the world. Today I am going to bring you my first-hand experience (and some friends') of the good, the bad, and the ugly of the 'Best Year of Your Life'.
The Prep.
Back in Summer 2022 I finished up my preparations before heading to Zaragoza, Spain to study at its University. I definitely felt a mix of emotions (mainly excitement) but also the feeling that I will never be able to prepare sufficiently. This all amplified one of my biggest fears: uncertainty. There will always be an element of this when moving abroad, and as I eventually learned, that is all part of the fun, and will prove to be a common motif throughout this blog post…
Where the fun began: the Visa. Undoubtedly you have heard visa horror stories from other students, and admittedly, it can be an extremely confusing and stressful process. Students from last year's cohort know first-hand how chaotic this was to navigate with the pandemic: from students stranded abroad as they were plunged into lockdowns, to others shortening or cancelling their plans due to the virus. Be prepared for hidden fees, long delays and uncommunicative consulates. Luckily my experience was rather straight-forward and COVID was no longer a huge factor. My main advice would be to: 1. Compile a list of every document you need which can usually be found on the respective consulate website - if you're unsure whether you need it, bring it to your appointment anyway! 2. Apply for your visa as soon as possible; if you're a procrastinator, do not procrastinate when it comes to completing your application - you will regret it. I know somebody who did exactly this and ended up having to apply for their study visa whilst already in Spain, which made it a million times more complicated with even more bureaucracy loopholes to jump through.
Studying abroad. 
Enough talk about preparation, let's now jump to Wednesday 7th September 2022 when I took my outbound flight to Spain! My experience all began when I sat myself down in seat 23B and the woman next to me turned and asked "are you going to Zaragoza?" to which I responded "I hope so!" She then much to my delight, proceeded to vlog her whole Ryanair Economy experience. It was very quick and easy to get through security on the other side - after all, Zaragoza airport is a couple of rooms with only three flights departing on any given day. Trains also proved to be a source of entertainment…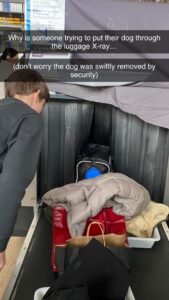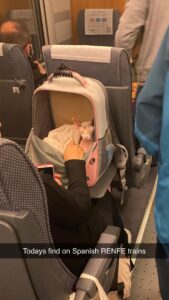 The first couple of weeks living abroad felt a lot like a holiday before the realities set in and I began at the University. The first month is all about finding your feet (check out my blog on this!) in your new setting and establishing a new routine. You are removing yourself from your usual support networks so it is totally OK to feel a little lost (not literally, although this definitely happens too) and overwhelmed. Despite this, make the most of your first month and explore what is now your new home. September in Zaragoza is still very hot so I found myself sunbathing on my terrace most evenings! I did my fair share of exploring whilst in Spain, with one of my first travels being somewhat underwhelming; after a 6-hour overnight bus from Lleida to Bilbao - departing at 1am - we were expecting to walk out of the bus station to a vibrant and sunny spectacle of Basque culture, but instead were greeted with pouring rain and cold winds, typical of the region. Did you know it rains on average 128 days a year in Bilbao?! This was an enjoyable day nonetheless, and we managed to immerse ourselves in everything the city had to offer from The Guggenheim Museum and Plaza Nueva to the rich cuisine of Starbucks! Yes, it was really this cold that we resorted to the first coffee shop we saw after getting off the tram, although I am not complaining as this was a nice touch of home.
I asked fellow students about their Year Abroad experiences to show that the Year Abroad is not always glitz and glamour…
"A funny experience would be turning up to my boss's house on the first day of placement instead of her school as somehow the name of the school on google maps took me to her house!" - Anon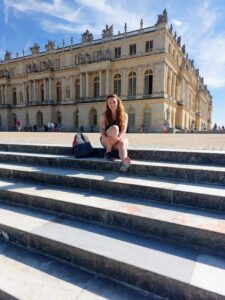 "[Living abroad] is not so easy, particularly where McDonald's is concerned. Picture this: you finish a 9pm lecture at Sciences Po Paris (yes, they really finish at 9pm) and are expected to attend a marketing event in the main hall (with lots of wine). All you need is a fix 'au McDo' and you walk into the closest one you can find… Can you imagine my disbelief that a European McDonald's does not supply a Chicken Select Menu! Neither in France, nor in Germany. If you do discover this luxury on your travels, please let me know! Admittedly, I have had a few cultural surprises on my travels that I will always remember with a mixture of embarrassment and laughter, especially in the spa and wellness industry. I have always enjoyed a sauna and steam room following a swim or just to relax, but I never knew just how intimate these activities are in Germany, and my first sauna experience will always be one to remember. Swimming costumes? Not a requirement! Much to my surprise, nude saunas and pool areas are very common and universally enjoyed in Germany, a custom that did take me, a 'reserved' Brit, a while to become comfortable with. Despite this, it may be a promising solution to promoting body positivity and openness. Lastly, I should tell you that your new nationality is Dutch due to the Brits' reputation for linguistic ineptitude. I would strongly recommend visiting Amsterdam beforehand to get into character. Also, I would bring a coat to work, even if it is sunny, because the windows (they are basically doors) will always be open. But first, sauna anyone?" - Louise, Bath
"When I was living in Aix en Provence I enjoyed the place a lot. It was absolutely gorgeous, but for me, some of the people weren't the best. They were quite rude and even a little racist, despite it being far from the centre of France. During the World Cup, everyone was watching France vs England and they were very rude to anyone who wasn't French. My friends and I were going to get a drink and we were talking in English and in Spanish; we got dirty looks, they were insulting us and even followed us for a while! We then refrained from speaking as two of the girls only spoke in English. In a video I captured of when France won they were calling one of the players derogatory insults. We didn't feel safe." - Maria, Bath
"On my year abroad I had so much fun exploring Portugal, which is definitely something I wouldn't have been able to do if it weren't for the year abroad. However, finding accommodation for the year was definitely the toughest part!!! In fact I've actually had to leave 2 weeks early because of a bug infestation in the house!" - Anna, Nottingham
"I was coming back from a night out in Aix en Provence and I had just moved into a new air bnb. When I returned I could not get the door open at all and it was stuck so essentially I was homeless at this point for the night. I walked outside of the apartment about to start looking for a hotel or just some kind of solution. When I walked outside there was a group of armed policemen so I asked them in French if they could help me get back in. One of them took pity on me and said he would decide to help after he had finished arresting someone. The legend managed to get the door open after some struggle and by this time it was around 4am. When we returned in the summer to visit we bumped into this policeman and he instantly remembered us!" - Katie, Bath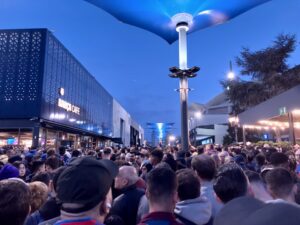 "On Sunday 19th March I had just begun my journey back to my hotel in Barcelona after watching 'El Clásico' at the Camp Nou. It was 11.30pm and the Barcelona fans were going wild over their Real Madrid victory and almost 100,000 fans were trying to squeeze into two metro stations. With every person seemingly trying to buy a metro ticket, the queues in and outside the station ground to a halt so much so that the station's closing time came around. Evidently ready to go home for the night, the station's security thought it would be a good idea to lock anyone inside the station in, and anyone outside, out. Now trapped inside and with hundreds of jeering men in front of me, it seemed that buying a ticket would take me into the early hours. After some time with no progress and only one train left that evening, security decided to forego the tickets and let everyone flood through into a single train. Needless to say, the train journey back into the city centre was noisy, smelly and rather uncomfortable - but totally worth it!" - Max, London
Working abroad: the difference between difficult and impossible.
After my incredible experience studying in Spain, during the second half of my year I moved to Normandy in France to undertake an internship. To be honest with you, my initial placement did not go as planned. I soon left and began working elsewhere - which turned out to be the best experience! I have learned the importance of doing what is best for you, and not settling for convenience. I knew I needed more out of the internship, so I set out to improve this, for my own learning; after all, you are responsible for your own learning. It is important to know your worth and wants/needs from the experience. It should also be noted that despite the fact that interns are legally not allowed to do the same jobs as full-time staff members, be aware of employers ready and willing to take advantage of you.
Although my placement turned out to be an amazing experience, for both personal and academic reasons, obstacles are inevitable. I remember a couple of weeks in I had a wobble with communication; the first two weeks were quite intense with longer hours and busier work (of course all in French), and I had a moment where I blanked, anxiety took over and did not understand what my co-worker was saying. That pesky 'language barrier' really can sometimes hit you hard. Yes, this can feel embarrassing but you must not be so hard on yourself. After all, this is what your Year Abroad is all about - being pushed out of your comfort zone and building confidence in the real world, rather than in the comfort of your seminar room. I set some rather unrealistic expectations - envisaging myself after some time speaking like a native, with a perfect accent. I consider myself pretty hard working and a bit of a grammar geek, but no matter how academically capable you are, this does not make the adjustment into total immersion any easier. 
Small wins have carried me through the year. When at work in the chaos of what I call 'working with children' I often catch myself thinking in French and forget I even speak English! Those are the moments when I can see how much living abroad has paid off. I even now know words they would never teach you in a lecture: 'un dou dou', 'un nou nou', 'un dodo', 'un bobo', 'mon loulou' and 'le caca', to name just a few.
What I have learned.
They may seem a bit far-fetched, but stick with me; the clichés such as 'the Year Abroad changes you!', 'your self-awareness will develop' and 'you'll experience a shift in perspective' are actually true - they don't just say it for the sake of it. The Year Abroad teaches you SO much more than just language. I can sincerely say I have improved my resilience, independence and adaptability. It has been an opportunity to really reflect on my personal and career goals and I will finish the year abroad with a greater sense of who I am, my core values, passions and ambitions.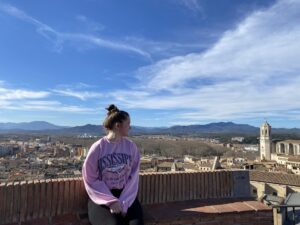 My advice to you.
There is always a lot to hide in the glitzy version of reality on Instagram. Try not to set unrealistic expectations - be open-minded. Stay on top of your paperwork. Get accommodation early (with a reputable business - never on Facebook!) Do your research. Lastly, reach out to students who have been where you're going - there is a Placement Peer Mentor scheme which may prove useful to you. The University, in particular the PoLIS Placements team has been brilliant throughout and will support you every step of the way. Studying abroad is a challenge – but it is also an experience you will never, ever forget. I would not change it for anything.