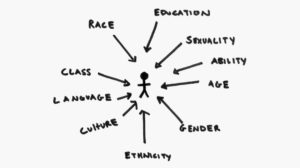 The University will be submitting for an Advance HE Athena SWAN - Gender Equality Charter - Institutional Silver award in 2021. As part of the self-assessment process the University will need to consider intersectionality in the application.
James Greenwood-Lush, Head of Athena SWAN, says Advance HE defines intersectionality as recognising that people's identities and social positions are shaped by several factors, which create unique experiences and perspectives. He adds that these factors include, among others: sexuality, gender, ethnicity, disability, age, and religion. In the Athena SWAN institutional application, Advance HE asks Universities to consider the specific intersection of gender and ethnicity.
The term intersectionality was coined by a black feminist scholar Kimberlé Williams Crenshaw, who discusses the concept in her moving Ted talk. She says: If you're standing in the path of multiple forms of exclusion, you're likely to get hit by both.
Dr Fran Amery, Senior Lecturer in the Department of Politics, Languages & International Studies, welcomed the introduction of intersectionality to the Gender Equality Charter: 'Equality initiatives that only explore a single dimension of inequality (i.e. 'just' gender or 'just' race) do benefit some, but often end up leaving members of the most marginalised groups behind.  We see this in curriculum design, for example, where efforts to include more women and members of racial minorities often end up introducing BAME men and white women into reading lists but ignoring BAME women entirely.'
Consequently, it's important to discuss intersectionality as an analytical framework that attempts to identify how interlocking systems of power impact those who are most marginalised in society. The Athena SWAN Charter suggests that to begin any analysis of intersections of ethnicity and gender, it's vital to set a scene and explore the data. If we look first at ethnicities of students and staff at the University of Bath, 29% students (all students - Home/EU and International) identified as BAME (Black, Asian and Minority Ethnic) in 2017/18, compared to 15% academic staff and 6% professional services. For comparison, two Universities received Silver awards in 2018 November round and published their submissions online. University of Exeter said that '10% of their students, 13% of their academics, and 7% of their PS staff are BAME.' University of Warwick, who also received Silver in 2018, have shared that '15% of their academic staff are BAME', while their data on students and PSS staff is split into UK and non-UK domiciled categories (hence not comparable).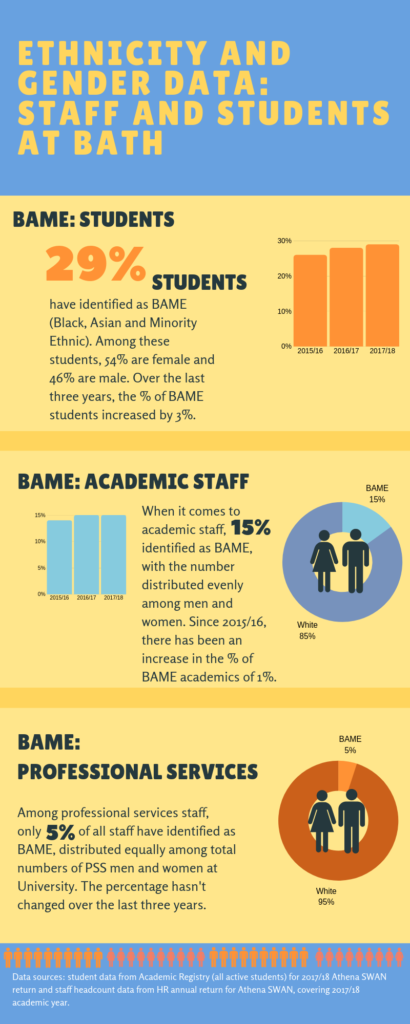 When analysing student data, it's important to be aware of definitions. Some Universities in the UK choose to use the term BME and present data on Black students only, while others choose to include all minority ethnic backgrounds that are non-white under BAME definition. There are also distinctions made between UK-domiciled students and international students as well as high number of 'unknown' data entries on HESA making it difficult to conduct a meaningful analysis across the sector. However, it's worth mentioning that while our BAME student population is high at 29%, our Black student numbers are below 2%.
If we look for any ethnicity and gender intersections among academic staff, we find that out of 16 BAME professors in Bath, 3 (19%) were women, which compares to the total number of women being 20% of the professorial level. In contrast to academic staff, if you look at senior roles (grade 9 or above) within professional services departments, you're twice more likely to see a woman from BAME background than a man from BAME background (2017/18: 15% F BAME and 6% M BAME), yet since the overall BAME staff numbers are small any fluctuations can lead to big percentage differences.
As you can see, this simple analysis of the absolute numbers of individuals doesn't tell the whole story – for that we need to look at student and staff recruitment data, promotions data, representation across all levels of the University's business. The University's Self-Assessment Team has just begun looking into this data and over the next year will be considering what actions may be needed at Bath to address any issues.
Many Departments are currently thinking about curriculum transformation and, alongside the Athena SWAN agenda, considering issues such as how to make the curriculum more inclusive.  Dr Eleanor Parker, Curriculum Development Officer (Inclusion) in Centre for Learning and Teaching, is working to support  a collaborative approach to intersectionality for meaningful change. She says: 'Many different people might be discussing intersectionality and grappling with the same issues. Departments are encouraged to join up discussions across areas like Athena SWAN, Equality and Diversity, inclusive curriculum, widening participation and admissions. When thinking about differences in attainment especially, it can be helpful to think about patterns in students' experience and what their common barriers might be. This can help target action that will have the biggest impact.'
If you're a member of staff or a student who is interested in intersectionality and would like to get involved in University's Athena SWAN Silver application preparations, please get in touch with your ED&I Officer or talk to your Faculty Athena SWAN Champion. For support with addressing differences in attainment through curriculum development, please contact Dr Eleanor Parker in the CLT.
Aiste Senulyte, ED&I Officer at the University of Bath, and Dr Sarah Bailey, who is a Senior Lecturer in Department of Pharmacy and Pharmacology at the University of Bath, Faculty of Science Athena SWAN Champion and an active member of USAT, have brought the Athena SWAN Anniversary series project to mark a 10-year anniversary since the University achieved its first Bronze award. You can read more stories here.