2019 marks 10 years since the University achieved its first institutional Athena SWAN award. International Men's Day is on November 19th 2019 and aims to celebrate the positive value men bring to their families and communities. Although Athena SWAN has its roots in supporting women in academia, the focus of the Charter has evolved since 2015 towards gender equality more broadly.  We wanted to take the opportunity this International Men's Day to look at men's issues in relation to equality and an inclusive workplace culture. We have explored themes around mental health, fatherhood and images of 'masculinity' in sport with male colleagues across the University.
Josh Callander is the University's Anti-Harassment Campaign Manager and part of the Equality, Diversity and Inclusion team. He has noticed that over the last few years there has been a conscious effort to redefine and repurpose International Men's Day. More emphasis is placed on supporting the efforts of organisations like Movember, Mind, Prostate Cancer UK to get more men talking about health  and well-being.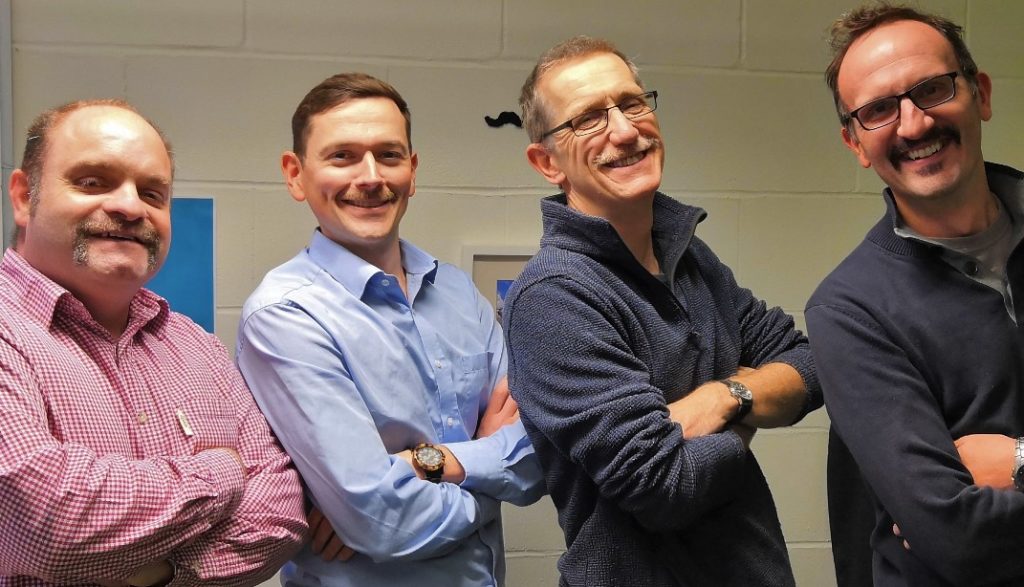 The normally clean shaven Tim Woodman, Nick Haddington, Malcolm Watson and Lorenzo Caggiano (L-R) in the Department of PharMOcy and PharMOcology participating in MOvember 2018 and raising money for men's health.
Josh adds: 'These conversations encourage men to talk about their own experiences, deconstructing traditionally held views of masculinity, sharing how we can be better allies for  those inside and outside our lives who aren't afforded the same male privilege, learning about pioneers within this movement and those supporting other social change campaigns.' Josh believes that International Men's Day on social media can, and should, be a happy place: 'For me there is a clear link from this to the #NeverOK campaign, and the bystander behaviour that is at the heart of the University's and Students' Union training'.
Mental health is a key concern for Andrew Ayers, a Deputy Director in the Student Services Counselling & Wellbeing Team. Research shows that men are less likely to seek help for mental health issues, in part this is around concerns of anonymity or perceived barriers to access support. Andrew says that at Bath we see fewer men than women seeking help: 'Recently we have started to see some progress with more men coming in to services which we believe may be due in part to improving and broadening access and choice, greater awareness through campaigns, and high profile media coverage. We've been trialling digital platforms as we believe they can contribute towards better engagement for those who do not seek help in what could be seen as 'traditional' ways i.e. coming to the Wellbeing drop-in sessions or seeing a counsellor in a face to face meeting.' Andrew also noted that we are seeing more men with body image issues, sometimes masked by excessive exercise, and this fits with an emerging national picture. Diversifying channels and access methods will help remove some obstacles for seeking help by providing all students with choice and multiple channels of access. Andrew added: 'We will be launching a new service in the New year  which we hope will make a significant improvement to students seeking and accessing appropriate support 24/7.'
Another issue that working parents, both men and women, struggle with is balancing childcare responsibilities with work commitments. Willem Heijltjes, a Lecturer in the Department of Computer Science, has shared his experience of becoming a father and taking shared parental leave while being a probationary lecturer. With his first child, Willem took 2 months of shared parental leave, coming to work one day a week using up KIT (keeping-in-touch) days, but found it hard to forget work when he got home: 'I could leave my teaching at work, but I felt like research was on my mind 24/7'. He found that colleagues and his Department were supportive throughout the process. After his second child was born, Willem noted that he struggled with workload, teaching and still keeping up with publications while looking after the kids together with his wife. 'It's hard to admit when you have too much on your plate and you are not coping well', he said. Willem added that even though his mentor was really supportive and helpful, it was hard to admit how much he was actually struggling. As time went on, Willem managed to turn things around and now is openly sharing his experience and advice. He helped set up 'Early career lunch' meetings in his Department to discuss topics such as  'How to structure your lectures' or 'How to write your first grant proposal', providing a forum for junior researchers to share their perspectives. Willem also talked about the lessons learnt at Department's Away day and Faculty events. Willem said: 'Fostering an open and supportive culture is key in making sure that colleagues can find their allies as well as build their own networks in the workplace so that if they do have to cope with difficult situations, they can utilize their support infrastructures and admit they need help'.
Richard Burke, a Senior Lecturer in the Department of Mechanical Engineering and a co-Chair of the Department's Equality and Diversity Committee, talked about flexible working and finding a work-life balance. After his two children were born, Richard had to completely re-think his working habits: 'I'm coming to work at 7am and leaving before 4pm so that I could do child pick-up'. His wife starts her working day later and does children drop off in the morning, coming back from work late in the evening. Richard adds: 'Balancing work and home for both of us mean working as a team – it's not easy and you have to make certain sacrifices to be able to do it, but we made a conscious choice.' He continues: 'The nursery pick up is a highlight of my day, for me being able to see my kid and that massive smile on his face is the biggest reward and makes it all worth it'. In order to keep up his high-profile research portfolio, Richard says: 'My colleagues from IAAPS team are very supportive and I trust them completely, so I'm delegating some of the meetings that require a lot of travel over to the wider team and I'm also trying out technology, such as teleconferencing, where possible'. Re-adjusting the work day in a way that works best for him and his family has been a real benefit for Richard: 'By no way is this the only way – everyone has to find what works best for them. I'm driven with what I do at work but equally I want to have the time at home – 9 out of 10 times it works and I get the balance right. Also, it's important to remember that at the end of the day there are only a very few work things that cannot be re-arranged!'
Both Willem and Richard were able to benefit from shared parental leave – but they are among just a few people at the University. Since the introduction of shared parental leave in UK in 2015, 9 members of staff at University used this option over the last three academic years (2016/17-2018/19).This reflects the national picture with a Department for Business, Energy and Industrial Strategy report noting that only 2% of new parents take up shared parental leave in the UK. The reasons behind this low uptake are complex. Historically gender equality policies around childcare have been contextualised as a 'women's issue' and men may feel a societal pressure to prioritise work or fear perceived negative consequences on career progression if they prioritise childcare. Also, a lower level of Shared Parental Pay as compared to Occupational Maternity Pay is another well-documented reason for the low level of take up of SPL. Universities that have an enhanced  SPL offering note higher levels of take up of SPL. Globally, 72% of men agree that employers should make it easier for men to combine childcare with work (2019 Report on Global attitudes towards gender equality).
Perhaps it would be easier for men to talk openly about these issues if we had a less stereotypical view of what 'masculinity' means. Connor Russell, Sports Assistant in Sports Training Village and the winner of the Staff Recognition Award for Supporting Colleagues 2018, has discussed with us his views around men and sports. He says: 'Within the last decade we have seen a former British Lions captain come out as gay and discuss the mental health difficulties that came with that journey whilst in the public eye. Our own rugby team has been criticized for chants against lower income families and players from council houses. But the emerging picture on the rugby world stage is one where diversity is not just a nice 'add-on' but actually the backbone of success in sport.' Connor also believes that when discussing men and sports we need to look beyond the physical impact  and see the value sports bring in the shape of mental strength, leadership, team work and sacrifice for the collective goal.  He notes: 'These are traits that can be used in your everyday life and even though the narratives of a 'toxic lads' culture do exist in certain specific situations, painting all masculinity within sports with that same brush conceals the real value it can add.'
Finally, we spoke to Professor David Galbreath, who is a Dean of Humanities and Social Sciences, Chair of the University's E&D Committee and the Athena SWAN Self-Assessment Team. He said: 'I believe that the aim of the equality, diversity and inclusion agenda relates to men as much as it relates to women. International Men's Day highlights many of the issues that sit at the heart of this agenda. As we move to making the University a more inclusive place to work and study, I hope that International Men's Day will be seen as one of many efforts to focus on issues around mental health and better family-work balance'.
This year International Men's Day celebrates worldwide the positive value men bring to their families and communities. The aim is to highlight positive role models and raise awareness of men's well-being since current research tell us that men have a suicide rate 3 times higher than women as well as they are nearly twice as likely to suffer from lung cancer and heart disease. If you think there are gender equality issues affecting men specifically that need addressing at the University, do please talk to the ED&I team, we would love to hear from you.
Aiste Senulyte, ED&I Officer at the University, and Dr Sarah Bailey, who is a Senior Lecturer in Department of Pharmacy and Pharmacology, Faculty of Science Athena SWAN Champion and an active member of USAT, have brought the Athena SWAN Anniversary series project to you. The tenth and final story of this project will be released in December; you can find our previous stories here.