Cover letters and personal statements both need to cover that key question: why do you want to work for THAT organisation, or study at THAT institution?
Not addressing this question in cover letters and statements is one of the biggest reasons for rejection. Employers and educational institutions want to know about the motivation behind your application to them.
Those students who do talk about it, often do so poorly. So here are some brief tips for getting this right in your application materials:
Research, research, research.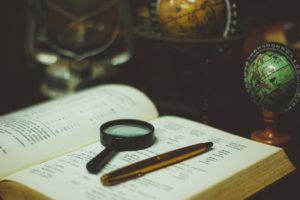 This Careers blog often pleads with students to research the companies or institutions they are applying to! Good research is the bedrock of a great "why them" answer. I won't repeat it all here – instead you could read this blog on commercial awareness, and this blog on employer research resources. You could also read our career pages on finding further study and choosing a course .
Be specific and include some detail.
Don't just tell an employer that you "admire its products and services". Tell them which ones most interest you, and why.  This shows you've done your research, and also helps you to demonstrate your knowledge and commercial awareness.
If applying to further study, you should cover why you're interested in the course, making references to different modules.  The course structure and teaching methods might also appeal to you.
But it is also useful to cover why the institution itself appeals to you.  Don't just tell a business school that you "want to study there because it is one of the top business schools in the UK". Think about what has got them there.  Industry or international links? Facilities? You might be interested in some research that the institution / an academic has conducted or been involved in.  Tell them which elements appeal to you, and why.
Try to link what you like about them to your own experiences, strengths, skills, and knowledge.
For applications to roles, this is impressive because it simultaneously shows that you've done your research on that organisation, AND thought about how your skills match, and could contribute.
Many students applying for roles leave the "why them" paragraph to the end of their cover letter. Even more effective is to make links back to the employer throughout the letter, as you talk about your skills and experience. For example, you could give an example of a time when you've worked with similar types of clients or products.  Another example could be when you've had to demonstrate the same core values that the employer promotes.
For applications to further study, you could link your existing knowledge base (and any knowledge gaps you have!) to how modules on the course could build on that knowledge.  You could also explain why studying at that particular institution might support the development of your career.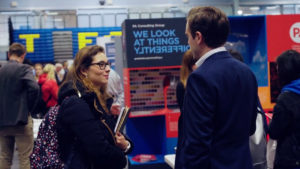 Mention any presentations, meetings or conversations with employees.
Tell the employer if you've attended one of their presentations, or had a conversation with a representative at a careers fair or other gathering. This shows enthusiasm and initiative. But don't forget to tell them what you heard that aroused your interest!
Take a look at this example
For an example of how to tackle the "why them" question (and how not to tackle it!), take a look at this blog on how to answer classic motivation questions (and yes, of the two examples given, Candidate B would score more highly!).
Get Feedback
If you're not sure whether your cover letter or statement is covering the "why them" question effectively enough, then pop in for a 15 minute CV and Applications Advice appointment (bookable via MyFuture).
Other resources
A guide to writing the perfect cover letter (University of Bath Careers Blog)
Personal statements for postgraduate applications (Prospects.ac.uk)
How to write an effective personal statement for postgraduate study (University of Bath Careers Service)