This week our Tuesday Ten feature welcomes Rhian Ellis, an Academic Developer at Swansea University's Academy of Learning and Teaching (SALT) whose role is to promote excellence and inclusivity in learning and teaching throughout the university. Prior to this, Rhian taught and lectured in Sociology, Psychology and Literacy, and was a personal tutor for 25 years at FE colleges in Wales. She was actively involved in the delivery of Access to Higher Education programmes, before being appointed to her present role in September 2017. She has a special interest in assessment and feedback developments now taking place in HE. Witnessing so many students of all ages improve their own and others' lives through education has reinforced Rhian's passion for lifelong learning and continual development.
What can you see outside of the window?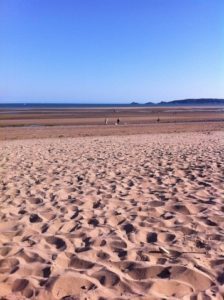 My office overlooks Swansea's vast Singleton Park. At the moment, the autumnal reds and golds are beginning to happen, but what I love most is that my office is just across the road from the beautiful Swansea Bay. When work schedules allow, I love to get out for brisk, lunchtime walk on the beach with my lovely colleagues. We are so lucky to be positioned here, especially when the sun is shining.
What does your average day at work involve?
I thrive in roles where I can use my initiative and continually learn new things. I work within SALT's CPD team, so a typical day may involve meeting with academic staff to plan an event for them, delivering a staff workshop or seminar myself, developing an online resource (such as a screencast, video or learning object), promoting our events to ensure all staff have knowledge and access to them, helping to organise SALT's annual learning and teaching conference, keeping abreast of pedagogical research publications that feed into our development programme, working on collaborative, academic projects with fellow academy staff, taking part in Tweetchats and Webinars – perhaps not all of these things in one day though! My day is very much focused on supporting my colleagues to provide students with the best possible learning experience in a modern educational environment - something I remain as passionate about as ever.
"Striving to continually improve the teaching and learning experience not only has employability benefits but contributes to a holistic culture of excellence, alongside and connected with research."
Why do you think teaching at your university is important?
In HE today, students rightly expect the best possible experience, and are very discerning. I'm privileged to know about and see a lot of the amazing work that's going on at Swansea University. We encourage our staff to share their good practice through CPD programmes, online resources, and annual conference. We reward and recognise excellence in learning and teaching through our PG Cert programme (the Swansea route to HEA Fellowship), a number of internal awards and our support for external ones.
A branch of seminar and workshop provision that I personally look after is themed to 'The Seven Principles of Good Practice in Undergraduate Education', as identified by Arthur W. Chickering and Zelda F. Gamson in 1987. This aspirational model remains relevant today, although those who teach undergraduates now are meeting these principles in 'smart' ways. For example, when teaching hundreds of students in a lecture theatre, it's often a challenge to actively engage and formatively assess every individual student. Many universities, including Swansea, are now making this possible through pedagogical and technological development, such as apps that encourage interaction and anonymous questions during lectures, and creative strategies to encourage participation in games and group work. We're also working to make our teaching, learning and assessment inclusive and accessible to all, with lots of staff development opportunities and academy support in this area. Striving to continually improve the teaching and learning experience not only has employability benefits but contributes to a holistic culture of excellence, alongside and connected with research. We know that this is important in attracting future students to our university.
What do you hope the impact of your teaching will be?
I'm now in a staff-facing development role, but my goal remains the same – to make a difference. Sometimes, supporting one staff member to make a change may impact on hundreds of students, year on year, as that teacher continues to develop their approach to learning and teaching.
Personally, the best measure of my former teaching lies in the feedback I receive from former students. Learning about their career developments, their ongoing passion for Sociology, their willingness to 'give back' in attending careers fairs and delivering inspirational talks to students embarking upon their own journeys - that's what makes all the hard work worthwhile.
Who has inspired you most in your career?
I've had many an inspirational role model and constructive guidance from peers and managers. This is  something I now fully realise and appreciate, but I remember some feedback being quite difficult to digest at the time. The same goes for student feedback, but I believe it's all vital for reflection and continual development. I am indebted to so many of my former colleagues (and students) that I won't single any of them out, but if any of them are reading this, they'll recognise themselves!
I must also say that being a mentor to trainee teachers and lecturers over the years was also personally inspiring, encouraging me to continually improve and evolve in my own practice. The learning was reciprocal. I worked with PGCE students with such enthusiasm for pedagogical developments that it encouraged me to keep my methods current and interesting.
When did a lecture/presentation go wrong and how did you overcome it?
Like most teachers, I'm used to experiencing bad dreams about lectures going horribly wrong, but I don't think they count here! I can think of a few situations where things didn't go to plan for reasons completely outside of my control. In those types of situations I would rely on good humour to get through. If things didn't go to plan in terms of the expected course of a session or I could sense that learning outcomes were not being achieved, I learned to be reactive and consider ways of doing things differently – which sometimes meant 'thinking on my feet' during a lecture. Being intuitive and perceptive to learners' needs is essential in good teaching. Going 'off plan' is sometimes necessary, before getting back onto it. These are not very exciting examples, but are probably sound pieces of advice to new teachers (along with those below!).
Recommend a book, film or album from the past year.
I'm currently reading, and would recommend, 'Identity and Capitalism' by Marie Moran. Once a Sociologist, always a Sociologist.
What is the biggest change that you've seen in teaching since you started your career?
I began teaching in FE in 1992, when things were different. It goes without saying that technology has revolutionised teaching, learning and working practices in so many ways. On a more general note, while there was still much rigour and excellence back then, I feel I had a lot of professional autonomy. There was generally a greater variation of style and approach between teachers –  lots of strong characters with legendary reputations who did it 'their way'! When I started out, I was given the freedom to develop a critical thinking-led style of teaching that was less focused on set learning objectives and assessment criteria and more concerned with building inspirational relationships with learners, engendering passion for our chosen subject (that's what ex-students tell me 'stuck with them', which is so rewarding to hear). That said, I think changes in these areas have definitely driven up overall standards of achievement, so there's greater consistency of learner experience today and arguably better outcomes overall.
What piece of advice would you give to someone just starting out in teaching at your university?
Remind yourself regularly that everyone who teaches in HE has been in your position at some point. Take advantage of support and CPD opportunities on offer - investments of time can pay off later on. Don't be afraid to ask for advice and help. No-one knows everything. Prioritise tasks. Try your best to have a healthy work-life balance. Allow yourself time to grow and develop. Learn from mistakes. Learn from feedback – the positive as well as constructive. That's more than one (again!), but all so vital to the wellbeing of those in the profession, I have to stress them all as so important!
What three things would you take to a desert island?
Presumably people and animals are not allowed... ? In that case, it would be a (very large) case of New Zealand Sauvignon Blanc, a wine glass (non-negotiable) and a wind-up radio (presuming I'd pick up any kind of music to dance to). After all, I do try my best to take a positive from every situation I find myself in. Cheers!
References
Moran, M. (2015). Identity and capitalism. London: SAGE Publications Ltd.
Chickering, A. W. & Gamson, Z. F. (1987). Seven Principles for Good Practice in Undergraduate Education. AAHE Bulletin, 3-7.
Swansea Bay Image: https://pixabay.com/en/swansea-beach-wales-summer-swansea-387977/ (no attribution required).
Chickering, A. W. & Gamson Z.F. (Eds.) (1991). Applying the seven principles for good practice in undergraduate education. New Directions for Teaching and Learning, 47.