Digital skills are essential for learning, teaching and research as HE providers and workplaces are changing rapidly, This has been highlighted by the disruption caused by Covid-19 in 2020. Staff and students should take time to reflect on their digital skills and develop them to help engage and thrive in a digital world.  
What is the Jisc Discovery Tool?
Staff and students at the University of Bath can use the Jisc discovery tool to assess their digital skills and identify strengths and areas for development. The self-reflective tool uses the Jisc digital capability framework to describe the digital skills needed by staff from a wide range of academic, administrative, and professional roles in Higher Education. 
After completing a short survey, users receive a report with personalised next steps and links to free resources to support their development. The report is completely anonymous, and users can't be identified from the data they provide. 
We're piloting the discovery tool during the 2020/21 academic year. So far more than 1000 staff have self-assessed their digital skills and received a personalised report. To complete the question set, University staff and students just need to sign in with their University username and password.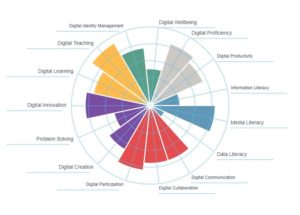 What have staff said so far after using the Discovery Tool?
"I like the way it divides the digital capabilities into clear areas - it's very interesting and has really motivated me to develop my digital skills."
"I've completed the survey and found it an interesting way to identify places I can develop – which are helpful for my SDPR goals!"
"It's useful for all areas of life, not just professional. It has excellent pointers to resources too." 
How do I access the Discovery Tool?
Find out more about digital skills