On 1–6 December 2013, DTC student Lee Burton attended the Materials Research Society fall meeting in Boston, USA. He describes the experience for us in this blog post.
As a PhD student I was honoured to be chosen to speak at the largest materials research conference of the calendar year in Boston, USA.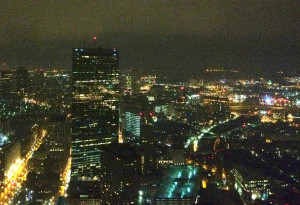 The fall meeting of the Materials Research Society (MRS) brings together academics from all parts of the world each year. The huge scope of the conference was reflected in the 52 different sessions running simultaneously over a period of 5 days. The conference had an exciting dynamic brought about by countless fields of individual research that are still united by core expertise… if you couldn't find a way to solve a problem at this meeting, it probably couldn't be solved! Not only that but with days full of cutting-edge science and evenings packed with charged debate, it would be impossible to leave without some new ideas for future work.
My talk was on work regarding new materials for solar energy applications and is summarised as part of the meeting's blog under the section of 'Technical Sessions'. I spoke alongside existing collaborators and was even able to pick up a few more along the way, strengthening ties between the CSCT and research centres overseas.
Lee is in the final year of his PhD, supervised by Professor Aron Walsh, Chair of Materials Theory in the Department of Chemistry and co-supervised by Professor Keiran Molloy (Chemistry) and Professor Chris Bowen (Mechanical Engineering).
Several researchers from the CSCT, including a number of DTC students, will be attending the MRS Spring Meeting 2014, which runs next week on the 21–25 April.