On the 6th and the 7th of June, the '14 cohort took their 'Water Water… Everywhere?' exhibition to the Cheltenham Science Festival – one of the foremost science festivals within the UK – where they aimed to inform the public on the issue of water sustainability, and the work the CSCT is conducting into resolving these issues.  Student Rob Hicks gives us his take on events at the festival, as well as Dan Davies, who has  produced a video blog to accompany.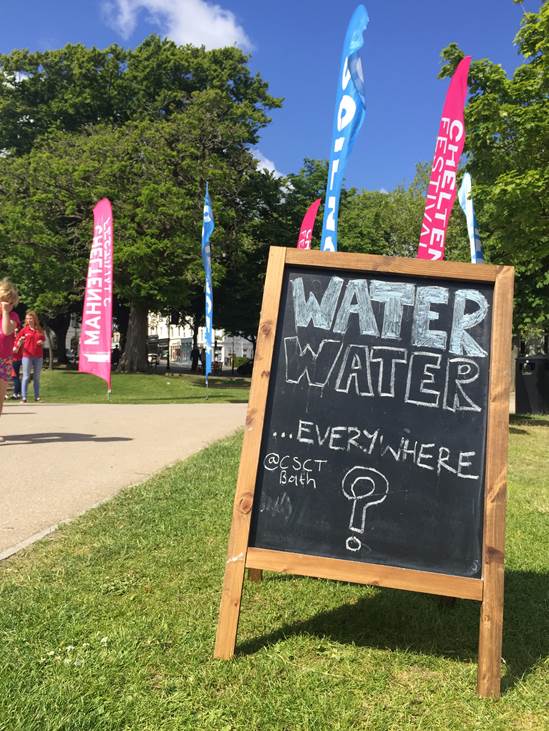 With the successful, if a little hectic, Bath Taps experience still very much fresh in our minds, it was on a warm Friday afternoon that we once again all bundled ourselves and our exhibition props into our cars, and this time set our sights on the Cheltenham Science Festival. The journey started bad, as what was intended to be a leisurely jaunt up the M5 was rudely interrupted for me and my passengers, where a detour into possibly the most middle class service station ever was called for due to a rather urgent engine oil fault. Once a very helpful representative from the RAC had deemed my car fit to continue, we rejoined the rest of the team, who were busy being checked in to the most Premier of Inns. Once bags were dropped off and decisions were made over who had the pleasure of the bigger bed, we all ventured into town for the all-important, pre-game team talk, which due to the size of our group, unfortunately had to take place in a pub.
An early start was required the next day in order to set up everything for the day, with the most pressing matters being the erection of our newly acquired tent to house or exhibit and the necessity to fuel  all 16 students with  coffee. In the end, the tent was raised with Amish like efficiency and we were all gathered around in a huddle, ready to start 45 minutes early, where fellow student Michael Joyes gave his traditional rousing speech along the lines of 'try and enjoy yourself'.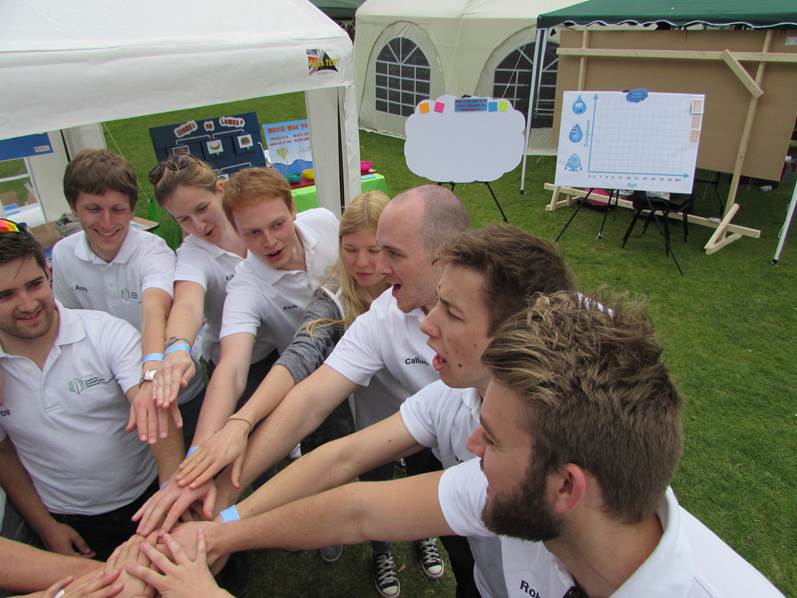 Our exhibit was focused on the issue of water sustainability and availability, and related these issues to the research currently being conducted within the CSCT. In total, we had four activities:
'Super Slime & Amazing Algae' - This activity was one of the most popular across the two days, and was adapted from the much loved, but somewhat infamous, bouncy ball demonstration. Here, participants made their own glittery green goo to represent the bioremediation of toxic metals by algae within flooded Cornish tin mines, and in doing so, managed to go through Cheltenham's entire supply of baby wipes to try and get the wonderful stuff off their hands afterwards.
'Marvellous Membranes' – This activity introduced the concept of size exclusion filtration and how it can be used to clean dirty water, simply by using some lab filters and some of Cheltenham's finest soil. We also brought along examples of cellulose membranes made by our very own Naomi, and explained the advantages of these.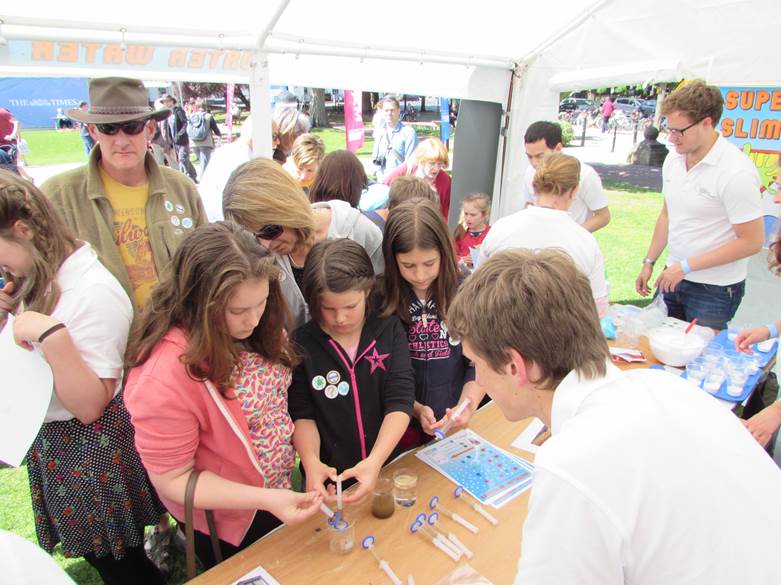 'Soap Stars' – This activity featured a hands-on demonstration using milk and food colouring (a winning combination when ambient temperatures are >25 °C) to show how surfactants act on the surface of liquids. As well as this, we also provided some big bubble wands for the kids to play with, which often resulted in us playing a peacekeeping role,  with phrases such as 'Just two more goes then it's somebody else's go', 'Yeah I know you were here first, but that girl sorta came from nowhere' and 'Please don't hit your brother in the eye with the wand' often being heard.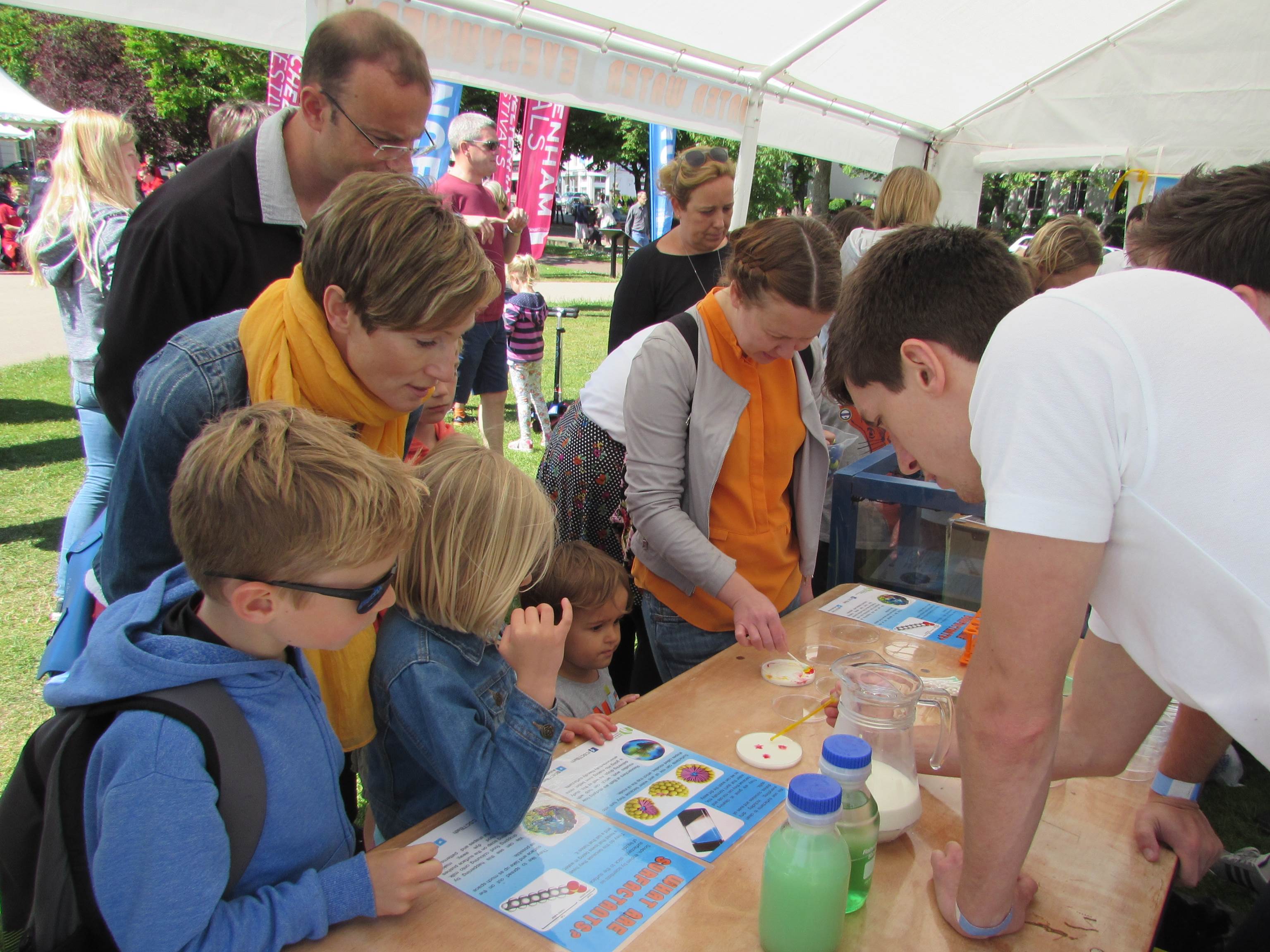 'Where's the Water?' – This activity allowed us to take on the role of Bruce Forsyth ('Didn't he do well!'), as we played a 'Play Your Cards Right' style higher or lower game where participants guessed the water footprint of everyday objects.
In addition to these four activities, we were also very keen to receive feedback on our exhibit, including inviting people to answer the question: 'What do you think is the greatest challenge for sustainability?' to which we had many insightful replies such as:
·         Getting people to understand why we need to think about sustainability - 'What's in it for me?'
·         Finding ways to reuse the finite resources that we have already extracted or disposed of.
·         Convincing people over the long term of the goal and challenge.
…and perhaps the less insightful, but welcome all the same:
·         The slime was really awesome, I got all glittery, from Phoebe aged 6
Away from our exhibit, there was of course plenty to see. The Discover Zone had a futuristic feel, with the opportunity to get pictured sitting in a Delorean for the rather exorbitant price of £5. The BBC Science Zone was awash with live talks from people you sort of recognise from the TV, such as Kate Humble, Michael Mosley and Dr Marty Jopson. However for me, the highlight of the festival (other than our exhibit obviously) was certainly the Dinozone, where organisers had managed to transport a 7.4 metre long skeleton of a Gorgosaurus, for everyone to marvel at. Also in attendance of the festival was the doctor, scientist, television presenter, politician and inspiration for moustache wearers everywhere, Professor Robert Winston and well as sciences premier pin-up physicist, Professor Brian Cox.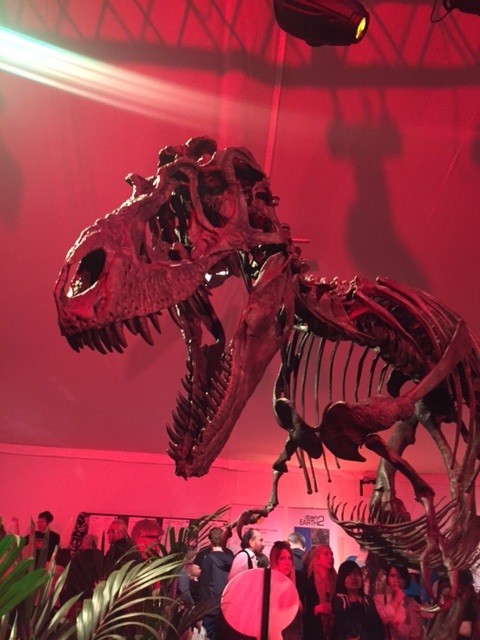 Both days flew by without a hitch for us, barring the odd sunburnt face and blistered toe, and I couldn't even begin to guess how many people visited out stall, how many pints of milk we went through, and how many bubbles I accidentally sent careering into groups of people trying to enjoy an ice cream.  On a personal note, I greatly enjoyed everything involved within this public engagement module, from the learning curve that was Bath Taps, the brilliant summer school run by Graphic Science (who are still yet to mark my report, so I hope they see this mention), the shambles that was 'team surfactants' trying, and failing, to create their own bubble solution, all up to the polished, professional event that we rolled out at Cheltenham. I think everyone within the group felt two days were extremely successful, not just with respect to the great tans we all came back with, but I think we got across the intended message whilst showing off the terrific work the CSCT was conducting in a fun and engaging manner.